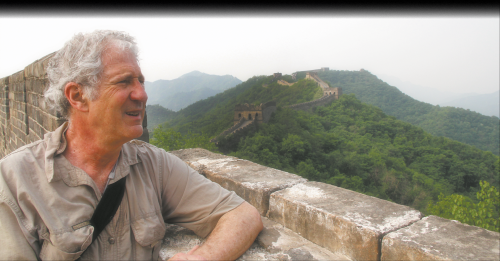 Back in 1941, before Lawrence Cherney was even born, in the pages of a book titled One World, a failed candidate for the presidency of the United States gave the artistic director of Soundstreams a guiding theme for much of his career.
In fact, Wendell Willkie might almost have written the very words of the Peterborough-born oboist and English horn player's welcome to his audience for November's "Reimagining Flamenco" presentation in the newly refurbished Jeanne Lamon Hall at Trinity-St. Paul's Centre:
"... Never have the world's cultural heritages been so accessible to all, so available to be explored, appreciated and transformed," Cherney wrote in the Soundstreams program. "No culture or heritage can survive in a vacuum, preserved in a museum in splendid isolation. Cultures interact, resonate with their surroundings. They're in a constant state of evolution and revolution in direct relation to the ebb and flow of those surroundings."
Although very much a product of his own provincial Ontario culture — if that doesn't sound too pejorative — the future impresario began to acquire a taste for internationalism in his student years in Toronto (he studied music at the University of Toronto) where, at the invitation of his sometime oboe teacher, Perry Bauman, he sat in as an extra player with the CBC Symphony Orchestra.
"It was a big step for me," he recalls. "I had to join the union and it didn't even occur to me to ask who was conducting. When I looked up from my music stand it was Igor Stravinsky."
Years later the tyro orchestral player was able to return the favour by launching Soundstreams (initially as Chamber Concerts Canada) with a three-concert 1982 festival honouring Stravinsky's 100th birthday. But more of that anon.
As a talented new professional, young Mr. Cherney soon found himself in the pit of the O'Keefe (now Sony) Centre as principal oboe of the National Ballet Orchestra, a position he left after two years to become a founding member of Ottawa's National Arts Centre Orchestra in 1969.
Offered tenure in Ottawa after the traditional three seasons, he faced another critical decision — whether to continue pursuing a secure orchestral career or gamble on a riskier life in solo and chamber music (the third option of purchasing a cobra in a basket seemed somehow less practical for someone living so far from India).
Joining Canada's foremost wind ensemble, the Toronto-based York Winds, in 1972 settled that question, developing in him an appetite for travel further whetted by a 1976 European tour with Robert Aitken's New Music Concerts.
Through both experiences he became simultaneously an internationalist and a nationalist eager to showcase contemporary Canadian music in a world context. Additional touring with harpist Erica Goodman and percussionist Russell Hartenberger (of Nexus fame) further contributed to cultivating this two-sided identity.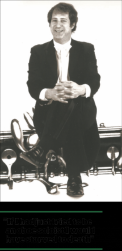 On the home front he augmented these activities by establishing Music at Sharon in 1981, pointing out that "if I had just tried to be an oboe soloist I would have starved to death."
As the years passed and his entrepreneurial skills expanded, his double-reed instruments spent more and more time in their cases. After a decade with York Winds, he decided finally to tip the balance in favour of presenting music more than playing it. If his instrument cases are not yet locked, neither are they frequently opened nowadays.
Veteran Toronto concertgoers may remember the early years of Chamber Concerts Canada in the late 1980s. Monday was a dark night at Young People's Theatre so Cherney and company were offered the opportunity to launch a series called Musical Mondays. The name even carried over to the other days of the week when the series moved to the St. Lawrence Centre.
By 1993 the series morphed yet again into Encounters, presented mostly at the CBC's Glenn Gould Studio in association with David Jaeger's landmark FM radio program, Two New Hours (hosted for much of its on-air life by the late Larry Lake). An institutionalized format involved pairing a Canadian composer with an international composer, the resulting taped performances of Canadian music subsequently finding their way to the far corners of the globe through the European Broadcasting Union. The exposure proved invaluable.
Invaluable yet temporary. With a gradual diminishing of CBC participation, Soundstreams (as Cherney's enterprise was by then known) began using larger venues, such as Metropolitan United Church, and mounting larger projects.
Its largest project to date took place in 1997, the festival known as Northern Encounters. As its architect recalls:
"I happened to be in Copenhagen in 1995 in the offices of the Nordic Council of Ministers and unknown to me the council had just decided to make North America, and especially Canada, a priority. I wound up walking out of the offices with $500,000. The individual countries each added more and we managed to mount a $2.4 milllion festival with $1.6 million of it coming from the Nordic Council."
An acknowledged success, Northern Enounters led to a whole series of international initiatives over the next several years, from a festival of music theatre for young people to a showcase of aboriginal arts to a celebration of brass music, with literally thousands of foreign artists coming to Toronto to take part.
Not that he used so crass a term as "payback time" but through the large number of contacts established through these activities, Cherney began a few years ago to envision projects mounted in Canada that could be taken abroad.
"There are only six of us on staff in the office," he admits, "And although we can expand on a project basis there is an obvious limit to what we can do."
Bringing Chris Lorway, former artistic director of Toronto's Luminato Festival, on board as executive director has obviously made a difference. Like his oboe-playing colleague, Lorway owns a rolodex full of international contacts. The two worked in tandem on this year's tour to Taipei and Beijing.
The tour involved taking an instrumental ensemble and music by a half dozen Canadian composers (Dorothy Chang, Brian Current, Alexina Louie, Michael Oesterle, R. Murray Schafer and Gilles Tremblay) to two of Asia's major music centres and represented, according to Cherney, the largest concentrated exposure ever given Canadian music on that sprawling continent.
The invitation to Taipei's National Concert Hall came about through the good offices of Taiwan's Chai Found Music Workshop, an ensemble playing contemporary music on traditional instruments, previously brought to Toronto by Soundstreams and recruited for the tour to help perform Distances, a specially commissioned new work by the Chinese composer Fuhong Shi.
The invitation to Beijing's Modern Music Festival came from its artistic director, Xiaogang Ye, vice president of the city's prestigious Central Conservatory, who has been reciprocally invited to Toronto this coming spring to work with six young composers as part of Soundstreams' Emerging Composers Workshop.
Reciprocity of this kind is now the Soundstreams game, taking Canadian music and musicians abroad as well as bringing foreign music and musicians to Canada. Having commissioned, premiered and toured through Ontario a Cree language chamber opera, Pimooteewin, by composer Melissa Hui and librettist Tomson Highway, Cherney and his colleagues are now looking forward to its export in a couple of years to Scandinavia, to be paired with a work for the same performing forces under development there, drawing on Suomi culture.
"This is a good example of our work as an ambassador," Cherney suggests. "We are always looking for links into other communities, in this case through aboriginal culture. It is the inspiration of a Canadian work that has led directly to the creation of a new Scandinavian work."
Soundstreams has commissioned more than 150 works over the course of its 30-year history and excerpts of 80 of them are available online, through its new SoundMakers program, to be sampled and used by anyone as material for composition.
Its Toronto concerts are now being streamed live as well. Thousands more heard the season's opening concert celebration of the music of Arvo Pärt than could be squeezed into Koerner Hall, these listeners coming from as far away as Europe and Japan.
The Toronto series continues to espouse connections. November's "Reimagining Flamenco" program incorporated new arrangements by Serouj Kradjian influenced by jazz and even klezmer, reflecting how, in this "one world" of ours, cultures inevitably interact.
The next concert in the series, February 2 at Koerner Hall, follows suit. Although billed as a "Canadian Choral Celebration" — Ontario's Elmer Iseler Singers, British Columbia's Vancouver Chamber Choir and Alberta's Pro Coro Canada are the performers — the actual program pairs Miserere by Poland's Henryk Górecki with the premiere of a new work, Hear the Sounds go Round, by Canada's R. Murray Schafer.
"I'm increasingly drawn to what contemporary composers are doing," Cherney explains. "We are trying to show living traditions. On one program we did a new setting by Paul Frehner of the Seven Last Words (of Christ), another setting by Sofia Gubaidulina, and combined them with two Bach motets to show the universality of the theme."
Nor is this activity going unnoticed elsewhere. This past summer Soundstreams received a visit by a delegation from the Shanghai Concert Hall. Looking toward opening up their programming to contemporary music, the Chinese are seeking Canadian advice to help show them the way.
"We think internationalism is a priority for the growth of Canadian music," Lawrence Cherney argues. The rest of the world may yet agree. 
William Littler is a Toronto-based writer focusing on music.