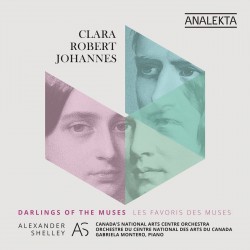 Clara – Robert – Johannes: Darlings of the Muses
Canada's National Arts Centre Orchestra; Alexander Shelley; Gabriela Montero
Analekta AN 2 8877-8 (analekta.com/en/albums/clara-robert-johannes-nac-orchestra)
British-born conductor Alexander Shelley assumed the role of music director of Canada's National Arts Centre Orchestra in 2015 and this Analekta recording is the fourth to be released under his leadership. Titled Clara-Robert-Johannes: Darlings of the Muses, it features Venezuelan pianist Gabriela Montero and is the first in a series of four to be released exploring the personal and professional connections among Robert Schumann, his wife Clara and Johannes Brahms.
Completed in just over a month in 1841, Schumann's Symphony No.1 in B-flat Major "Spring" was the composer's first attempt at orchestral writing, and its buoyant, optimistic mood was reflective of a particularly happy time in his life. From the opening fanfare, the NACO approaches the score with much panache – the playing is full and robust with a satisfying balance among the strings and brass.
In contrast, the opening mood of Brahms' Symphony No.1 in C Minor is dark and foreboding, aided by the steady beat of the timpani – is that really fate knocking at the door? Shelley and the orchestra successfully convey a true sense of majesty throughout the work, and today, it's difficult to believe that this work was the source of such controversy at the time of its premiere in 1876.
For years, Clara Schumann was too often known as "an accomplished pianist who composed" – surely an unfair assessment. Her Piano Concerto Op.7 was an early work written in 1835 when she was all of 14. Gabriela Montero delivers a polished performance with the demanding solo passages allowing her ample opportunity to display a flawless technique. Clearly this music was not intended for amateurs!
Interspersed with the three major works are short improvisations by Montero based on music by Schumann, aptly demonstrating her talents as both pianist and composer.
In all, this is a promising start to an engaging series we can look forward to. Recommended.