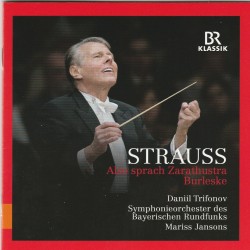 Strauss – Also sprach Zarathustra; Burleske
Daniil Trifonov; Symphonieorchester des Bayerischen Rundfunks; Mariss Jansons
BR Klassik 900182 (naxosdirect.com)
The most remarkable aspect of this iconic work – apart from the work itself – is that Richard Strauss started out as someone who was brought up to almost despise the work of Wagner and Liszt, who created the very form of one of Strauss' most famous works. The nine-part symphonic tone poem, Also sprach Zarathustra is a spectacular homage to Nietzsche's philosophy of the Superman and his celebration of human power and energy.
Strauss' response to Nietzsche's book is a work of enormous proportions, a free-flowing fantasia which, apart from its philosophical aspirations, creates some truly awe-inspiring orchestral sounds. Not the least of these is the work's inspired "sunrise" opening, depiction of a primordial darkness-to-light so elemental that the titanic, sustained contra-octave C played on the organ, contrabassoon, contrabass and bass drum begins barely audible to the human ear.
This is a stupendous live recording. The Symphonieorchester des Bayerischen Rundfunks play with adventure and excitement under Marriss Jansons' inspired leadership. Few other versions manage to give a convincing sense of the shape to this work. The Burleske, written ten years earlier, may belie a Brahmsian influence, but also foretells the future of a composer seized with the true immensity of symphonic sound. Pianist Daniil Trifonov is particularly dazzling with exemplary lucidity, showing why he is the darling of the cognoscenti today as he employs the sweetest tones to create a great Romantic wash of colour.