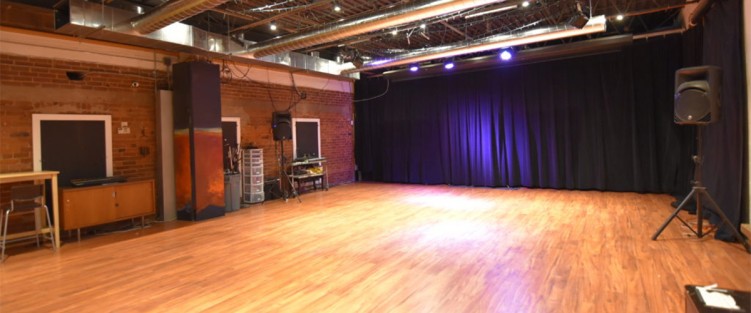 When I wrote about Arraymusic five years ago in a WholeNote series on Toronto concert spaces, I described it as a "seminal venue"—one that maintained a strong place as both a presenting organization and as a rental space for experimental music in Toronto. Now in the midst of the 2020 pandemic, the same remains true. Despite unprecedented challenges, Arraymusic continues to search for new ways of supporting local experimental music and its affiliated performing art forms—and to find relevance in the changing musical fabric of the city.
Array's Early Years
Years before it managed a concert venue, Arraymusic was an experimental music ensemble and presenter dedicated to commissioning and programming "full spectrum multimedia works, electronic events, group improvisations, music and dance collaborations." The group was launched April 20, 1972 by a cohort of University of Toronto composition students. By the early 1980s, the group's growing activities moved to a refurbished garage on a leafy upper Annex avenue.
From 1991 to 2012 Arraymusic rented a multifunctional space in an Artspace-run building. It was among a cohort of artists and organisations which reinvented Liberty Village as an epicentre of creative sector employment. I spent many happy hours rehearsing with the Evergreen Club Contemporary Gamelan and several other groups there, as well as leading community gamelan music workshops.
By the time that era came to an end, Arraymusic artistic director Rick Sacks had scouted a promising new loft location in another weathered-brick industrial building in the Queen and Niagara Street area. After extensive renovations, the Array Space now comprises a 1,200 sq. ft. main studio for rehearsals and performances with a capacity of 60, space equipped for audio and video recording, and offices, three of which are rented out to community artists.
The Arraymusic Studio—now called Array Space—opened for business in 2013. A year later blogTO ranked it among Toronto's "top five experimental music venues." Since then, it's gone from strength to strength.
Current Challenges
That was before the current COVID-19 lockdown slammed the brakes on live concertizing. With many music organisations having cancelled their seasons, and some struggling to keep the lights on, I reached percussionist and current Array artistic director David Schotzko at his home on a hot August afternoon to ask how Array is faring.
"The organisation has grown organically over the decades, and I have the pleasure to program our 50th anniversary season," Schotzko said, over the phone with a smile in his voice. The spike in Array Space use over the last year or two is a reflection of heavy community need and use, he says. "That's been an extremely positive development. Here's how it looked by the numbers in 2018/19: according to our best figures, we hosted an impressive 660 workshops, rehearsals and concerts by 345 groups, involving 2,650 diverse artists. Last year the Space was so consistently booked that I had to take my vibraphone to my house to practice for the group shows – and I'm an Array Ensemble percussionist! Then suddenly on March 25, 2020 we had to shut the space down entirely, and lock the door behind us."
That being said, Array is perhaps better positioned to weather the storm than some others.
"In 2012 our artistic director Rick Sacks had a vision of creating a mixed office and performance-ready venue," Schotzko adds. "Due to Rick's tremendous effort our rental revenue has allowed Array to grow in ways that [other new music ensembles] for instance cannot do, thanks to our initial investment in our space. Our venue has allowed us to grow in so many ways. Rick later installed high-definition video cameras with which we can livestream Array Ensemble shows. We've been doing that for years."
So when COVID-19 happened, they found themselves set up in an unique position. "We didn't have to pivot to livestream because we've been doing it already. As for rentals, prior to the lockdown the office and Space rental revenue more or less balanced out the expenses to run the space."
Issues of Community
"We talk about Array as a creative hub, a community hub," notes Schotzko. "Our vision was a place that our colleagues, peers, as well as those we don't know yet, could all use. It was initially built on the community with roots in the experimental music and the new composition scene, but the breadth of what happens here now has expanded our community even more. We're at the centre of various artistic scenes which spin around the space."
To give a sense of the full scope of Array Space activity, Schotzko names some of the groups that use it. "Our current resident artists/ensembles include many established and emerging music groups. I can think of Canadian Creative Music Collective/CCMC, Thin Edge New Music Collective (TENMC), Invocation (produced by Jay Pollard), Frequency Freaks Modular Synthesizer Workshops, Evergreen Club Contemporary Gamelan, The Glass Orchestra and SlowPitchSound."
And there are other regular users who call Array home, in addition to numerous occasional renters: the Toronto Improvisers Orchestra, Art of Time Ensemble, Soundstreams, the dance improv series Coexisdance (which collaborates with the Association of Improvising Musicians Toronto), the community theatre company The Purple Stage, and Straeon Acting Studios.
It's the Space itself, Schotzko says, which has allowed Array to support a wider array of artists, and a more diverse group of musical genres, music and affiliated art forms – more so than the Array Ensemble and the contemporary music program stream alone can do.
On the issue of diversifying Array's own programming, and responding to current social issues in the field, Schotzko is quite candid. "First of all I have to be extremely aware that I'm yet another white guy artistic director. Therefore I have to work extra hard to make sure that when I'm looking for projects, for composers – for music – that I consciously step outside what I already know."
"Speaking specifically about contemporary classical music, there are so many fabulous women composers from Canada and across the world that at this point it's just absolutely absurd when women composers don't make up at least half of anyone's overall programming."
"Western classical music has historically not supported artists of colour," he says. "At this point there are relatively few BIPOC composers and music-makers working in the genre. There are many [BIPOC music-makers] working in other genres, but I don't see how the Array Ensemble as a group of classically-trained musicians can bring something to their music that's beneficial to it – and this is our failing."
"We need to play the work of BIPOC composers – and they have always been there – but we also need to make sure that programming their work is relevant to them and doesn't just benefit us. Because in so many ways I feel like the classical music ensemble is the irrelevant part of that equation."
I asked him how he intends to meet the challenges – perhaps traps – of tokenism, gatekeeping and virtue-signaling.
"In all honesty I'm not sure if I have a ready answer to that," Schotzko replied. "I don't think I'm going to know that until I mess up royally and get called out on it. When that happens, I have to try to listen and learn from my mistakes. I'm trying hard to check my privilege. I'm very lucky in that I'm married to an activist feminist professor who's very good at checking my privilege (and her own). She's used to dealing with these issues in her classroom, so she's way ahead of me here."
The immediate future
I asked about challenges facing Array in the immediate future. "The challenges are financial … aren't they always?" commented Schotzko. "On one hand we don't have to figure out how to produce events this year, since we can livestream them and do it well. The biggest question mark is that we just don't know the extent to which we can rent out the Space, and count on that revenue stream."
Array recently ran a successful fundraiser with sustainability in mind, he says. "Our community really came together with support. We're trying to build a buffer in this way, since the next year is such an unknown." Credit should also go, he adds, to the federal government and to the additional funding programs the Arts Councils have added to help during lockdown. "We hope these exceptionally vital supports from both private and public sectors will allow us to ride out the storm."
In terms of new programming directions this season, Schotzko says he has turned to other curators with expertise in practices outside his own. "Michael Lynn has curated his concert series Audio Pollination at Array for many years. He's reaching out to a diverse range of co-curators with the goal to move Audio Pollination from a user of our Space to being an official programme of Arraymusic," he said.
"I'm also excited about the other major series being added called Situated Sounds. It's curated by visual/installation/sound artists Mehrnaz Rohbakhsh and Kristina Guison. They're joining us as Artistic Associates this year, officially part of the Array programming team. The new series will be announced more fully in the coming weeks, but it will be focused on site-specific sound and installation works from a wide range of Toronto artists."
So with the fall season right around the corner and venues still locked down, what's immediately in store for the Array Space?
"Let me answer that beginning with rentals," said Schotzko. "Assuming Ontario maintains the current reopening momentum; we could be able to offer rentals starting in October, but on a very limited basis. Plans have not yet been finalized and I'm electing to be conservative, but it may work on a single client per full-day-only basis, perhaps capped at four people at time. The following day will then be "dark" so we can thoroughly sanitize everything."
In terms of Array Ensemble concerts, they are planning to announce their season in phases, allowing them to move dates around if needed. "I would be very pleasantly surprised if we could have a live audience in the Space this year. I hope I'm wrong ... but at this point I'm anticipating livestream-only programming in the near future. While we all miss playing for a live audience, our three-camera studio setup allows us to create high-quality concert videos."
Schotzko concludes on a hopeful note. "I have hope that we can all positively engage with and overcome the issues we've been talking about: upheavals due the pandemic and also social justice and equality in the arts. I don't just want to survive only to return to the status quo. I want our institutions to survive and be better."
Andrew Timar is a Toronto musician and music writer.