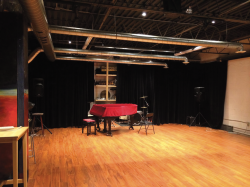 Over the past few months I have looked at several local venues presenting concerts listed in The WholeNote. These spaces range from the venerable Music Gallery, whose motto "Toronto's centre for creative music" has taken it into its 38th season, to the Aga Khan Museum's world music-rich concert series, now in its fourth month.
Their stories encompass their venue's architecture and the public geographies they inhabit and serve. For example, the Music Gallery's office and primary downtown venue, a block north of Queen Street West, is the modestly sized St. George the Martyr Anglican Church, its Gothic revival bell tower dating to 1844. The church site looks onto Grange Park and the 105-year old University Settlement social service centre. At the other end of the park sits the near 200-year-old former grand brick home called The Grange and its heir, the AGO. When viewed in the context of its historic urban geography, it strikes me that even though much of its music programming inhabits the experimental edge, the Music Gallery's site echoes with distinctively old-Toronto tones.
On the other hand the Aga Khan Museum's state-of-the art 380-seat hall is nested in a gleaming fractal stone-clad building. It opened just last September in a commercial swath of suburban Don Mills within earshot of the Don Valley Parkway. Conceived by the award-winning Japanese architect Fumihiko Maki, its setting, adjacent to the gleaming Ismaili Centre, imbues the entire site with an international late-modernist outlook.
ArrayMusic Ensemble and its Studio
In this issue we will explore another seminal venue, the ArrayMusic Studio in terms of its various mandates and geographies, as filtered through the lens of two recent concerts held at it's new studio space on Walnut Avenue.
Before it managed a concert venue, Array was an avant-garde music ensemble dedicated to commissioning and programming "full spectrum multimedia works, electronic events, group improvisations, music and dance collaborations." Launched April 20, 1972 by a cohort of University of Toronto composition students in a concert presented at Walter Hall, it is still going strong today. By the early 1980s the group's growth required a dedicated rehearsal facility. It found one in a furbished garage on Albany Avenue in the upper Annex. (I recall parties there were a bit drafty in the winter, but then cold breezes just inflame the resolve of the young.)
Then, for some two decades Arraymusic rented a multifunctional space consisting of a studio and offices at the Liberty Village Artspace building. The large brick structure had served as a winery back in the day. During Artscape's 1991-2012 tenure, its tenants infused the neighbourhood with energy and played a "catalytic role in the reinvention of Liberty Village from a campus of under-utilized industrial buildings to an important cluster of creative sector employment." So observed architect Stephanie Calvet in her 2013 article on UrbanToronto.ca.
I spent many hours there rehearsing with the Evergreen Club Contemporary Gamelan and several other groups, as well as attending numerous workshops and concerts. An era came to an end when Artscape's lease was terminated November 30, 2012.
Luckily Arraymusic artistic director Rick Sacks had located a suitable new Arraymusic location in another weathered brick industrial building, this time at 144 Walnut Ave. Even though the second floor space was in a raw state, Sacks saw plenty of potential. After installing a new floor, partitions and fixtures were added. The renovated space is now organised into two areas. The main room, the Studio, is a 1,200 sq. ft. rehearsal and performance space with a capacity of 60; the second area houses six rental offices, one of which Arraymusic occupies. The Arraymusic Studio opened for business in 2013, yet only a brief year later blogTO ranked it among the top five "experimental music" venues in Toronto.
What are the neighbours like? Zooming out on the map we see that Arraymusic's space is located in a mixed commercial-residential zone just south of the busy retail and arts hub of Queen Street West and just north of Adelaide Street. In a newer concrete block adjacent building, Toronto's largest distributor of packaged ice, ice machines and ice sculptures busily serves the GTA's frozen potable water needs. Outside, about 30 metres to the south side of Adelaide, lies the pleasantly green northern end of Stanley Park. Residential houses, town homes and low-rise apartments are the backbone of the neighbourhood, but its texture is liberally infused with commercial pockets housing several art galleries and stationary and printing studios. A womenswear studio, model agency and TV production company are a few short blocks away. A collaborative workspace centre with 153 members, comprised of small startup teams and social entrepreneurs, is a recent neighbourhood addition, perhaps a harbinger of future trends.
While the shifting dynamic of the neighbourhood around the Studio augurs well for a dynamic organization always shifting shape, it's what happens inside that tells the story of where Array is heading. So over the past month or so I dropped in on two quite different events taking place there.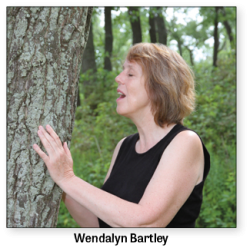 Sound Dreaming: The first, "Sound Dreaming: Music by Wendalyn Bartley" took place on December 5, 2014. One interpretation of the Toronto composer, vocalist and sound energy practitioner Wendalyn Bartley's voice-centric explorations is that they directly aim to connect ancient and contemporary sound energies.
Her Array presentation centred on expeditions she undertook with her voice and audio recorder to "sonic portals," including 11 ancient ritual spaces in Greece, Crete and Malta. One of the works, Soundlines, featured video footage by Jacky Sawatzsky of the storm-ravaged old-growth groves of Stanley Park, the soul of urban Vancouver – yet another kind of natural sacred space. Its score is, however, rooted in the archaic Mediterranean. Bartley's exploratory vocalise was originally recorded at the megalithic temple complex of Mnajdra in Malta, a 5,500-year-old UNESCO World Heritage Site and later transcribed for two women's voices sung live at the concert.
Once at the ancient sites, Bartley chose to attune herself to the "architectural stone structures, female figurines, fertility sculptures, spiral carvings," with the intent to "align my voice with ancestral wisdom and through the primordial language of Sound, [and thus] dream my way into connection with the sacred life-force energy." Improvisation plays a key role in this process. Seeking tones and vocal gestures which resonated with her surroundings, she later mixed the results in a recording studio with environmental and instrumental sounds to "create a series of pieces or Oracle Songs, guiding listeners along their personal interior journeys."
As for contemporary technology, Bartley furnished Array's cozy hall with a 5.1 surround sound PA. Over it she diffused pre-recorded sounds made with her voice at the Mediterranean spaces plus those sourced elsewhere, all carefully edited, mixed and layered in the studio. The often meditative music shifted slowly between five independent speakers located around the room's periphery.
Sitting strategically near the centre of the speaker array, I experienced a richly spacialized sound palette in which a large part of the musical drama was enacted though the movement of the sounds travelling or hovering in the volume of the room. I imagine it was meant to evoke the psycho-acoustics of the caves, temples and palaces Bartley had originally explored, transporting "you and your ears [to] the centre of a larger acoustic space – as if you were present in a different environment, a different sonic world." While Bartley's compositional practice is grounded in late 20th century contemporary chamber and electroacoustic music, what resonated most of all for me was the use of her own voice as the vehicle for her personal journey into musical terrains linking the past and present. The Array Studio's warm, somewhat dry acoustic assisted in the clear presentation of her journey.
Schotzko: Spanning Tree is a new hour-long work composed by Michael Oesterle, for solo percussion. I revisited Array on Saturday, January 17, 2015 for its inaugural (and virtuoso)performance by percussionist David Schotzko. As I arrived the Studio seats appeared almost full, and I saw the performance area set with six stations, each composed of a different array of percussion (and a few non-precision) instruments. Black music stands bristled around each station, each stand holding a single oversized page of the six-page score.
Listening to the work, it became increasingly clear that each page of the score and each percussion station represented a separate musical section. They were not only separated by space but significantly distinguished by the varied timbres, pitches and tonal and performance techniques of the selected instruments and by the individual approaches embedded in Oesterle's carefully crafted score. It was masterfully mediated for us by Schotzko's committed performance. The score traces the metaphoric tree's development "distilled into a simple format – balancing sounds that are long and sustain effortlessly with sounds that are short and have minimal sustainability." It's quite a useful blueprint for a solo percussion work lasting nearly an hour.
Oesterle observes in the program that his six movements "outline musical tableaux which are presented to the performer in the form of six maze-like graphs." While the composer clearly imbued the score with depth of thought and musical detail, he also gifted the performer with considerable leeway, leaving the ordering of the parts, the choice of the instruments and their combination up to the player's discretion. A counterpoint to the work's intellectual rigour and epic length is its sonic delicacy and expansive space where the dry short sounds speak clearly and the sustaining ones ring unencumbered. This sense of space was well served by the Studio's quiet, intimate ambience.
Both these recent concerts at the Array Studio featured a single composer's work, with the spotlight trained on one star performer, yet each highlights a different facet of the array of musical possibilities this venue offers. Yes, both offered contemporary concert music, but their approaches were strikingly different, and moreover appeared to appeal to diverse audiences, judging from those who attended.
It augurs well for Array, both as a presenter and as a flexible rental venue for performers of similarly adventurous experimental mind.
Andrew Timar is a Toronto musician and music writer.