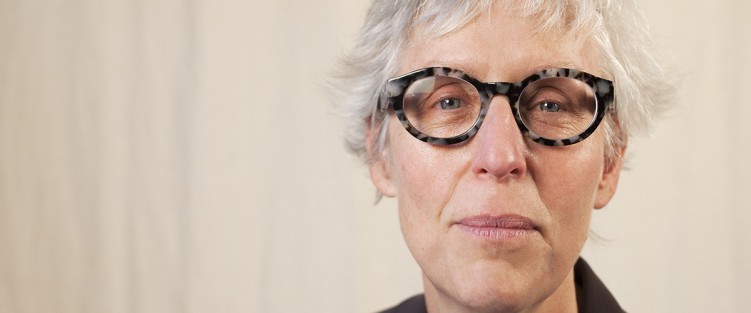 Katherine Carleton, C.M. is the executive director of Orchestras Canada. We talked over Zoom in June.
LP: What are you hearing from the orchestras these days?
KC: I'm hearing several things. They're looking back on the season that was and endeavouring to see from a financial perspective where they're going to be at the end of the fiscal year. Some have fiscal years that end in May, some in June, some in July and all are trying to sort through financial impact of the forced closures in mid-March. At the same time, they're each working on a range of scenarios around what the coming season will look like, potentially. I don't think there's a single orchestra that has a complete picture of what next year's going to look like. Reopening and the speed with which that can happen, the size of groups that can convene, is all decided at the provincial level. It's different picture in each part of the country.
Simon Rattle and several other musicians in the UK recently published an impassioned letter to their government that says, among other things, "Our entire industry is united, ready, prepared, and desperate to get back to doing what we do best." They're eager to cooperate with public health, and are asking for timelines. Do Canadian orchestras need a timeline? What do we need from the government?
I did read an earlier letter by Sir Simon Rattle and Sir Mark Elder which asks for bridge funding so UK orchestras can survive. I don't think anyone is pushing the government for a hard and fast date to reopen until it is safe to reopen. Nobody wants to put their audiences, artists and cultural workers at risk. There are too many things that we do not know about the progress of the virus. To push the government to set the date by which we would open again is not a good idea because we don't know how the situation will change by that date. A premature date may put people at risk. If I'm understanding where my people are standing, nobody wants to do that; of course everyone wants to get back to playing, but nobody wants to get sick and no one wants to be the convenor of an event that causes the people to get sick. I think that the request to government – all levels of government, principally federal and provincial here in Canada - is: help us keep doing what we can do through this period of time until it is safe to gather again.
Have you been following the reopenings across Europe? Rattle himself recently conducted the Czech Philharmonic which did not arrange any social distancing on stage but all the players had been pre-tested. Norway, Austria, Germany, Czech Republic have all had concerts – to a much smaller audiences, it must be said.
There have been similar experiments going on in Asia too.
Because we've been in Stage 1 in Toronto up until this week, we couldn't have started experimenting ourselves, I take it?
That's right. We did see for example pictures of the Orchestre Métropolitain recording Beethoven symphonies last week at the Salle Bourgie in Montreal and they were all socially distanced. The issue is the very different funding models between continental Europe and Canada. The level of government subsidy that those orchestras are receiving is typically between 80 and 90 percent. So it may be feasible to bring an orchestra together to work with little or no audience and no revenue. We do not have that luxury here in Canada.
Yes, I wondered whether the level of subsidy affects how nimble an orchestra can get these days?
It certainly affects the extent to which orchestras can afford to perform without revenue from ticket sales.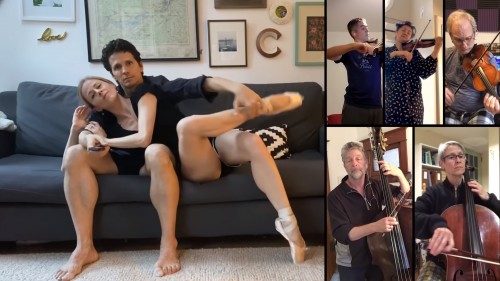 How will orchestra musicians in Canada survive this period? Do most orchestras employ fulltime or do they employ musicians as freelancers?
Some orchestras with collective bargaining agreements treat their musicians as independent contractors. Some of our largest orchestras with collective bargaining agreements treat their musicians as employees. There's a wide array of types of contracts. For example, the OSM, NACO and TSO treat their musicians as independent contractors; the Vancouver Symphony, the Calgary Philharmonic, the Winnipeg Symphony, the Orchestre Symphonique de Québec treat their musicians as employees. Because of the way the government has started the programs of support for workers, some of the orchestras were able to benefit from the wage subsidy, and some of them had to decide whether to lay their musicians off and encourage them to apply for the Emergency Response Benefit. I think all of the large orchestras kept paying their musicians through this period of time because of the importance they placed on honouring their commitment and keeping their band together. It's different with small and mid-size groups where there are relatively few employee orchestras and where those groups simply did not have the resources to continue to pay their musicians past the mandatory notice period in their agreements. So it's a very different experience from orchestra to orchestra – and not just a matter of large and small but also a matter of the history, of what the contracts stipulate.
Have there been attempts to perform in groups of four or five, perform in open spaces, parking lots, do guerrilla concerts – have you been hearing from musicians who wanted to do that?
I think a lot of that is happening. But again one of the obstacles was the limit on the number of people that can gather in one place. Our limit until just days ago was five, and is up to ten now. So yes there's a certain amount of that happening, but everybody's been very very careful about what the social distancing needs to be and the max number of people in the group, and they do not want to be in a situation where by the simple act of playing they're encouraging people to gather in close proximity. Instead, what we're seeing more of is digital activity, and the virtual orchestras and virtual ensemble projects.
Pop concerts and unamplified music will probably require two different reopening approaches…
Do you think?
The crowds are bigger and sweatier in pop music, usually.
I think we do share a fair amount with folks in the pop field. It's not a complete overlap, but if we're talking about a possibility of 1500 or more people gathering for an unamplified music performance, we are starting to talk about similar things as in commercial music.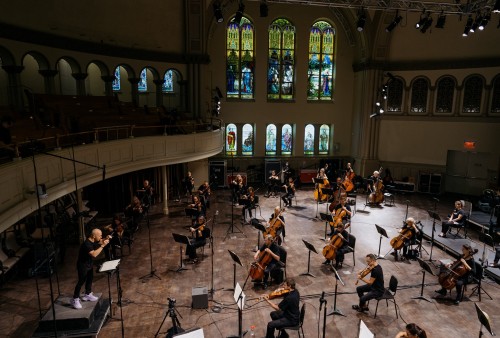 Have there been joint efforts?
We are keeping in touch with the Canadian Live Music Association and have tried to line up some of our recommendations with theirs so we get some critical mass. We also work closely with Opera.ca, CAPACOA, as well as the Canadian Dance Assembly, to see if we can dovetail our various requests.
I've read in The Guardian that Boosey & Hawkes has been emailing orchestras and managers around the world to propose works that contain up to 20 and up to 50 musicians. Do you think some of the Canadian orchestras will go smaller, repertoire-wise, in the fall?
I'm not surprised to hear that. I expect a number of artist managers have been going to the orchestras and saying, We have this soloist who has this repertoire for chamber orchestra. But the uncertainty around opening dates, travel requirements and quarantine requirements will not make any bookings easy. Similarly, this affects repertoire as well – in some cases the orchestras may be looking very closely at the repertoire that they have in their library, that they can use if they get the word that in two weeks' time they're going to be able to put on a performance. I think there's a lot of planning right now for small ensemble work, and possibly towards a classical orchestra size work, possibly moving towards full orchestral by the end of next season, but it really depends on what the prevailing conditions are. I think people are trying to buy themselves the maximum amount of flexibility in their artistic planning so that they're not committing themselves to paying a rental fee or guest soloist fee unless they actually know that the performance can happen. It may be a good period for Mozart serenades…
You've probably seen the recent announcement of the new Koerner Hall season? It struck me as more local, more Canadian than usual.
It's a very strong season and I thought the simultaneous announcement of the season and the indication of all the forms of flexibility around ticket refunds was an interesting message. So [both] we are announcing the season, and how we'll take care of you if it does not happen.
Do you see an era coming up where we will be more local, with not that many soloists from abroad?
I'm seeing a lot of conversations happening in terms of working with core orchestra or only a few additional per-service musicians, working with local soloists, working with resident conductors; and a lot of conversations with music directors if they're not in Canada about how they would handle quarantine if it's still in effect at the point they are expected to lead concerts. I think, as Erin Benjamin of the Canadian Live Music Association said, this could be a spectacular opportunity for Canadian artists. Given that they're more likely to take a date than someone who has to balance the need for a 14-day quarantine at the end of a trip.
You've probably been following the science reporting around the aerosol particles spread by instruments and singing. The spread is not as significant around instruments, including brass, studies seem to be suggesting?
From what I understand, the research that's been published so far has not been peer-reviewed and most has not been replicated since the original research. We are a small part of the international research project that's been put together in the US, the University of Colorado at Boulder and the University of Maryland at College Park. There's a consortium project, total cost about US$300,000, to do research on aerosol particles, wind instruments and singing. What we're hoping is that that will give the calibre of research necessary to support next steps. But I'm getting I would say a little short tempered with the reckless sharing of things that no one actually understands in terms of the science and that has not been peer-reviewed nor replicated. I know everybody wants to play, I totally get that, people want to be back in business. But we need good science, not just hope. I've read what's out there, and I'm getting a bit cranky about the fact that we're letting our natural desire to play perhaps blind us to the calibre of what's been produced. To a certain degree, we have to wait. To be sure that we are doing things with all appropriate care for the artists and for audience members and backstage workers.
So are our orchestras going to have a fall season this year?
Well, we already know that a few have already said that the season that they sold to the public will not be happening as they sold it to the public in their brochures. Victoria Symphony has said that, Vancouver Symphony, Pacific Opera Victoria have said that. And I expect that we will be seeing more announcements like that. If you have a season that starts in September that is predicated on international guest artists, conductors and guest artists coming from an international location, and where the budget is predicated on selling 80 percent of your seats in a 1500 or a 2000-seat hall, it seems pretty clear that in many venues that won't be happening.
Some orchestras have said We'll be doing something, but we're not going to be doing what we originally put in the brochures. I expect that we will see all kinds of different activity. We need music. Musicians need to play. Online is fine, we had a lot of fun with that, and will continue, but being in the same space is emotionally and socially important. It's likely that an orchestra of 95 people sitting in close proximity on the stage performing for an audience of 2000 people also sitting in close proximity in an enclosed space is something that will be unlikely to be happening by September. What would make that possible? It will require more research on people making music in close proximity; it will require ideally either a vaccine or treatment for the virus that is effective; it will require health and safety precautions; and it may even require renovations to venues to enable what social distancing can be done. Think about Roy Thomson Hall: walking into the lobby, how the line-ups work,;think about the hallways to the orchestra level at RTH, those long, skinny downward ramps… Many organizations and venues across Canada are right now trying to figure out how many people they can accommodate, how quickly they can get them into the hall with physical distancing in place, how many people can be accommodated in the physically distanced venue, and trying to figure out what they can afford and how much ticket revenue they can forego.
By the way, there's an organization based in the US called the Event Safety Alliance, that has published a useful guide to safe reopening – it's not orchestra-specific but it is about developing a strong venue reopening plan.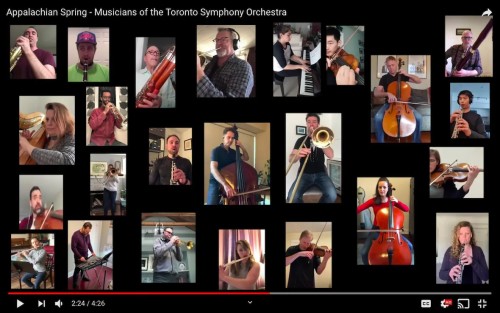 Do you ever worry if we're shut down for too long, people will lose the habit? Ticket sales for opera for example have already been modestly but steadily going down every year. Do you ever worry that after a certain point people will not want to go out, mix with others and take any amount of risk in order to hear an orchestra play?
That's one of the reason we are seeing the amount of digital content that we are seeing – it's so organizations can stay in touch with their people, and to keep those connections warm and current, and in some ways to expand the reach of their offerings. We initially saw a lot of experimentation, I suspect there is a lot of more strategic focus now in terms of who are you trying to reach and what kinds of things you are sharing with them. Part of the post-COVID response is going to depend on how carefully we have tended those relationships through this period. I agree with you that if the habit is one that people don't actually miss having, then we have a problem. But if we succeed in demonstrating both that there's a reciprocal relationship there between the performers and the audience, and that we all want nothing more than to be back in the same room together, I think there are possibilities.
What is it that makes a performance a "gotta be there" activity? It's something we'll be talking about a lot in the coming days. That sense of really needing to be present, in real time, for the experience.
But this is where I guess I get stuck on the idea of safety, and of welcoming, and of care. If orchestras open prematurely and people are put in danger because they were welcomed back too soon, I think it would be harder to come back from that.
Lydia Perović is a writer in Toronto, including writing on art song and other subjects for The WholeNote (artofsong@thewholenote.com).
This interview appeared first in her arts blog, Definitely the Opera.