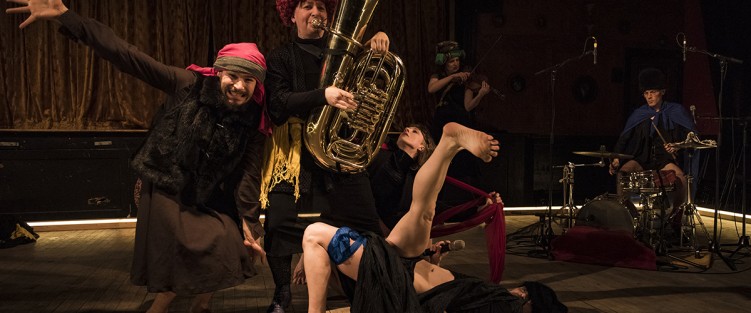 For over a decade, Susanna Hood has been developing projects that explore and develop her identity as dancer and singer, choreographer and composer, often incorporating other arts as well.
There's the edgy, Dora Award-winning solo dance She's Gone Away and Shudder, her visceral interpretation of Francis Bacon paintings. In 2014 she combined singing and choreography in The Muted Note, settings of poems by P.K Page with her partner, composer and trombonist Scott Thomson. Her latest work, Impossibly Happy, is more ambitious still: she's debuting as songwriter and bandleader in addition to roles as singer-dancer-choreographer with her Montreal-based company of dancers and musicians, Near to the Wild Heart. Setting poems by the 15th-century Zen master Ikkyū, Impossibly Happy combines art forms with a singular physical and emotional intensity.
Ikkyū was no ordinary Zen master, but a monk whose poems explore and celebrate drunkenness and carnal adventures. For Hood, "Initially, it was the poetry itself that drew me; its simplicity and openness of form and the possibilities that leant to discovering my own musicality within. But once I started choosing and working with poems, it was the raw, unpretentious truths that I found in the words, unfiltered by conformity for appearances' sake, that compelled me. That's the aspect that made me curious to know more about this extraordinary person and particularly the paradoxes he seemed to live without apology. For example, how he/we contain the frictions between wisdom, grumpiness, sacredness and lust."
Hood's conception of Ikkyū takes in dance, song and poetry, exploring him as spirit presence, paradox and contradiction. The stage, containing both dancers and musicians, is alive with movement, sometimes resembling a battle, sometimes a kind of hypnotic anarchy, with dancers moving rapidly amongst the musicians or suddenly freezing into muscle-tensed, almost calligraphic forms. It's made more precarious by Hood's simultaneous embrace of choreography, composition and improvisation: "In all cases, I was looking for people who could balance working with both set forms and form-making through improvisation. Along the way I've realized that how different people approach each of those demands is highly specific and subjective."
Hood's dancers combine interests in improvisation and contemporary vernaculars: "Sovann Prom-Tep comes initially from break-dancing culture, and Lucy M. May has been dedicating a good part of her practice to Krump in the last three years. Both of these dance forms demand that one is always reinventing and developing one's own dance within the form."
Assembling the musicians to realize her sometimes spiky melodies, Hood managed to achieve a distinctive sonic palette via the skilled improvising of drummer D. Alex Meeks with tubist Julie Houle and violist Jennifer Thiessen. Adding to the special skill set required, every member of the company is also called on to sing.
Impossibly Happy is risk-taking, interdisciplinary work that seems to demand all the individual and collective resources that its performers might bring to it. As Hood remarks: "It was a huge learning curve for all of us." As such, it's a worthy embodiment of Ikkyū's special vision.
Near to the Wild Heart presents Impossibly Happy, June 20 at 8pm at Array Space, 155 Walnut Ave.
Stuart Broomer writes frequently on music (mostly improvised) and is the author of Time and Anthony Braxton. His column "Ezz-thetics" appears regularly at pointofdeparture.org.