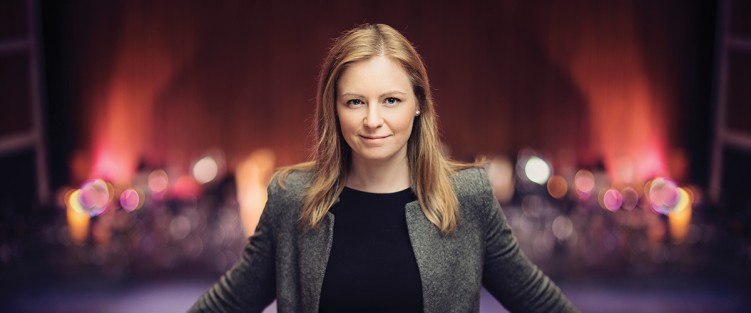 One of the best things to come out of this wretched humanity of ours, Mahler's Das Lied von der Erde is always worth highlighting when spotted in concert announcements. A very good edition of Toronto Summer Music Festival is in the offing this year – check out our website for concert reports during summer – and will, on August 1, present the chamberized Das Lied at Koerner Hall in the Schoenberg/Riehn arrangement. Mezzo Rihab Chaieb and tenor Mario Bahg will sing. Conducting: the young, and already highly in demand across North America, Gemma New, the Hamilton Philharmonic Orchestra's music director.
I took an express bus to Hamilton recently to catch the last HPO mainstage concert of the season, a program of Vivier's Orion and Mahler's Fifth Symphony. New and HPO's executive director Diana Weir took a substantial bit of time to address the audience in the FirstOntario Concert Hall and talk of all the civic partnerships developed around that particular concert. There was a small crowd of students on the balcony thanks to the HPO's Adopt-a-School program, and representatives from mental health and the healthcare sector marking Canadian Mental Health Week. The HPO seemed extremely proud of its multiple connections to its city and the province, and eager to deepen and multiply them. What New tells me when I phone her the week after for an interview confirms this.
"Our audience is almost always full capacity," she says on the phone from San Diego, where she was conducting that week. "What we're doing in Hamilton seems to bring more and more for our budget every year, so we are actually growing as an organization. I think that we found a way to connect with the community and that's one of the things that have helped the HPO grow." Programming is of course crucial, she says, and also how that programming is delivered. "Being able to program concerts that can relate to those who know a ton about music and to those who are coming first time. Making sure that programs are well paced. Making sure the experience is great for musicians too and with enough rehearsal time. Planning a season and having a look at partnerships and community collaborations. Being able to talk about music! This is a skill that conductors are increasingly in need of, so we can advocate not only for our orchestra and musicians but also the program itself. And finally being very involved in education – especially with the schools not having so much funding these days for music education. It's the orchestra's job to bring young people to this art form and get them to feel welcome in the concert hall."
New is also experimenting with the concert format at the HPO. Away from the main stage, Intimate & Immersive is a chamber music concert series with HPO musicians that takes the audience to less typical concert spaces and seats them next to and around the orchestra. "There's always a part of the audience that wants something a little bit more relaxed and intimate and maybe even more involved than the traditional concert. They want to be able to move around and mingle and get to know the music in a more casual environment. That's what we've been doing with the I & I. We wanted to create an ambience that's more like a place you go to for a good drink and meet new people and a have good night out." The audience also has a chance to talk to the musicians before, during and after, in time segments reserved for that. "Everyone sits very close together. The orchestra is in the middle, and the seats are all the way around the orchestra. We encourage everyone to move seats for the second half." A visual artist is engaged every time to create the lights or video that fit the program. "Next to last time we also had smells and things that you can touch of different substances that evoked for the audience the idea of paradise," says New. The last one this season, on May 23 at the Cotton Factory in Hamilton, was programmed around the beat and pulse, with an all-contemporary composer lineup.
I ask her about the stamina needed to conduct Mahler symphonies. "I run quite a lot. I find that helps. If I can run 40 minutes straight, that usually means I won't lose my breath during a Mahler symphony," she says." And just rehearsing it as well. The amount of emotional drama that the piece provides and the excitement of it, the powerful sound that everyone is giving – it's all very motivating, and I feel energized by it." The Lied von der Erde at TSM will be the chamber version. Does her approach to conducting differ depending on whether she is before a chamber orchestra versus a big symphonic crowd? "Yes, I approach an orchestra in a way that will make most sense to them. For a small orchestra, like the one I conducted recently in Santa Fe, New Mexico, we were doing Beethoven's Second Symphony and that's a much smaller environment. You don't need to give a big gesture, you can be more subtle. It really depends on what I'm hearing and what message I want to give. For the Mahler Fifth, it is a massive orchestra and the sound is so powerful and loud at places, but also other times it's incredibly soft and close-knit and subtle. You have to show that gamut in your physical expression as a conductor."
Of Das Lied von der Erde itself, which New covered during her tenure as an assistant conductor of the New Jersey Symphony Orchestra, she says: "I fell in love with it. It was such a personal work for Mahler. It's sad to think that he didn't hear it in his lifetime."
Are there any composers that she'd like to advocate for in her programming? "Claude Vivier," she says. "He is a favourite. His music is so intense and clear. It's really got something that moves many of us. I'd like to do more of his music in the future." She's also enjoyed playing pieces by Abigail Richardson-Schulte, the HPO's resident composer: "Her compositions are positive energy!"
What about the standard rep? I have the impression, I tell her, that my home symphony, the TSO, never plays enough French music. "There could be practical reasons for that," says New. "Ravel often needs six or eight percussionists. I find, especially with the regional orchestras when we plan our seasons, that that's often a challenge. And the works are shorter. But Ravel is one of my favourite composers of all time. We're doing Daphnis et Chloé in September, and just did Debussy's Prelude to the Afternoon of a Faun and Nocturnes in March. Every time I plan the season I look at what HPO's done since 2002 – I have that much information going back – and think that French music is something that we want to do more. Many orchestras do La mer, that one is probably the most popular, but what about Alborada del gracioso or La valse? I'd love to do La valse."
We too would love to hear that, and we'll be there when she does. Whether it's with the TSO or the HPO, just a Presto tap away.
Lydia Perović is an arts journalist in Toronto.