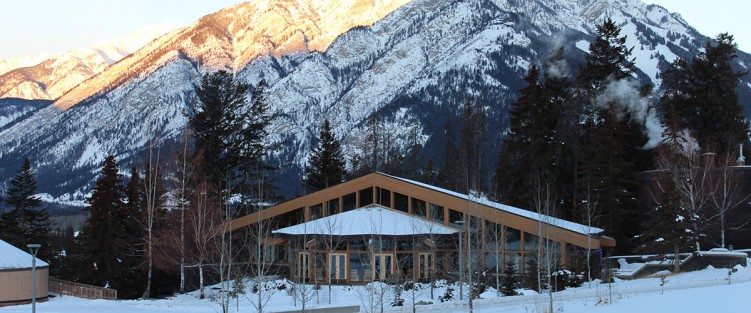 It happened the day after I got back from Banff. My flight had arrived late the previous night, and I got back to my apartment around 11pm, after a lengthy wait in line for a taxi outside of Pearson International Airport in minus-20-degree weather, which I'd endured without the aid of toque, gloves or scarf, as I'd packed these items deep in my carry-on luggage. Imprudent though this decision might seem when viewed in retrospect, it made sense at the time:
I hadn't needed my woollen accessories on my last day in Banff thanks to a timely Chinook wind that raised the daytime temperature to a balmy two degrees.
After getting back to my apartment, making an abortive attempt to unpack, and falling asleep with every available blanket piled on top of my wind-bitten body, I awoke to further delights: frosted-over windows, an insufficient supply of drinkable coffee, and a refrigerator, empty but for an assortment of condiments, a few cans of beer, and a sad, desiccated apple, which in my haste to leave some four weeks earlier I'd evidently forgotten. The remedy to this dearth of comforts:
I had to go to the grocery store.
And so it was in Whole Foods – coffee in one hand, avocado in the other – that I, upon making eye contact with a nearby man who was also perusing the produce section, smiled, nodded and said a brief "Hey." To the man's credit, his gently startled response of "Uhh… okay" probably had less to do with any rudeness on his part than it had to do with the fact that he, unlike me, had not just spent two weeks at the Banff Centre, where it was common practice, upon encountering a new face in the close quarters of an elevator, or at a dining-hall table, to smile, nod and say a brief "Hey." This salutation, simple though it was, constituted a layered acknowledgment of a number of implicit statements related to the unique circumstances of being at the Centre, including (but not limited to): "It's nice to see a friendly face" and, "Isn't it wonderful to have access to such outstanding facilities?" and "Isn't the divide between our day-to-day lives and the pampered, unstructured, logistically streamlined lives that we're leading in our respective residencies so great as to make you feel simultaneously lucky, grateful and slightly embarrassed?" My fellow plant-fat enthusiast couldn't have known.
He also likely wouldn't have known that the Banff Centre – founded in 1933, current full name Banff Centre for Arts and Creativity – hosts a number of programs throughout the year, from short-term summer workshops in disciplines such as dance, theatre, jazz and chamber music, to long-term practicums, in fields such as audio engineering, that run for the better part of a year. I was at the Centre to attend the Banff Musicians in Residence (BMiR) program, a self-directed residency that occurs annually in three separate five-week sessions throughout fall and winter. Successful residency applicants can stay for the full five weeks, although most tend to stay for three, at least in the sessions that I've attended. While I don't know what internal criteria are at play in the selection process, a typical BMiR cohort will consist of approximately 25 Canadian and international musicians who specialize in a wide variety of different practices; this residency included artists such as Corey Gulkin, a singer-songwriter from Montreal, Mark Taylor, a composer from New York, and Rosa Guitar Trio, a classical ensemble from Australia.
Each week of a residency also features a guest faculty member, who hosts a master-class-style session in their studio, is available for one-on-one coachings, and who performs in the concert session that ends each residency week. These concerts tend to alternate between Rolston Recital Hall, a classical-style venue in which primarily acoustic music tends to be programmed, and The Club, the creatively named space in which jazz, pop, folk and other groove-oriented music tends to be programmed. (Blunt titular charms aside, one imagines that the Banff Centre must simply be waiting for the rightly named donor-partnership opportunity.) A BMiR session also sees the selection, through an application and interview process that takes place in advance of the residency, of an artistic associate, a resident who acts as concert curator, social convener and liaison between program participants and Banff Centre administrative staff. The artistic associate in my most recent session was Sophie Gledhill, an English cellist, who successfully wrangled our herd of a cohort with patience, humour and generosity.
At its core, a BMiR works by giving its participants the space, time and resources they need in order to do their unique artistic work, free (to a certain extent) of the stress and responsibility of their ordinary routines. Physically, the Centre resembles a small college campus, and being there mimics a kind of post-secondary experience: participants stay in one of several residence buildings, they have access to the gym, and they receive a Banff Centre ID card, which is loaded with funds on their flex-meal plan; funds they are free to spend at any of the on-campus restaurants (though not, it should be noted, on alcohol). Musicians are assigned a studio space, either in the Music and Sound building, or in one of the 28 huts located in nearby clusters. Equipment requests are processed about a month before the start of a new session. The Banff Centre has a robust inventory of gear, and will help to accommodate any unusual items needed in a given artist's studio. As drummer Mackenzie Longpré puts it: "One of the most unique aspects of the Banff Centre is the seemingly limitless access to a large array of facilities and musical equipment. During my residency, I felt like I could request and use whatever gear I wanted, and was never made to feel like I was overstepping my bounds."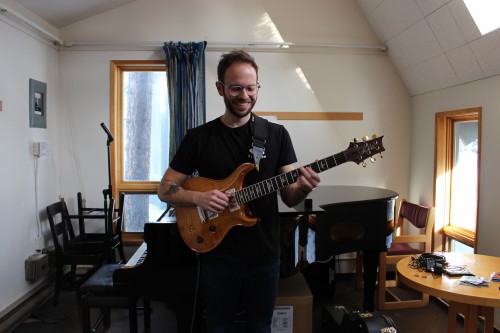 Aside from overeating, staring at the romantic splendour of the mountains, and promising yourself that you'll definitely, definitely go to the gym tomorrow morning, the point of attending the BMiR program is to work on a specific musical project. These projects can differ widely from participant to participant; a classical pianist might be preparing for a concerto that she'll be performing with an orchestra in eight months' time, while a singer-songwriter might be writing new material for an album that addresses itself to the themes of climate change and the Canadian landscape. The first BMiR session that I attended was in late 2016; I came to the Banff Centre with a band, to rehearse and develop material written in advance by the group's leader, in order to prepare for a recording session in early 2017. I spent two weeks during that stay at the Centre, and my artistic goals were fairly straightforward: my job was to play the given material as well as I could, to experiment and develop strategies to expand upon the songs the group was working on, and to advance my own instrumental skills through individual practice. By contrast, I attended this year's residency by myself, to compose and develop material for a forthcoming recording project. As I was preparing for my time in Banff, I imagined that it would feel more or less the same as my first time, and that my artistic trajectory would look fairly similar by the end of my stay. This assumption, as it turned out, was wrong.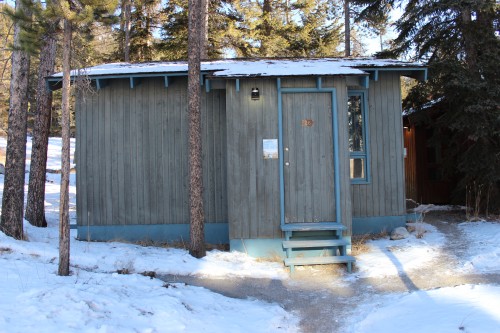 Being provided with the space, time and resources to do my unique artistic work – free of the stress and responsibility of my ordinary routine – produced, in me, an unexpected feeling: an anxious dread that if I wasn't operating at peak efficiency, I would be squandering this precious opportunity. For as idyllic as a Banff Centre residency may be, it also represents a considerable personal investment of time: time away from family, away from work, away from the real world. The idea that I was not making the absolute most of my experience became increasingly debilitating; perhaps unsurprisingly, I became a bit sick at the end of my first week, and spent a day away from my studio, recuperating in my room.
The key to overcoming this anxiety, I was to find, was not round-the-clock access to excellent facilities, or picturesque views, or all-you-can-drink cafeteria coffee: it was the mutual support and encouragement of the musicians with whom I shared my residency. It is surprisingly difficult to be open and vulnerable, particularly with people you've only just met, but actively connecting to the BMiR community became the key to doing better, more fulfilling work. As Gulkin wrote to me after the residency, this peer support "was one of the most important parts of the residency. While everyone was working on a different project, we all realized we were experiencing similar ups and downs," in going through the sometimes "extreme emotional process" of creating art.
The Banff Centre is a special place, and, as I walked home from the grocery store on that frigid morning, having just warmly greeted a man I did not know, I thought about the things I hadn't been able to take back to Toronto with me: the world-class facilities, the crisp mountain air, the clamour of Australian accents at every coffee shop and bar in town. But I was reassured that work, even in the most ideal of settings, doesn't suddenly become easier, and that what turned out to be the most important part of the experience – participating in the cultivation of a supportive community of artistic peers – was, in fact, something that I could bring home.
Colin Story is a jazz guitarist, writer and teacher based in Toronto. He can be reached at www.colinstory.com, on Instagram and on Twitter.