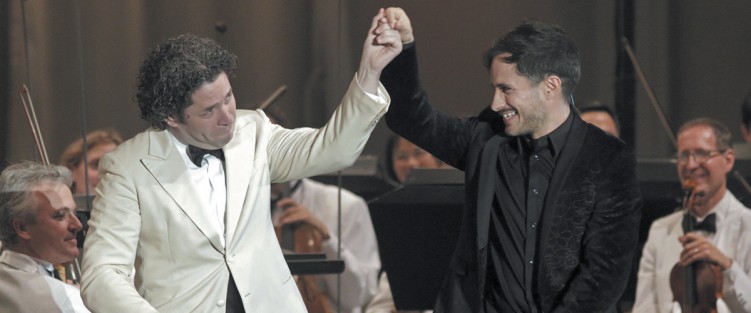 These days, stories about classical music are almost completely absent from television programming – which is why it's all the more astonishing that an American series with protagonists who are musicians, and plots revolving around their work as musicians, has been, since its modest debut in 2014, gaining prominence. By Season 3, Amazon.com's online-only TV series Mozart in the Jungle has accumulated several awards, a growing following – and critical acclaim nearing consensus.
New charismatic music director takes over the reins at a large New York City orchestra. Board of directors gears up for a rebranding but the mandate is at stake. Young musician joins a music section full of veterans set in their ways. The old music director is not quite ready to disappear into the background. He is, in fact, about to get into a messy affair with the orchestra's CEO. Meanwhile, opening nights. Fundraising events. Tour. Lock-out. Drugs, prescription and other. Sex. Rivalry and comradeship. Big chances and hard blows. And music: a lot of it, in almost every scene.
I am of course talking about an Amazon Original series Mozart in the Jungle, a Golden Globe-winning show which shines the light on the lives of professional musicians as no other TV show has.
Classical music and television – still the most powerful of all media – have completely parted ways in Canada and the US over the last decade. For Ontarians, the only chance of coming across any opera and classical music on TV is the public francophone TFO channel, which occasionally interviews artists and transmits recorded performances. The effects of the total withdrawal of the national public broadcaster CBC TV from covering art music, literature, visual arts and dance is for the sociologists of the future to measure and for us to bear. (Papers are not doing much better: our largest dailies' coverage of classical music is occasional at best.)
Classical musicians are permanently absent from TV fiction as well. Could the Looney Tunes cartoons have been the last time that classical music was present in broad TV mainstream? Which is why it's all the more astonishing that an American series with protagonists who are musicians and plots revolving around their work as musicians has been, since its modest debut in 2014, gaining prominence, awards, a growing following, and, by Season 3, critical acclaim nearing consensus.
Real-life musicians who've appeared in cameos include Joshua Bell, Emanuel Ax, Gustavo Dudamel, Lang Lang and Alan Gilbert. With season 4 in the works, the list is likely to grow. It's hard to believe that the series has not come out of the traditional TV: it's an Amazon.com production (the online retailer is also a TV production company) and, like shows on Netflix, can be watched online only – by episode, or entire seasons. It's a new and fast-growing model of TV financing and consumption; and yet the old – classical music – seems to have found a place in it.
The show's creators – Roman Coppola, Jason Schwartzman, Will Graham and Paul Weitz – originally based it on oboist Blaire Tindall's 2005 memoir, Mozart in the Jungle: Sex, Drugs, and Classical Music, but the show, centred on a charismatic young conductor, an established older conductor, an administrator of a large NYC orchestra and a handful of musicians, quickly acquired a life – and wacky plots – of its own. After a bumpy first season that was no stranger to stereotypes, implausible plotting, iffy gender politics (men are the creators, women are administrators or young artists in need of mentoring), a sitcom-like take on the working life and even a ghost of Mozart speaking in a posh British accent, the show proceeded to improve at a steady pace. Season 3 has persuaded its most obdurate critics. The principals are now complex individuals, stories are well-researched, careers take more than one miraculous performance, women too are creators. So, if you still don't have the habit of looking for TV online and have missed the first three seasons entirely, now is a good time to catch up before Season 4 is released early this December.
Season 3, its best so far, is also when the only Canadian in the show's permanent writer-producer pool joined in.
Multi-talented screenwriter and actor Susan Coyne is probably best known across North America as the co-creator of the 2003-06 Canadian TV series Slings and Arrows, a dramedy about theatre artists working at a Shakespearean festival much like Stratford and, should you poll the local TV critics, one of the best things ever to appear on TV. Slings accomplished what few TV creations dare try: it took a piece of highbrow culture – Shakespeare's plays – and turned it into compelling television without dumbing any of it down. A corner of high culture, often accessible only to those who'd studied it and who tended to belong to the leisured classes, became the setting for a TV story about personal and professional intrigues of the working men and women who happen to be artists. Sounds familiar? Mozart in the Jungle is aiming exactly in that direction.
The producers called Coyne before the work on the third season had begun, "out of the blue, but the next thing I knew I was flying to LA," she explains when we meet to talk about her work on the show. Slings and Arrows is well known in TV and performing arts circles, and somebody must have connected the dots between it and MITJ. She had never been to LA before. "I found a very creative, slightly chaotic but wonderfully free-flowing kind of situation that I liked a lot; it's not what I expected of LA television industry; it was more like working in the theatre." She started as a writer but became a producer on the season – which is also a writing job. "Producers write all the time, work on all episodes, shaping stories, rewriting, tweaking scenes, and we're to some extent involved in conversations about creative problems: you're sometimes consulted about casting, for example," she says.
This isn't Coyne's first time writing about an orchestra: some years ago, she was asked to develop a Canadian show about a fledgling orchestra, but it didn't make the production stage. "What we came up with was really good, but times being what they were, we couldn't take it forward in Canada, and then both of us writers got busy with other projects. So, I have done some research into orchestras and I know how difficult it is to tell the story of an entire ensemble, plus the people backstage running the show. I think that telling a story through a small family of musicians, all of whom have their own issues, is the way to go about it. MITJ really honoured what's unique about musicians, the physicality of the job, the fact that it's like being an athlete." And just like Slings, MITJ doesn't make fun of people for doing what they do – they see being an oboist or a conductor or a composer as an absolutely worthwhile thing to do. "The show makes fun of them for their egos, and their neuroses. But they take it for granted that what they do matters."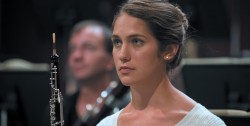 Writing the show is a collective process, not unlike playing in an orchestra. The producers get together to sketch out the whole season before each individual episode is written. Any newly introduced narrative thread needs to be resolved by the last episode. "If there is an orchestra strike at the beginning of the season, it would have to be resolved by the end. We knew Rodrigo would be starting a youth orchestra, and that Gloria and Thomas' relationship would become important. We knew that they were all going to Venice and that Rodrigo was going to conduct a recluse opera singer. Then you figure out, in broad detail, what is going to happen in each episode. Then, you make sure that every main character has enough to do in each episode, and break it all down into finer and finer detail before you start to write an outline. Then you go and write it. And rewrite it, and rewrite it, and rewrite it. Some bits get taken from one episode to another episode. It's a strange, organic process. There are bits of scenes that I've written in every episode, and a lot of the writers can say the same. Then you get rewritten yourself. You get your name on one of the episodes, but it's probably a mishmash of your stuff and other people's stuff. Finally, the showrunner looks at each episode and makes sure that it all feels like the same show and not like something written in different voices."
Coyne's name appears in the credits of the "Creative Solutions for Creative Lives" episode, in which the former music director of the orchestra turned composer (Malcolm McDowell) discovers electronic music, and "Avventura Romantica," in which the young protagonist Hailey (Lola Kirke) assembles a small orchestra and tries conducting herself – a piece composed for the show by NYC-based composer Missy Mazzoli. The storyline with Hailey stumbling into conducting then realizing that she really wants to do it, Coyne says, was an important one to tell, and will continue in Season 4. "In theatre, everybody has their own voice and everybody is their own artist, but what's fascinating about the orchestras [is that] everyone there is highly trained as a soloist whose job upon joining the orchestra is to blend in. And I can see how that can be stressful; I can also see how making something bigger than yourself can be wonderful." It's additionally interesting, she says, if the musician grappling with these questions is a young woman, since the external and internal obstacles to the conducting profession in that case multiply.
A repository of charisma and artistic madness in Season 1, the new music director Rodrigo (played by Gael García Bernal) has by now grown into a conflicted human being. Coyne says it's a natural process: finding new layers to characters and surprising yourself is part of the job. The fun of it is to put the characters in challenging situations and see what they're made of. "It's true that the Rodrigo character is magical in some way, but we're discovering that he has his own disappointments and yearnings, and is wondering what his true destiny is, and whether it's enough just to be an artist. Some of this came from Gael who said at one point, 'It's time for this guy to grow up.'"
Coyne played the piano as a child and while her university degrees are in history and theatre, music was always part of her life. Now, thanks to the show, she listens to classical music even more. "And I think there comes a time in your life when you need to be listening to more complex music and having more interesting conversations about it," she says. She is most likely to be found listening to Bach, Mozart, Beethoven and choral music of all kinds. "My kids sang in a church choir and I loved all the masses they sang in – those things really thrill me." She'd like to introduce more Romantics and modern music to her listening habits. Opera is always around. In How Are You?, a short film about an end of a marriage that she made with Martha Burns in 2008, an aria from Verdi's La Forza del Destino is sung in an Annex living room by the protagonist's operatic alter ego (look for the film, 18 minutes of hilarity, sadness and opera, on Vimeo.com). "Only opera can express certain things," says Coyne.
Why has classical music disappeared from the TV medium, and what are her thoughts? "I was going back looking at those Leonard Bernstein intro-to-music shows the other day…He was amazing. Shows like that don't exist anymore," she agrees. While a number of conductors have embraced different causes and are active in their societies – Dudamel, on whom the MITJ's Rodrigo was loosely based, is one of them; Daniel Barenboim is another – the lucky connection of the Bernstein kind (between a public broadcaster and a great communicator whose goal is to make music education more widely accessible) doesn't come easily. "The idea of art music being popular – somehow we've lost that thread. It's perceived to be elitist, despite what every orchestra in the world is trying to do to fight that," says Coyne. She likes the music segments that Robert Harris occasionally makes for CBC Radio One's The Sunday Edition: "He does a great job of talking about music in a lively and approachable way," she says. "That's the goal with MITJ too. It tries to demystify classical music and take it into the world."
This is an uphill battle with so much else vying for our attention. "Once we do give over to something, we can pay attention, but there's always the barrier – am I willing to give up anything for this. And those great works of art require you to give over. They are going to enlarge you, and they'll ask for something in return. It's the most rewarding kind of 'giving over'." Art, she would like to remind us, isn't something over there; it's next to you and it relates to every aspect of your life.
Funding cuts in arts education in schools also aren't helping the cause. "The only sports I can watch are the ones I've played: hockey and basketball. (My hockey team in high school was never in any danger of winning so there was never any pressure and we enjoyed it.) I will watch hockey because I've played it," says Coyne. "I can imagine what it's like to be in a game of hockey, and I get some of the fun of it. I think if you get kids the exposure to music at a young age, they'll have a taste for it for life."
Coyne herself was introduced to Shakespeare (and Shelley and Keats) at the age of five by a kindly cottage neighbour who also happened to be a masterful pedagogue, the story of which she tells in her 2001 childhood memoir Kingfisher Days. "Music is enriching for all the reasons that the scientists and educators give us, of course, but primarily for the pleasure it gives."
Rapid Fire: Susan Coyne, writer (Mozart in the Jungle)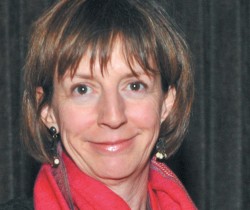 WN: Mozart or Wagner?
SC: Mozart.
Pinter or Stoppard?
I want to say Pinter but I'll say Stoppard.
Caryl Churchill or Stoppard?
Churchill.
Shaw or Coward?
Coward is underrated!
Shakespeare's tragedies or Shakespeare's comedies?
Impossible. And great playwrights intermingle comedy and drama. Ibsen, Chekhov and Shakespeare all knew a thing or two about dramedy.
Female roles in Shakespeare vs. female roles in Restoration plays?
Hmm…Rosalind and Portia are pretty good roles. Sometimes the women are on a par with men in Shakespeare, there just aren't enough of them. Restoration roles are wonderful to play, but those plays are not as ambitious as Shakespeare's plays. It's really hard to do Restoration comedy – harder than Shakespeare. They can be arch, like Wilde.
Three Sisters or The Seagull?
Three Sisters.
Tolstoy or Dostoyevsky?
Dostoyevsky.
La Traviata or Rigoletto?
La Traviata.
Breaking Bad or Better Call Saul?
Next.
Girls or Sex and the City?
Girls.
Broad City or Girls?
Broad City. The last season of Girls was good.
British TV or American TV?
I'd say British TV…I just love the casting in British TV, which usually has an interesting range of real people, not glossy versions of people. Also, on British TV, the rest of the world exists.
Mozart in the Jungle returns on Amazon.com on December 8, 2017, and can be watched online at www.primevideo.com.
Lydia Perović is an arts journalist in Toronto. She can be reached at artofsong@thewholenote.com.