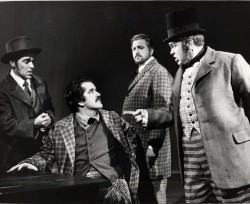 The opera Louis Riel is maybe one of the most unabashedly 'Canadian'-branded works to ever hit our classical music scene. But it also sheds light on a systemic, nationwide problem: just how little many Canadians know about our own national history. With Louis Riel coming to the COC next month, there's an opportunity to change that.
Written in 1967 and revisited this year by the COC, Harry Somers' Louis Riel draws on so many parts of national(ist) history—especially in light of the sesquicentennial—that it's only natural for side projects about the meaning behind the work to pop up in the city. The opera's huge cast of Confederation-era characters and conflicts can make it a difficult one to understand—and like any modern nation, Canada's history gets complicated and messy pretty quickly, if you look at it closely enough. For many music educators in Toronto, Louis Riel serves as an apt moment for concert-goers to take that complex, closer look.
Réa Beaumont: One of those educators is Dr. Réa Beaumont, a pianist, researcher and writer specializing in Canadian music. Beaumont is teaching a course at the Royal Conservatory later this month as part of its Music Appreciation series, titled "Canadian Composers: Harry Somers' Louis Riel". It's the second time this course has run at the RCM, but with the opera starting its run at the COC in just over a month, the timing now is perfect.
"The course will be an in-depth look at the music, characters, and historical events that inspired the opera, and it will feature special guests who were involved in the original 1967 production," says Beaumont. "The course also includes a free ticket to the Canadian Opera Company's dress rehearsal, which is a terrific opportunity to see how things work 'behind the scenes.'"
Beaumont adds that the course will also delve deeper into the study of Somers himself, and his place in the history of Canadian music. "A lot of people know the Louis Riel opera and not that much about Harry Somers," she says. "He was a prolific composer, he studied with John Weinzweig, he was an Order of Canada recipient—and he was a core member of that group of composers that was writing in the 1950s: Pentland, Weinzweig, Coulthard, Archer. They were a force to be reckoned with in Canadian music.
"That generation of mid-twentieth century composers, they really had such a battle to move forward and take music into the twentieth century in Canada. They formed the Canadian Music Centre, and the Canadian League of Composers...Really, they're the founders of Canadian music as we know it today."
Ultimately, Beaumont hopes that audiences will be able to listen to this opera in 2017 and take away an interest in Canadian history, and an understanding of how the national tensions Riel and Sir John A. MacDonald faced in the nineteenth century are still at play today.
"I hope also that people are inspired to do their own research into the history and keep an open mind," she says. "It would a tremendous achievement if people could see the opera and learn about this—for their takeaway to be that Canada has a history that we should all know about and keep discussing, so that we can move forward."
The course "Canadian Composers: Harry Somers' Louis Riel" runs Thursday nights at the RCM from March 23 to April 13. Beaumont will also be giving a free introductory lecture about the opera on March 20 at 7pm, at the Toronto Reference Library. For details on both of these programs, visit https://learning.rcmusic.ca/music-appreciation and http://www.torontopubliclibrary.ca/, respectively.
Riel Opera Talk: Another similar initiative is a new podcast out of the University of Toronto, called Riel Opera Talk. Hosted by U of T musicology grad students Sarah Koval and Taryn Jackson, the podcast is a weekly series exploring different facets of the opera, with industry experts, musicians and scholars. Hosted on Soundcloud and via U of T's Institute for Canadian Music (www.uoftmusicicm.ca), the show rides the rising popularity of podcasts to take an in-depth look at some of Louis Riel's more complicated aspects, in an online, serial format.
"I have been interested in this opera for a long time, and when I found out that U of T was funding student initiatives for research around Canada's 150 celebrations, I jumped at the chance to learn more about this opera," says Jackson, whose work at U of T includes teaching a tutorial for a course on the music of North America. "I proposed the podcast as a project, and now here we are." Koval, whose own research focuses in part on opera, immediately got on board.
So far, they've done three episodes (with the most recent released this morning on Wednesday, March 15), covering conversations with Métis scholar Adam Gaudry, as well as members of the cast and crew of the original Louis Riel production from 1967. Next up in their series will be an exploration of Louis Riel's position within Canadian music history, as well as a discussion around the COC's take on what Koval and Jackson are calling "Canada's nationalizing opera".
"This is one of the few operas on a Canadian historical topic that has received many performances," Jackson and Koval explain. "We call it 'nationalizing' because it contributes to the nationalist agenda of Canadian historical milestones, such as the centennial celebrations of 1967 and the upcoming sesquicentennial celebrations this year—[though] the opera itself neither strikes us as nationalizing or nationalist because it is quite complex and dark, definitely not celebratory. This is one of the things that makes its use in these national events so interesting."
The podcast, like Beaumont's course, contributes to an emerging body of local scholarship around Louis Riel—one that promises that when audiences do see the opera next month, they'll be listening closely.
"We hope [our listeners] get even more excited to see the opera than they already are, and that they embrace the changes to the production that are underway," say Jackson and Koval. "We hope people listen to our podcast as a way of understanding the challenges this opera posed in 1967 and continues to pose today. Finally, we think this podcast provides a great behind-the-scenes adventure into the making of an opera, especially a work that is not part of the operatic canon."
The podcast Riel Opera Talk is available online on Soundcloud, via Twitter at @RielOperaTalk, and at www.uoftmusicicm.ca, with new episodes released weekly. For details on the COC production of Louis Riel, visit www.coc.ca.
Sara Constant is a Toronto-based flutist and musicologist, and is digital media editor at The WholeNote. She can be contacted at editorial@thewholenote.com.