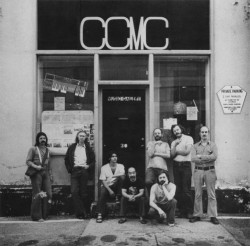 While trawling the internet, Joe Strutt realized that the CCMC, the famed Toronto "free music orchestra" that started the Music Gallery, didn't have a Wikipedia page. He decided to change that.
A local sonic archivist and the person behind Toronto music blog Mechanical Forest Sound, Strutt started to organize what he calls "Wikipedia Jams"—meetings designed to bring together people interested in the documentation of Toronto's local music history, and prep them for how to use Wikipedia to get the job done. He hosted his first-ever Jam as part of the 416 Improvisers Festival last November. His second, taking place as part of the Wavelength Music Festival, is happening this Sunday, February 19.
On the Wavelength website, Strutt describes the Jam as a time for potential music documentarians to "roll up our sleeves and deal with practical matters." Those matters include the basics of setting up an account and editing articles on Wikipedia, finding Wikipedia-suitable sources to back up articles, and how to write about local music history in a neutral and useful way.
The free event begins at 3pm at the Melody Bar in the Gladstone Hotel, following a Mechanical Forest Sound/Wavelength Festival joint venture listed intriguingly as a "Drone Brunch." As Strutt explains, the time won't be used to actually write articles on Wikipedia, but as a friendly and open space for people interested in learning more about the local music community, and about how to serve that community, to get involved. At the very least, it'll be a space for advice, conversation, and musical discovery. If you're interested in contributing to the documentation of our music scene, this is perhaps the best possible way for you to get your foot in the door—and if you want to read up on a little piece of local history in preparation, the CCMCWikipediapage is now up and running.
Joe Strutt's Wikipedia Jam will take place at 3pm on February 19, at the Gladstone Hotel, as part of the 17th annual Wavelength Music Festival (February 17-19). For details about this event, as well as the rest of Wavelength's innovative programming, visit www.wavelengthmusic.ca.
Sara Constant is a Toronto-based flutist and musicologist, and is digital media editor at The WholeNote. She can be contacted at editorial@thewholenote.com.