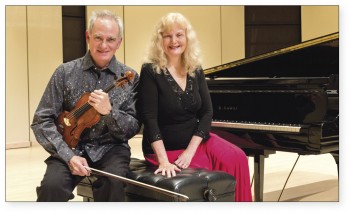 Christina Petrowska Quilico is no stranger to launch events. Fancies and Interludes – violin/piano duos by Gary Kulesha, Raymond Luedecke, Oskar Morawetz and James Rolfe – to be released by the CMC's venerable label Centrediscs on June 11 is her 12th recording on the Centrediscs label and her 37th overall.
For her partner-in-crime on the album, former Toronto Symphony Orchestra concertmaster Jacques Israelievitch, it's safe to say the CMC's Ontario headquarters on St. Joseph St. is less familiar territory. This is his first Centrediscs CD, but a natural outgrowth of his involvement with contemporary music and a performing and recording partnership with Petrowska Quilico which has flowered since he stepped down as concertmaster of the TSO in 2008. This collaboration began in part because they are colleagues in the Department of Music at York University and in part, according to Petrowska Quilico, because of their mutual interest in contemporary music, their shared love of playing as a duo and their combined ability to embrace a wide variety of contemporary styles and approaches. (It all started in 1996 during TSO rehearsals for a piano concerto by Larysa Kuzmenko, which included a short duo.)
Happily, Fancies and Interludes will not be the last fruits of their collective endeavour. Over the past six years they have enjoyed a vigorous performing relationship. Some of this arose as part of the York faculty artist performing program: first with French repertoire and then Mozart. They began sight-reading the Mozart violin and piano sonatas, but soon realized they wanted to perform the complete set, which they presented at Gallery 345 in the spring of 2014 in a marathon of four concerts embracing all of them. Recently a series of York University faculty concerts of the same repertoire was recorded by veteran producer David Jaeger and engineer Simon Head. Combined with additional recording sessions, the result is a complete recorded collection.
The Mozart sonata project was recorded in 15 sessions over the past eight months in the Tribute Communities Recital Hall at York University. According to Jaeger, the performances "are remarkable for their elegance, clarity and detail, but also for their lively spirit – revealing the joy that Petrowska Quilico and Israelievitch have in playing together."
The last recording session in particular (May 2015), Jaeger says, "was filled with absolutely beautiful playing and a compelling sense of the love the artists have for the Mozart sonatas." The first disc in this collection is scheduled for release in January 2016.
In connection with the June 11 CMC release Petrowska Quilico says: "The repertoire was chosen by Jacques and illustrates his longstanding involvement with contemporary repertoire. Fancies and Interludes shows the incredible range of styles and techniques in contemporary duo composition, from classical and romantic, to minimalism and other advanced approaches."