Looking at a forecast of dishearteningly subzero temperatures – and having only just left behind what was apparently one of the coldest winters on record – it's admittedly a little hard to believe that summer is on the horizon. And yet, the summer months ahead are just where music presenters are beginning to focus their attention. Almost exactly midway through a busy concert season, it's at this time of year that 2015/16 season announcements have started to surface and faculty positions for summer workshops are being finalized. At this point in the season, amidst their day-to-day workload, musicians are getting down to the business of filling in the blanks in their summer schedules.
In an industry where the typical concert season more or less coincides with the academic school year, music educators in particular have their work cut out for them. It was a press release from the Toronto Summer Music Festival about their brand-new Community Academy for amateur adult musicians (see the ad on page 51) that got us realizing that when it comes to musical planning, intensive educational initiatives can take place during those longer, lazier days of summer when all of us tend to have a little more spare time on our hands. This summer looks to be particularly jam-packed. With the revival of the Canadian Opera Company's childrens' summer camps, the launch of a brand-new orchestral program with the Vancouver Symphony at Whistler, and the Toronto Summer Music Festival's announcement, 2015 looks like it will be the year, for teachers as well as students, to try something musically new.
So, where does this leave local musicians at this time of year? Most are juggling both the demands of February's musical life and the planning of a summer's worth of engagements, which more often than not includes some kind of stint as an educator as well as some time on the road for a summer festival circuit. And especially for those involved in these brand-new educational initiatives, musical multitasking at this point in the planning process is a vital part of the job.
Each summer, The WholeNote runs a feature called "On the Road," where we ask musicians from across our community what they're most looking forward to each summer, both as listeners and performers, and what their plans are for the concert season on the other side. This month, we got in touch with two of the key players in this summer's new music education initiatives to get a first look at where this year's musical path will take them.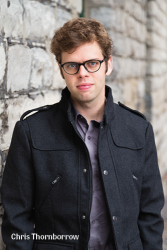 Chris Thornborrow is one of those key players. A Toronto-based composer working with a focus in chamber music, opera and film scores, Thornborrow is in the midst of tackling another season as co-founder and artistic director of the Toy Piano Composers, as well as a number of other personal and collaborative projects. Summer 2015 will find him at the Four Seasons Centre, working with the Canadian Opera Company to help run their new and revamped children's summer camp program for ages 5 to 15.
What are we interrupting – what music-related activity are we taking you away from?
I am currently creating an immersive electroacoustic opera ​called The Moon, based on a tale by the Brothers Grimm. This will be premiered at the Music Gallery on June 13 and will feature members of the vocal group Grex and stage direction by Erik Thor.
I am also doing sound design and orchestration for an original musical called Brantwood, which will open in Oakville in April...Finally, I'm just getting started on co-composing a soundtrack for a feature film called Sleeping Giant with the band Bruce Peninsula.
Musically, what do you have in the works already for the summer ahead?
​Two years ago, librettist Julie Tepperman and I ​created a short opera entitled Cindy + Mindy = BFFS 4EVR!!, which explored the world of cyberbullying. The performance received a really great response, and we're thrilled to have been commissioned by Tapestry Opera to expand this into a one-hour show. I will be composing beginning in June and finishing in the fall.
What will your role be with the COC this year? Do you have an idea already about what the structure of the program will look like?
​I will be the musical director for a summer camp that runs for the month of July at the Four Seasons Centre. In collaboration with a designer and stage director, we will be creating programs for children 5 to 15. I spent many summers working at a camp in Switzerland, and I'm looking forward to bringing that experience to Toronto. It is particularly exciting for me because we've been given carte blanche to design the program from scratch. I would like to build a program that explores the world of opera in a fun and engaging way. And since I'm a composer, I am also looking forward to working with campers who will write, design, and perform their own original opera! My hope is to actually have them perform on the stage of the Four Seasons Centre.
What, if anything, are you most looking forward to as an audience member between now and the end of the summer?
​I'm really looking forward to R. Murray Schafer's Apocalypsis which is being done at the Luminato Festival. ​This is a work for hundreds of performers, and because it's such a demanding work, it is one of those pieces that only comes along once in a lifetime. For me, this is the must-see show this year.
What are you already preparing for musically beyond the summer, into the following year(s)? And do your summer plans tie in with these longer term plans?
Along with Monica Pearce, ​I am the co-founder and artistic director ​of the Toy Piano Composers. So we are currently planning our 2015/16 season. I enjoy the challenge of reaching for unexpected audiences. For example, opera for children and teenagers, or tapping into the indie music crowd with contemporary chamber music. So whatever it is I end up doing, I think I'll continue to reach out to new audiences. I may also take a short nap in the fall.
The week-long COC summer opera camps run at the Four Seasons Centre for the Performing Arts from July 6 to 31, with each week targeted towards a specific age group. Registration opens February 2. For details, visit the Canadian Opera Company website (coc.ca) or email education@coc.ca.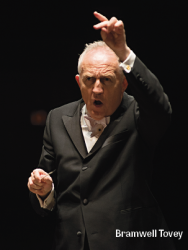 Several time zones away on the west coast, other brand-new summer programs for young music lovers are also materializing. The Vancouver Symphony Orchestra has announced a summer orchestral institute at Whistler for students aged 15 to 23. Taking place from June 28 to July 5, the program promises an intensive learning experience at an inviting locale. We caught up with VSO musical director Bramwell Tovey in the midst of preparing for his upcoming Bruckner Four performance, to ask about his role at the new institute and his summer plans.
Musically, what do you have in the works already for the summer ahead – what are you looking forward to as a musician/performer?
Tanglewood on July 11th, my birthday, conducting the Boston Symphony, Bryn Terfel, Sondra Radvanovsky & the Tanglewood Festival Chorus in Act 1 of Tosca. Beethoven's Pastoral Symphony and Violin Concerto with Itzhak Perlman and the Los Angeles Philharmonic at the Hollywood Bowl, Enigma Variations and Der Rosenkavalier Suite with the New York Philharmonic at the Bravo Festival in Vail, Colorado and Holst's The Planets with the Philadelphia Orchestra in Saratoga. In August I will also direct a summer course for the National Youth Brass Band of Great Britain, of which I am artistic director.
What will your role be at the VSO Institute this year?
I will conduct all the rehearsals and concerts and be artistic advisor on the project, working with [education and community programs manager] Christin [Reardon MacLellan] and our faculty. We are very excited as Whistler in combination with the VSO is already a happening destination.
What are you most looking forward to as an audience member between now and the end of the summer?
My daughter, Jessica, is preparing for a violin recital in March as a fundraiser to enable her to work with disadvantaged children in the Dominican Republic. She's a terrific young woman (aged 16) and I'm very proud of her dedication to the task!
What are you already preparing for musically beyond the summer, into the following year(s)?
We're just putting our 2015/16 VSO season to bed. It includes our annual festival of new music in February and our Spring Festival which in 2016 will explore the extraordinary influence of William Shakespeare on music as the world commemorates the 400th anniversary of his death. September always begins afresh with new ideas and programs.
For details on this year's VSO Institute, including how to apply, check out vsoinstitute.ca.
With these and other plans for programs, festivals and performances being finalized every day, this summer, it seems, will be an eventful one from coast to coast. Keep an eye out for more updates from us on what musicians across Canada will be up to once their concert seasons come to a close. And if you are a musician yourself and have summer plans you'd like to share, get in touch with us at ontheroad@thewholenote.com. In the meantime, happy concertgoing; as for us, we will continue to bundle up and keep our minds on warmer days.
Sara Constant is social media editor at The WholeNote and studies music at U of T. She can be contacted at editorial@thewholenote.com.