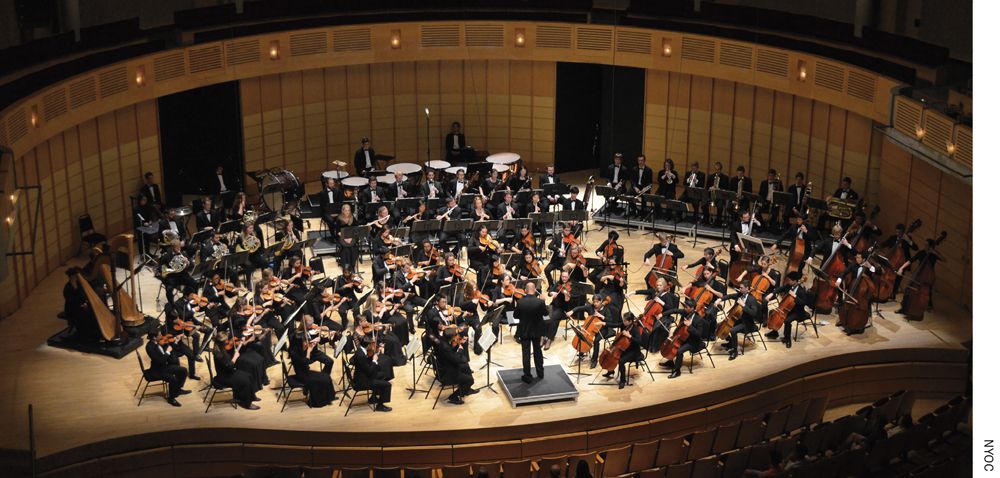 If you find yourself in a music school or studio in the coming months and hear through the walls of a practice room snippets of Holst's The Planets or of Strauss' infamous Dance of the Seven Veils, chances are that if the musician inside is under 30 years of age, they have their mind set on summer. Not because they are yearning for long days and sunny weather alone, but because the National Youth Orchestra of Canada is as usual well under way with planning its program for the summer ahead, and the application process for participants has commenced.
The National Youth Orchestra of Canada is not your average musical summer camp. Billed as "Canada's orchestral finishing school" for ages 16 to 28, the NYOC recruits members from across the country for its annual program and tour, coaching participants in chamber music and the orchestral classics. And with 14-hour days of training, six days a week from June to August, summer at Laurier University – where the program takes up its residency – becomes a veritable hotbed of musical activity.
This issue's cover image, taken by Claus Andersen, features three former NYOC clarinetists from the orchestra's 2011 season: Afendi Yusuf, Katherine Schoepflin and Christopher Lee (from left to right). We got in touch with Christopher to find out how he looks back on his NYOC experience, and where he is now.
When were you in NYOC?
I was 24 years old when I joined NYOC 2011. It was the year that I was a senior at The Juilliard School.
And what are you doing nowadays?
I am currently on the clarinet faculty at Vancouver Academy of Music and I am the substitute member of the Vancouver Symphony Orchestra, Victoria Symphony Orchestra and Vancouver Island Symphony Orchestra. I also give solo concerts at various events and places throughout the year.
Has your time in the program guided or influenced what you do currently?
The program does not only teach you how to play in the orchestra, but also gives you an idea what actual life is like as an "orchestra player." It really helped me with what I am doing right now.
Any words of wisdom for young musicians who are working on their 2015 applications and auditions right now?
First of all, I think if you've found out about NYOC and are trying to audition for it you are already on the right track. Trust what you have been working on and trust the NYOC audition committee – they will surely listen very carefully. I wish you all the best of luck!
While we weren't able to reach our other cover clarinetists, a quick consultation with the all-knowing Google suggests that music-making, professional or otherwise, is still a big part of what they do. Katherine Schoepflin went on to receive a MMus in clarinet from McGill University. As for Afendi Yusuf, he now lives in the eternally summery Los Angeles, where he studies at The Colburn School's Conservatory of Music. Incidentally, Yusuf – whose time in NYOC coincided with their performance of Strauss' Der Rosenkavalier – will perform the same composer's Duet Concertino for clarinet, bassoon and orchestra with bassoonist Jack Peña and the Colburn orchestra this February. We wish all three of these cover musicians continued successes!
The preparation process for applicants and admin alike is, understandably, protracted and intense. "I always laugh when people ask me if it's a full-time job or if I just work in the summer," says Barbara Smith, the program's executive and artistic director. "Starting in the fall, once the conductor has been selected, the conductor and I sit down together and determine the repertoire that we'll be performing that year. We do that as soon as possible because once that's done, the faculty members – the coaches who will be working with the students – select the audition excerpts based on the repertoire. Then, once we have all those excerpts, they go online, the application goes live and applications start coming in. And that's where we are right now. We're getting applications in every day now for next year's orchestra."
Those faculty members enforce a high standard, and with good reason; they maintain busy schedules as orchestral performers themselves, with often-formidable resumes. "These are very high-profile professional musicians, people like Jonathan Crow and Mark Fewer," Smith explains. "Jamie Sommerville is also on our faculty this year." This year's conductor, Michael Francis, who follows in the NYOC footsteps of the likes of Alain Trudel (2009, 2012, 2013) and Emmanuel Villaume (2014), has two full seasons as chief conductor and artistic advisor to Sweden's Norrköping Symphony Orchestra under his belt, and is music director of San Diego's Mainly Mozart Festival. He also is due to take on the role of music director for the Florida Orchestra next September. The NYOC members, then, are in very good hands. And in a program whose alumni include nearly 40 percent of professional orchestral musicians in Canada, there's a good chance that a few years down the road, some of those coaches will be reunited with former participants, not as their students but as colleagues.
"It truly is the best training program, anywhere – certainly in Canada and even internationally," says Smith. "When I talk to my colleagues in other countries they just shake their heads and can't believe what it is we do. We're so excited when our alumni have news to share; we like to celebrate their successes."
Vanessa J. Goymour is one such success story. A four-time member of the NYOC viola section – first attending the program at age 17 – Vanessa now acts as general manager and artistic advisor for Jeunesses Musicales Ontario, the local arm of a Brussels-based organization that works worldwide, through national and international offices to provide performance opportunities for emerging young musicians.
Asked for a favourite NYOC moment, Vanessa reminisces about a far-from-average group of concertgoers. "I remember on several occasions when the orchestra was playing in Grant Hall at Queen's University, that bats would frequently appear in the hall. They seemed in particular to like the sound of the flute as they would tend to show up when the flutes were playing and would swoop around over their heads!" she recalls.
There's no doubt that Vanessa's memorable youth orchestra experience rubs off on her current role with Jeunesses Musicales: "In the NYOC, the level was extremely high and no matter how much fun we were having off the stage, when we were rehearsing or performing, we were all after one thing – to be the best we could and to play great music. I think the same is true of artists working with Jeunesses Musicales and it is wonderful to be able to support such creativity."
"I have always enjoyed working with young and emerging artists, as they have such energy and drive and are not afraid to experiment," Vanessa continues. "Nothing is more satisfying than watching young artists flourish and develop successful careers."
The NYOC's 2015 repertoire list, though subject to change, is full of opportunities for orchestra members to exercise that energy and inclination to experiment. In addition to the Holst and Strauss works, the season's repertoire, likely to be spread across two alternating programs, tentatively includes Bartók's Dance Suite Sz 77, Rachmaninoff's Symphonic Dances, Prokofiev's Classical Symphony and a second Strauss offering, his tone poem Don Quixote. The orchestra will also premiere a newly commissioned work, written by this year's winner – not yet announced – of NYOC's annual Emerging Composer-in-Residence position.
Understanding the process of being recorded is an often-necessary aspect of life as a performing musician, and something that is threaded through the NYOC experience from start to finish. From the video auditions used to determine each summer's members to the CD the orchestra releases each year, the ways in which live performance can be transferred to a recorded medium play an important part, not just in facilitating the orchestra's operations but in the pedagogical nature of the group's work.
Past documentation of the NYOC's summer musical journeys has come in the form of a 2-CD set, available for $25 on the group's website. The discs were recorded during the orchestra's annual studio session at McGill's Schulich School of Music, with the CD sets released for public sale each fall. With a November 7 release date set for this years edition, the coming weeks will provide a good opportunity to revisit the orchestra's most recent tour and, for concertgoers and applicants alike, to prepare for the musical year ahead.
For those interested in applying for this year's NYOC program, applications will still be accepted until December 28; and submitting one before the end of November means a cheaper application fee. The program itself is essentially tuition-free, with all members receiving a $1000 award after completion of the program in the fall. Opportunities also exist to apply for additional awards, including the prestigious Michael Measures Prize, the winner of which receives a $25,000 award plus a solo concerto performance with the orchestra. All the details for auditions and the orchestra's student awards program are available on the NYOC website, at nyoc.org.
The orchestra's coordinators have not yet announced its official tour itinerary for this summer, but some venues, Koerner Hall among them, are perennial favourites and can likely be counted on again for the coming year. In the meantime, the orchestra is due to release the recording from its 2014 session on November 7. Keep an eye out for this disc, and for the announcement of the group's upcoming tour dates. From the looks of this year's repertoire and the organization's reputation, the NYOC's local concert this summer will be one to watch.
Sara Constant is social media editor at The WholeNote and studies music at U of T. She can be contacted at editorial@thewholenote.com.