Among the biggest surprises in the recently announced eye-opening Oscar nominations were five for Michael Haneke's Amour, just now on screen in Toronto. Amour is the fifth film to be nominated for both Best Picture and Best Foreign Language Film. The others were Z, The Emigrants, Life is Beautiful and Crouching Tiger, Hidden Dragon. None of those swept both categories. As well, Haneke was nominated for Original Screenplay and Director. Best Actress nominee Emmanuelle Riva, who turns 86 on the day of the Academy Awards ceremony (February 24), became the oldest actress to be nominated in that category.
In Amour, the lives of two retired piano teachers in their 80s take a profound new turn as the wife suffers a series of small strokes that prevent her from performing music. At the same time, the husband's unbridled love plays itself out in unexpected ways. Elegantly acted by two French legends, the manner in which their refined characters deal with this life change is difficult and provocative yet sublimely conveyed. In career-capping performances are Jean-Louis Trintignant at 81 (Z, My Night at Maud's and The Conformist are among his more than 100 films) and Emmanuelle Riva at 85 (among her more than 40 films, Hiroshima mon amour is the most famous).
French pianist Alexandre Tharaud makes a memorable cameo appearance as the couple's star pupil. The film begins with Tharaud in recital at the Théâtre des Champs-Elysées. Later he visits their apartment and plays some of Beethoven's Bagatelle Op. 126, No. 2. His performances of Schubert Impromptus Op. 90, No. 1 & 3 add emotional and musical depth and underscore a particularly poignant moment. Tharaud's version of Bach/Busoni's Prélude Choral "Ich ruf zu Dir, Herr Jesu Christ" is heard the one and only time Trintignant plays in the couple's stylish Paris apartment.
Michael Haneke's eagerly anticipated, critically acclaimed film won the top prize at the 2012 Cannes Film Festival and was the choice of the Toronto Film Critics Association for Best Foreign Film, as well as that of numerous other critical bodies.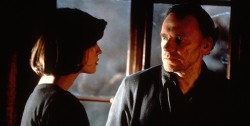 Amour opened January 11 at TIFF Bell Lightbox and Cineplex's Varsity. Bell Lightbox is offering a retrospective on Trintignant's and Riva's luminous careers including, on Trintignant's side, Bertolucci's classic The Conformist, Eric Rohmer's exquisite moral tale My Night at Maud's, Costa-Gavras' hyper-suspenseful Z, Krzysztof Kieslowki's ineffable fatalistic parable Three Colours: Red, the obscure but delightful Dino Risi/Vittorio Gassman comedy The Easy Life, FranVois Truffaut's last film Confidentially Yours and Alain Robbe-Grillet's sui generis thrillerTrans-Europ-Express.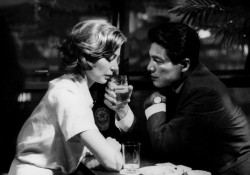 The Riva lineup of must-see performances contains Alain Resnais' Hiroshima mon amour, Jean-Pierre Melville's Léon Morin, Priest (with Jean-Paul Belmondo), Kieslowski's Three Colours: Blue (with Juliette Binoche) and two by the legendary Georges Franju, Thérèse Desqueroux (with Philippe Noiret) and Thomas the Imposter (co-scripted by Jean Cocteau, from his novel).