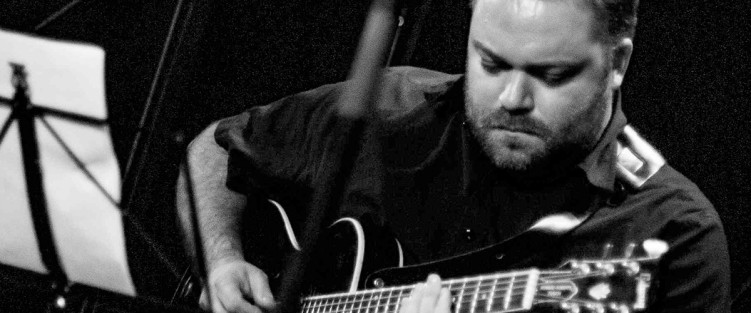 The TD Toronto Jazz Festival has announced the four special projects supported by its 2018 Discovery Series this spring – and with them, an indication of how the festival's vision for jazz in Toronto is continuing to evolve.
This year's Discovery Series features guitarist Harley Card's new Sunset Ensemble octet, on March 1 at Lula Lounge; the Heavyweights Brass Band's CD release for This City, March 29 at Lula Lounge; Adrean Farrugia and Joel Fram's CD release for BLUED DHARMA, April 27 at Gallery 345; and "The Smith Sessions Presents: Bitches Brew," an event featuring female-led groups performing original music, April 28 at the Canadian Music Centre (CMC).
Started in 2011, the series is a part of the TD Toronto Jazz Festival's outreach to local performers creating original work, and to year-round, multi-venue jazz programming in the city. Each year, an assembled Toronto Jazz Fest jury selects four projects to receive support and funding from the festival. Over the last 8 years, the series has accumulated an alumni list that serves as a veritable who's who of local jazz innovators – and that has helped transform the festival from an annual affair into a year-round showcase of local music-making.
The announcement of the 2018 projects was one of Josh Grossman's first, since transitioning from part-time to full-time artistic director of Toronto Downtown Jazz last month. So far, he's excited about the results. "We always get projects that fit nicely within the festival mandate," he says. "It's a nice cross section of projects each year; it never feels like a stretch to find projects that really work and make sense."
This year in particular brings a wide range of projects to the local jazz community: two CD releases; a collaborative project focusing on women leaders in the arts; and in the case of the Sunset Ensemble, which takes Harley Card and David French's quintet and expands it into a new octet, a new venture by an already-established local bandleader. "Harley is a great example of a musician who has established himself clearly on the local scene, but who is striking out and taking a bit of an artistic risk by writing music for an ensemble a bit outside of his comfort zone," says Grossman. "That's exactly the type of thing we're hoping to support."
Grossman notes that the other three projects similarly represent different facets of the festival's mandate: Heavyweights, for the ensemble's emphasis on community outreach, Farrugia and Fram for their partnership between local and international musicians, and Bitches Brew for bringing together very different artists in a meaningful way. "The Bitches Brew sessions is such a unique event; it really resonated with the panel," he explains. "The four musicians brought together there – Aline Homzy, Anh Phung, Emma Smith and Magdelys Savigne – really do come from four very different traditions. It will be neat to see how that all comes together."
The festival this year also seems to showcase a wide range of venues (from the CMC to Lula Lounge), as well as artists of many different ages and career paths – a move that for Grossman was purposeful.
"I think part of it is the recognition that artists at any stage of their careers are able to take on special projects," he says. "That's what makes the best artists the best artists: they're always trying new things. So there's no [age] criteria for applying, other than that we're looking to support local musicians who are making a significant contribution to the local jazz community."
Moving forward as full-time artistic director, Grossman already has ideas about where the Discovery Series will head, and how it will grow alongside the main festival each year.
"A couple of years ago, a panelist said, 'wouldn't it be great if these were projects that were not only set apart in jazz, but also [connected with] broader communities in the city,'" he says. "There's no way to mandate something like that – what would that thing be? – but [reaching beyond jazz into other communities] is a part of the application form now, and I'm excited to see how people interpret that, moving forward."
More actively, Grossman plans on building stronger ties between the featured projects and the festival itself.
"Right now, there's no direct relationship between support in this series and performing at the jazz festival," he says. "I don't know what [that would look like], but I want to explore that a little bit more. I want to create stronger relationships."
It's safe to say that the series will continue to develop in the future – and that in the meantime, with these four projects lined up for the spring, it's off to a good start.
The 2018 TD Discovery Series opens on March 1, with a presentation of Harley Card's Sunset Ensemble at Lula Lounge, Toronto.