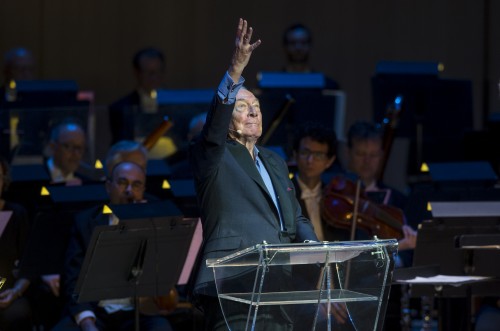 The moment Christopher Plummer walked out through the orchestra onto the stage of Roy Thomson Hall on June 26 calling out "How now my hearts, where are these lads?" this concert was everything I had hoped it would be: a heavenly blend of Shakespearean soliloquies and sonnets with music inspired by the plays, filled with what felt like a magnetic spur-of-the-moment connection between actor, conductor, orchestra, and audience.
This is the way a "words and music" concert should be – alive and organically structured, with an arc from beginning to end, and with Peter Oundjian not only a superb conductor and the TSO an excellent orchestra with the music in their bones, but a superb actor with the music in his bones equally to the Shakespearean text. Unusually, this show was created by its star, Christopher Plummer, about seven years ago with Julian Armour, artistic director of Ottawa's Music and Beyond festival. Over this past year, Plummer revised and reworked the show slightly with Oundjian to suit the scale of a full classical orchestra onstage.
With the text almost entirely memorized, Plummer moved around the stage, establishing a partnership with the conductor and orchestra and talking to us directly – in character or as himself to introduce a new section of words and music.
The selection of words was both expected and unusual: after Hamlet came both Oberon and Puck from A Midsummer Night's Dream, with excerpts from Mendelssohn's famous Dream music, but then Plummer turned to us to introduce those two rather un-feminist and frustrated scoundrels Benedict from Much Ado About Nothing and Petruchio from The Taming of the Shrew, interspersed with some of Nino Rota's music for the film of Shrew, before sending us off to intermission with a short quote from the loveable "Bully Bottom" from Dream.
After the intermission the really big guns came out. Plummer began with, perhaps, his most famous Shakespeare part – Henry V – followed by the equally famous music created by William Walton for Laurence Olivier's film of the play. This was particularly glorious to watch, as Plummer clearly knows and loves this character and the music, moving freely and energetically declaiming the speeches to us and to those onstage. Watching this, it is no wonder he has famously performed a full program of Henry V with Walton's music with orchestras around the world (including here with Oundjian and the TSO in 2011).
Also expected on the program was Romeo and Juliet, which came next, but unexpected was Plummer's intro note that, although he had performed both Romeo and Mercutio in the past, now that he is "grown up" he was going to take on Juliet who has (as I recall him saying) "some of the best poetry ever written about the beauties and agonies of love." He launched into a heartfelt, lovely rendition of Juliet's soliloquy "Gallop apace you fiery footed steeds." Prokofiev's dramatic Romeo and Juliet music was interwoven perfectly through this section. Next were excerpts spoken and musical from Cymbeline and then, again an expected inclusion, Prospero from The Tempest, a play believed by most scholars to be Shakespeare's own farewell to the theatre and a part that Plummer played to acclaim at the Stratford Festival not long ago. Unexpected to finish was a happy, short quote from Much Ado About Nothing: a cheerful, upbeat note to finish a magical evening of superbly interwoven words and music.
The Toronto Symphony Orchestra presented "Christopher Plummer's Symphonic Shakespeare" on June 26 at Roy Thomson Hall, Toronto.
Toronto-based "lifelong theatre person" Jennifer (Jenny) Parr works as a director, fight director, stage manager and coach, and is equally crazy about movies and musicals.