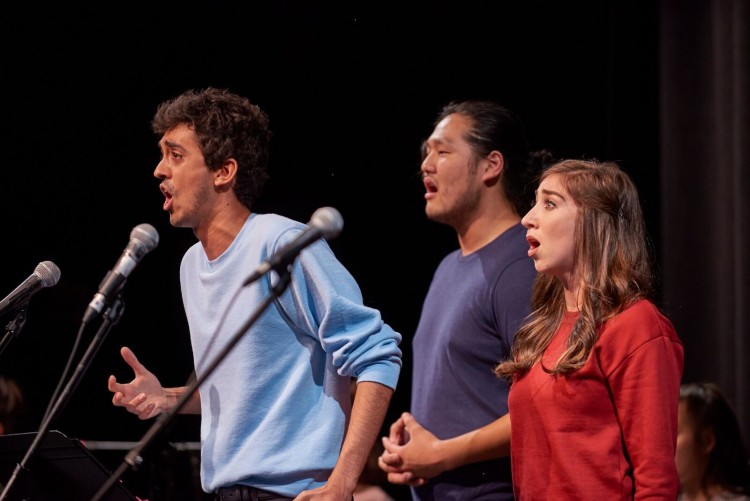 There is almost nothing more exciting for a lover of musicals than to be at the birth of a new show, and on the afternoon of Monday, October 15 at Toronto's CAA Theatre, I was witness to the first public steps of not just one but four new musicals currently in development at the Canadian Musical Theatre Project (CMTP) at Sheridan College.
The October 15 performance was the third of three days of CMTP's Festival of New Musicals, a relatively recent event created to showcase not only new shows in development but also the phenomenally talented graduating students of Sheridan College's justly famed Musical Theatre Performance program.
The brainchild of producing artistic director Michael Rubinoff, the CMTP is an international incubator for the development of new musicals (launched in 2011) – and also a brilliant training ground for Sheridan's student performers, where they learn to engage with living composer/librettist teams on new works in the earliest stages of creation. The combined energy and dedication of all the artists involved was palpable in the theatre on the 15th, as was the interest and excitement of the audience.
For about three and a half hours we were treated to the (shortened) first acts of four completely different musicals, each unique in story, theme, musical style and directorial approach. Directorial approach? Yes – for one of the unexpected delights of the afternoon was the depth and quality of what we were seeing. While the performance had been advertised as a "staged reading," it proved to be on the top end of that definition: each piece had been clearly rehearsed in depth and was given a polished, choreographed presentation, so that we were seeing both the material and the performers at their highest potential, even though the performers had their scores on music stands throughout.
Shared with us in order of what seemed to be readiness for production, the afternoon began with Erik With a K by Paul Sportelli and Jay Turvey, a lightweight, fun and spoofy review of the life of composer Erik Satie in bohemian, fin de siècle Paris, built around the theme of Life vs. Art.
Stars of Mars, a stand-up comedy meets The Martian meets sci-fi coming-of-age story, followed, with a book by popular comedian Ashley Botting and young composer Daniel Abrahamson. Brought together by Michael Rubinoff, their talents matched up to create a fast-paced, fun look at a potential first colony on Mars that the audience really enjoyed.
With the third piece, In Real Life by Nick Green and Kevin Wong, we moved into weightier material. Set in a dystopian future owing some inspiration to films such as The Matrix and Logan's Run, In Real Life centred around a young man, entrenched in a rigid computer-controlled study environment, who is shaken out of his routine with the news that his mother has died and left him a video message. The music and book worked seamlessly together to tell this engrossing story, and Ali Joy Richardson's direction/staging tellingly contrasted the rigidity of the computerized study world with the freedom the hero finds in the dark web as he tries to unravel the meaning of his mother's message.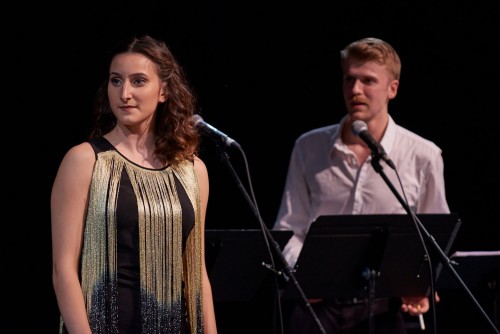 Last on the program, Kelly V. Kelly, based on the true story of a mother in 1915 who had her daughter arrested for doing too much tango dancing, would seem on the surface to be an absurdist comedy but proved to be something else altogether: an engrossing mother/daughter battle with emotions swirling around the stage in the path of the tango dancers, yet not without its own share of comedy along with the drama and romance.
With a book by well-known actor Sara Farb and music and lyrics by the prolific Britta Johnson, Kelly V. Kelly is the third of three musicals by Johnson being developed as part of The Musical Stage Company's Crescendo Program (the first two were Life After and Dr. SIlver: A Celebration of Life). Beautifully staged by expert director Robert McQueen, this excerpt left me wanting to hear more.
All four shows are full of potential, as are the young performers who brought them to life. I look forward to seeing them all as they go out into the world and develop further – and for anyone who enjoys musicals, I highly recommend this festival as something to watch for in future seasons.
The Canadian Musical Theatre Project (CMTP), based at Sheridan College, presented its Festival of New Musicals from October 13 to 15, at the CAA Theatre, Toronto.
Toronto-based "lifelong theatre person" Jennifer (Jenny) Parr works as a director, fight director, stage manager and coach, and is equally crazy about movies and musicals.