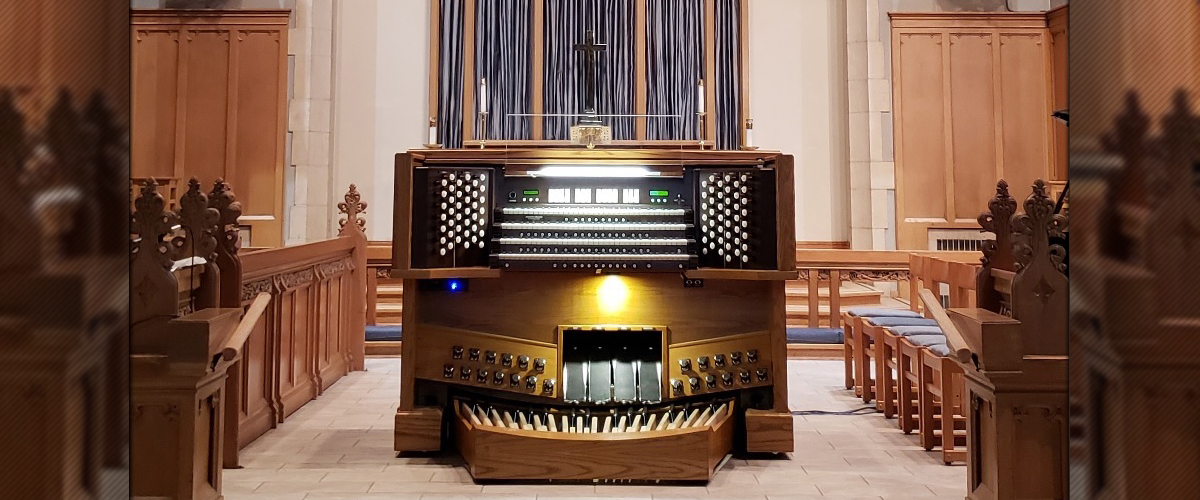 Digital organs are a contentious topic amongst pipe organ aficionados. Until recently, the term "electronic organ" was unlikely to imply a high-quality instrument, and digital instruments were scorned as poor substitutes for the grandeur and acoustic superiority of an authentic pipe organ. In recent years, however, rapid advances in digital sampling quality, memory capacity, and processing speeds have made electronic organs a more viable substitute for their acoustic counterparts, giving these digital instruments an increasingly prominent place in music programs around the world. Frequently considered by churches facing the renovation or restoration of an existing, ailing pipe organ, the quality and affordability of digital instruments make them practical alternatives for large cathedrals and smaller churches alike.
Such is the case at St. Timothy's Anglican Church, which recently installed one of Canada's largest digital organs as a replacement for their 70-year-old pipe organ. The new instrument, built by Phoenix Organs, is described by director of music Edward Connell as "a masterpiece of modern organ technology," for it contains three renowned pipe organs in one: the Willis organ of Hereford Cathedral, the Cavaillé-Coll organ of Notre-Dame de Metz, and the Müller organ of St. Bavo. Rather than being approximate reproductions of these magnificent historical instruments, the Phoenix organ is loaded with digital samples, recordings of each note of each pipe from the original organs themselves (tens of thousands of individual sounds), which are arranged and manipulated by the digital processor within the organ. These sound samples are integrated into the organ's mechanical console so that the performer can control individual pipes through the same methods that one finds on an authentic pipe organ.
And who better to play this new instrument's inaugural recital than one of the finest organists in the country? On October 30, St. Timothy's welcomed Matthew Larkin as he played a wide-ranging program intended to display the international capabilities of the organ. With works by Bach, the English composers Howells and Elgar, the French organists Franck, Vierne, and Duruflé, and the Ottawa-based Andrew Ager, Larkin's virtuosity and musicianship were on display as much as the new instrument itself. Maurice Duruflé's Prélude et Fugue 'sur le nom d'Alain' was particularly thrilling, as the opening prelude's fast fingerwork and clearly-presented thematic material (Duruflé quotes Jehan Alain's famous organ work Litanies) paired beautifully with the increasingly dramatic fugue, all of which was brought to life through the sounds of the Notre-Dame de Metz pipe organ.
William Boyce was a student of Handel in London, and his Voluntary in D Major was the vehicle for exploring the Willis tubas of Hereford Cathedral. An opening adagio played on flutes gave way to a Da capo-style trumpet tune, displaying the impact and breadth of sound present in the Willis's high-pressure reed pipes. The one disappointment of the evening was that we were unable to hear the Müller organ of St. Bavo, in the Netherlands. This instrument, built in 1738, received complimentary reviews from none other than Handel, Mozart, and Mendelssohn, and the opportunity to hear Bach played on this historical organ sound set was enticing. Unfortunately, a computer error resulted in only a partial load of the data, so that we heard the modified mean-tone temperament of St. Bavo and the equal-tempered organ of Hereford simultaneously. This technical error (and its corresponding cacophony) could not be remedied despite numerous memory resets and reboots of the system, so Larkin continued with Bach on the Hereford organ sound bank. Although a different timbre and temperament than originally intended, the Bach was very well done, particularly the articulation and phrasings within the chorale trio Herr Jesu Christ, dich zu uns Wend.
Although the new digital organ at St. Timothy's has some technical issues that still need to be resolved, it should soon be a worthwhile addition to the Toronto organ scene. And despite the curveballs thrown his way by the organ's computer, Matthew Larkin demonstrated that he is indeed a master of his craft; his ability to create maximum impact through technical interpretation and instrumental manipulation is second to none, and he was able to adapt and give a performance that was convincing from beginning to end.
St. Timothy's Anglican Church (North Toronto) presented organist Matthew Larkin in concert on October 30, 2018.
Matthew Whitfield is a Toronto-based harpsichordist and organist.