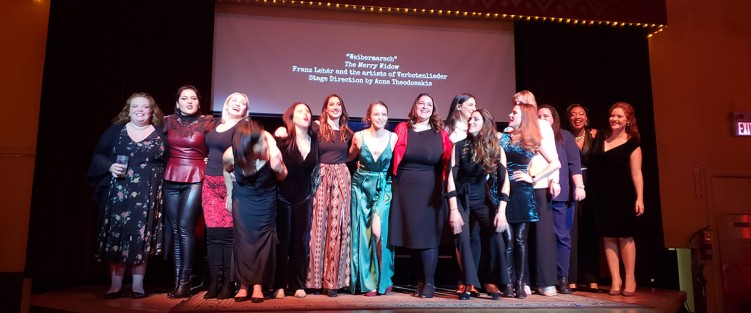 After an all-male, all-baritone and crowded Die Winterreise this summer, baritones Aaron Durand and Michael Nyby—a.k.a. Tongue In Cheek Productions—decided in the interest of fairness and variety to throw an all-female do. Verbotenlieder, or Forbidden Songs, came together as a program for sopranos and mezzos who always wanted to singcertain arias, duos or songs that remained off limits because they were written for and exclusively performed by men.
It's a brilliant idea that was only half executed with the December 19 concert at Lula Lounge. A wide mix of singers and songs followed one another with no introduction, and no reason offered why those choices and not others. The repertoire that is never sung by women or specific voice types is vast. Was the choice random, or did it always mean something special for the singer? Nyby and Durand and one or two singers did manage to say a few words here and there, but all this just made obvious one big lack in the programming: a cabaret style MC who can talk competently, succinctly and with humour about these songs and spin the show's red thread.
Another thing that was missing and that usually comes with real cabaret: naughtiness. Raunch. Smut. Some of the men-narrated songs in the program are love songs for women. There is a long and honourable tradition of women singing pants roles and pants Lieder and mélodies. As the societies of origin liberalized in the 20th and 21st centuries, so did cultural interpretations of these songs. There are now lively interpretive cultures of this rep for which, say, a male POV German Lied written for a mezzo is not a mezzo voicing a guy, but a mezzo voicing woman-to-woman love of some sort, or in some cases explicitly lesbian desire.
This remained underexplored, but it did make an appearance—for example in the transposed-for-soprano Lensky aria from Eugene Onegin, exquisitely rendered by Natalya Gennadi with Natasha Fransblow on piano. (Gennadi additionally honoured the trouser role tradition by wearing an elegant pant suit and camouflaging her long hair into a modest bob.) Or in the tenor-baritone duo from The Pearl Fishers, 'Au fond du temple saint,' which got a lavish and genuinely new take by soprano Jennifer Taverner and mezzo Beste Kalender (Elina Kelebeeva on piano). In it, the two men reminisce on the moment they first saw the woman they both fell in love with, a veiled Brahmin priestess, but rush to give up the phantom in favour of their own mutual bond before the song is over. An intriguing twist, to see this ode to bro-hood sung by women and effectively turned into a song about a bond between women who are resisting the lures of a fantasy.
Soprano Vanessa Oude-Reimerink and mezzo Alexandra Beley (Natasha Fransblow, piano) took on the Marcello-Rodolfo duo from La Bohème, in which they gossip and pine after Mimi and Musetta. There was some awkward stage movement at the beginning, and it appeared to me that the chuckles from the audience indicated that most of us weren't sure if the women were singing to each other. The surtitles cleared up some of the confusion, but again, a good intro, even by the singers themselves, would have made all the difference.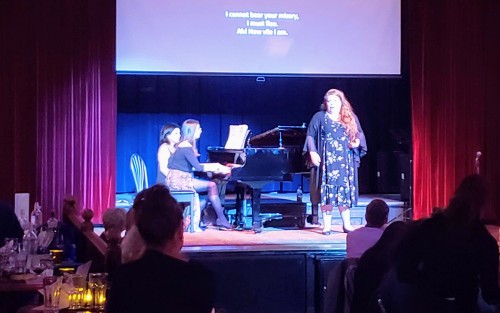 And then there's Lauren Margison. First, accompanied by Natasha Fransblow, she took on 'Addio, fiorito asil,' unofficially known as the Bastard is Leaving, from Madama Butterfly. Puccini gives Pinkerton this manipulatively beautiful and highly emotional tenor aria while he is secretly running off and leaving Butterfly to face ignominy. Margison somehow managed to sing this aria in a pissed-off manner, yet still gloriously—exactly the right formula. Her second performance was 'Nessun dorma' and it too came with the right attitude and glorious top notes. The attitude was: if you think Pavarotti is the last word in this department, I have a soprano to show you. At one point she invited the audience to fill in a couple of verses of the aria, which we happily did. Already during the Pinkerton aria, people got engaged and rowdy almost immediately, and a loud Brava flew her way at the right place during the aria—something you rarely hear Toronto opera audiences do. But that's the virtuous circle that comes with a good performance: the more daring a singer is, the more reactive the audience.
On the other hand, there was stuff that didn't light the spark. It wasn't clear to me why 'O sole mio,' Ravel's Don Quixote songs to Dulcinea, and one of Vaughan Williams' Songs of Travel were in the program. They're all fine songs, but why should we hear women singing them? What do women add to them that's missing? I have my own theories, but I was more interested in hearing the singers', and the performances themselves did not make a strong enough case. Elsewhere in the program, the soprano version of the Count's aria from Marriage of Figaro, in which he plots the destruction of Susanna's announced wedding out of jealousy, was delivered in English and adapted—I am guessing, I could not hear everything clearly and there were no surtitles for songs in English—as Susanna's resistance song of sorts? The Great Inquisitor scene from Don Carlos with two mezzos taking their low notes for a wild ride is a great idea, but the performance was hampered by Leah Giselle Field's mocking and hammed-up take on the Inquisitor. Catherine Daniel sang King Philip in earnest—no panto and no distancing, she really played a king, and it was a pleasure to watch.
The evening ended with an ironic takeover of the men's chorus singing about the trickiness of women from The Merry Widow.
All in all: an excellent concept delivered as a disjointed hodgepodge of highs and huhs. But the gents of the TICP have my attention.
Tongue In Cheek Productions presented "Verbotenlieder" on December 19, 2018, at Lula Lounge, Toronto.
Lydia Perović is an arts journalist in Toronto.