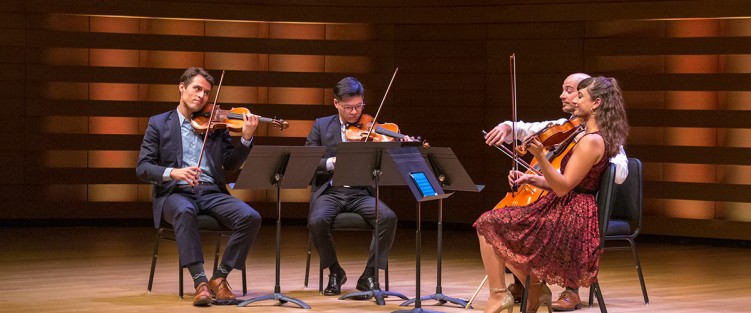 The afternoon before the Dover Quartet's concert at Toronto Summer Music in Koerner Hall on July 17, second violinist Bryan Lee gave a public masterclass in Walter Hall that offered a preview of the Dover's approach to performance. The masterclass presented three chamber music works by Debussy, Mozart and Dvořák played by fellows of the TSM Academy. Lee thought that the McGill-based Iceberg String Quartet's playing of the fourth movement of Debussy's String Quartet in G Minor needed more of a sense of gesture – they were holding back, he said. Lee had followed the score without taking notes, giving detail-oriented comments with an authoritative sense of clarity: "Find different types of non-competing sounds so they come out in the texture," he said. "And do something extremely uncomfortable – it felt really tame." It could be really exaggerated – by a factor of ten – he said.
After a second group of fellows played the first movement of Mozart's String Quintet in D Major, No.5 K593, Lee said: "I think the larghettos need more rhetorical time and the allegro needs more joy and drama." Later he said that some chords were "kind of crunchy," provoking some smiles. He told the fellows who played the last movement of Dvořák's Piano Quartet No.2 in E-flat Major, Op.87 that they needed to pick spots to really emphasize, and take more time to appreciate everything going on in the music so that it didn't feel like a big run-on sentence.
All of which shed light on the masterful performance of the Dover Quartet the next day. They made each note count and every gesture meaningful. Britten's String Quartet No.1 in D Major, Op.25's nakedly quiet opening bars with Camden Shaw's expressive cello pizzicatos broadened into a series of distinct voices by the entire quartet, contributing to an implacable sense of unity as the music rose to a level of urgent passion. They played the brief second movement with flair and authority and brought out the achingly romantic melody and profound sense of calm in the third movement, the work's emotional centerpiece; the finale's light-fingered passages were simply astounding. With their superb sense of Britten's sonic architecture, the Dovers' reading felt definitive.
Intense and propulsive, they held nothing back in Bartók's String Quartet No.3, mining its igneous beauty. After intermission, they brought out the lyricism and sense of optimism inherent in Dvořák's popular String Quartet No.12 in F Major, Op.96 "American," and balanced its folk-infused amiability with a sense of restraint that flowed easily and organically. Typically crowd-pleasing was the second movement's melt-in-your-mouth tune that seemed to dissolve into thin air. A spontaneous standing ovation brought the Dovers back for a sublime take on Ellington's In a Sentimental Mood.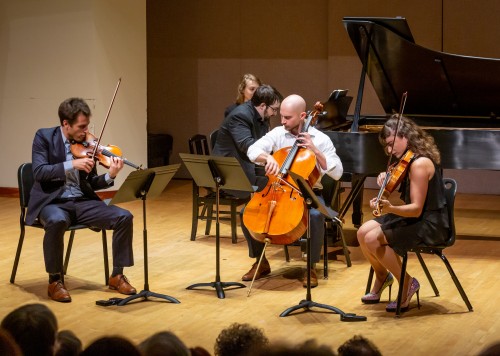 Two days later on July 19 in a sold-out Walter Hall, three members of the Dover Quartet – first violinist Joel Link, violist Milena Pajaro-van Stadt and cellist Camden Shaw – joined pianist Charles Richard-Hamelin for what turned out to be my personal highlight of TSM 2019 thus far: an impassioned performance of Brahms' Piano Quartet No.1 in G Minor, Op.25. Lush and warm, well-balanced – no one was hiding – with an intensity that conveyed the score's riches (including hints of the composer's Second Piano Concerto), the first movement set the stage for what was to follow. The grace of the second movement and the lyrical wonderland of the third led to the angular, animated, assertive finale with its wild abandon. No standing ovation was ever more deserved.
The Dovers brought out the best in Richard-Hamelin, who began the evening with Rachmaninoff and Chopin. He has an agreeable tonal disposition for chamber music, his round tonal texture making each note meaningful, but always within the boundaries of the ensemble as a whole. His solo Rachmaninoff – the composer's five Fantasy Pieces, Op.3, written when he was just 18 – was lyrical and warm, with a balanced rubato that enhanced the music's melodic core. The famous second piece, Prelude in C-sharp Minor – a piece that audiences loved and Rachmaninoff grew to hate – was followed by three more, including the tuneful exoticism of the Serenade in B-flat Minor. Richard-Hamelin finished his solo selection with Chopin's Andante spianato and Grande Polonaise Brillante, Op.22, the dreamy Andante – with its second theme reminiscent of a Ballade – settling into the big footsteps of the Polonaise.
A key element of Toronto Summer Music's Academy program is the opportunity for its fellows to perform with some of the world-class musicians who act as their mentors during their stay here. In a brief email exchange with Richard-Hamelin [published in the summer issue of The WholeNote], Richard-Hamelin told me that inspiration was the most important thing a mentor can do. "A great mentor, over a very brief period of time, can make you love the music you're playing to a point where you don't want to stop working until you've done justice to it." The fruits of Richard-Hamelin's own mentorship were on display last Saturday, July 20, in Chausson's Concert for Piano, Violin and String Quartet Op.21. The instrumentation made for many possible pairings – violin and piano, violin and string quartet etc – and the music's exuberance was contagious, leading to a spontaneous standing ovation. The fellows included the Iceberg Quartet and violinist Gregory Lewis, one of CBC's "30 Hot Canadian Classical Musicians Under 30." Richard-Hamelin's sensitivity shone through and Lewis' confidence was apparent in a work that ultimately favoured the violin.
Before intermission, the Dover Quartet's Camden Shaw and his heartfelt cello playing shepherded two fellows in Dvořák's charming Piano Trio No.4 in E Minor, OP.90 "Dumky," one of the most lovable pieces in the repertoire.
Toronto Summer Music continues at various locations throughout Toronto until August 3.
Paul Ennis is the managing editor of The WholeNote.