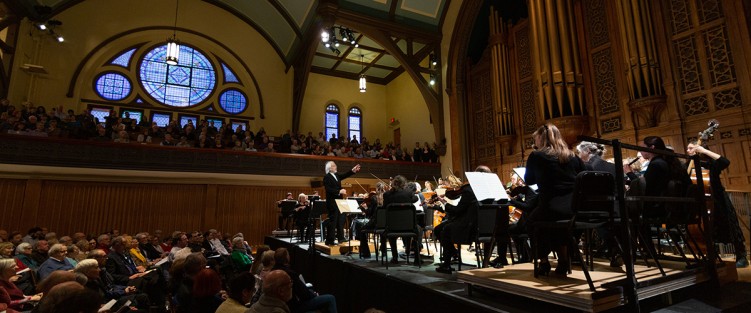 It is the challenge of any conductor of early music: how to take works with innumerable minute sections and transitions, and smooth them into a cohesive performance. This challenge becomes particularly demanding when the individual sections themselves are complex and technically formidable, requiring an elevated level of focus from each performer and precise control from their leader. Within the corpus of such works, J.S. Bach's St. Matthew Passion reigns supreme: almost three hours in duration and scored for two choirs and orchestras, the immensity of every aspect of this piece makes it the apotheosis of Baroque religious music, the pious parallel to Handel's great operas.
To the delight of Bach fans across the city, Tafelmusik presented the St. Matthew Passion, led by the renowned Japanese Bach specialist Masaaki Suzuki, on March 21 to 24 as part of their 40th anniversary season. Expectations were understandably high as Toronto's premier early music ensemble joined forces with their legendary guest director – but this performance surpassed them all, providing an experience that made both a musical and spiritual impact. By neither losing the musical details in favour of dramatic effect nor neglecting the dramatic elements in favour of the musical, the Tafelmusik musicians reached a balance that resulted in a fulfilling, complete performance.
Central to this success was Suzuki's incredible knowledge of the score and control of the ensemble, whom he guided with assuredness and precision. From beginning to end, each recitative was led with intention, looking ahead to what followed, providing innumerable transitions that felt logical and organic. The chorus was in top form throughout (their blend and tuning perhaps the best it's ever been), and their agile maneuvering of Bach's complex counterpoint conveyed both clarity and affect in perfect balance. The orchestra was magnificent as well, leading the chorus and soloists through their retelling of Christ's passion with a wide range of expression, and following Suzuki's leadership and interpretive ideas with precision.
The continuo team and strings deserve particular mention in this regard, as they had the task of accompanying a vast amount of recitative, from the secco narration of the Evangelist to the accompagnato words of Christ. Their unity and control lent a support that helped the audience to forget the technical difficulties and potential pitfalls of accompanying recitative and focus instead on the drama as it unfolded, guided through our journey by the stunning Evangelist, tenor James Gilchrist.
All of the soloists were in superb form, providing sublime reflections on the narrative unfolding within the Passion story. Of particular beauty was the final bass aria, 'Mache dich, mein Herze', which connected soloist and orchestra in such a way that they existed as one, an alchemic moment that set up the tranquil and introspective conclusion in which the choir is taken to ppp, the very bottom of their dynamic range, bringing the performance to rest.
If it is impossible to find a perfect live performance of this work, this one came incredibly close. Everything and everyone worked together in synchronicity to realize the musical vision of one of the world's great Bach interpreters and, ultimately, what one hopes was the vision of the composer himself.
Signing his contract as Thomaskantor in 1723, Bach had to agree not to write in an excessively operatic style; despite this apparent stylistic restriction, Bach's score is incredibly fertile, spanning the gamut of human emotions in three short hours, and reflecting his own theology in musical form. We are exceedingly fortunate to have such gifted interpreters in our midst, who provide their audiences the rare opportunity to hear such extraordinary music performed in an extraordinary way.
Tafelmusik presented Bach's St. Matthew Passion, led by Masaaki Suzuki, March 21 to 24, 2019, at Trinity-St. Paul's Centre, Toronto.
Matthew Whitfield is a Toronto-based harpsichordist and organist.