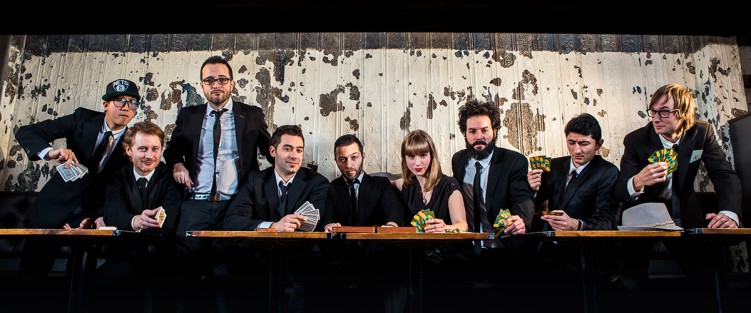 Montreal-based string ensemble Collectif9 stopped by Lula Lounge on November 12 on their way to Mexico for a three-day visit November 15 to 17. It was the second Toronto appearance for the double string quartet plus double bass – the first was for Music Toronto in March 2016 – and meant to launch their latest CD, No Time for Chamber Music, which is wholly devoted to the music of Mahler. But as bassist Thibault Bertin-Maghit told me after the show, when he saw Lula's salsa dance floor he scaled back the Mahler content, using only three of the CD's nine tracks, and filled out the evening with works by Golijov, Schnittke, Enescu, Brahms, Ligeti, Berio and Mexican composer Arturo Márquez.
Bertin-Maghit does most of the arrangements for the group, which made its debut in 2011. They were students at Université de Montréal and McGill who wanted to create something different yet complementary to traditional classical music. The result was a genre-bending, innovative approach that uses lighting techniques and amplification not usually associated with the classical concert stage. They started out playing Piazzolla and Golijov, Bertin-Maghit said, but the lack of repertoire for their particular nine-instrument ensemble led him to expand their playlist to encompass arrangements of a variety of symphonic and chamber works. They perform them with an infectious energy and vigour that grabs an audience's attention.
Lula Lounge's warm, relaxed atmosphere and intimate nightclub feel made it an ideal setting for Collectif9's music and undoubtedly stoked the enthusiasm of the crowd.
The set began with tonal and atonal fragments reminiscent of the opening of Max Richter's Recomposed Vivaldi's Four Seasons. Out of the improvisatory noodling came the unmistakable Frère Jacques tune set in a minor key by Mahler from the third movement of his Symphony No.1. Hushed in the bass and cellos but amplified, its presence straddling centuries, it moved to the higher strings who convincingly mimicked Mahler's woodwinds. The tune grew out of that foundation into a sudden quick folk dance, exaggerating its klezmer quality while building to a full, rich sound before returning to the Frère Jacques melody, diminishing in scope and fading into atonality. Brilliantly arranged and exuberantly performed, it was typical of the evening as a whole.
"A new one for us," is how Bertin-Maghit introduced Osvaldo Golijov's Romantic-tinged rhapsody, Night of the Flying Horses. It starts with a Yiddish lullaby that (according to Golijov) metamorphoses into a dense and dark doina (a slow, rubato, Romanian genre) and ends in a fast gallop with a theme Golijov "stole from my friends of the wild gypsy band Taraf de Haïdouks." With his folk-based, often pastiche-laden works, Golijov is a natural fit with Collectif9's aesthetic.
A teaser of Stravinsky, the opening minutes of The Rite of Spring, followed, putting Collectif9's togetherness on display. Then came the Allegretto from Schnittke's Violin Sonata No.1 (from their Volksmobile CD), an energetic, joyful, jazzy showcase for violinist Robert Margaryan. An elegant pizzicato dance was next, a brief ländler that begins the second movement of Mahler's Symphony No.2. Then the agonizing Farewell from Mahler's Song of the Earth, given a touching, passionate performance that shone a light on its folk references.
Enescu's Octet for Strings (with double bass added) was one of the first pieces Collectif9 read through when they first formed seven years ago. "Now we're finally ready to perform it," said Bertin-Maghit. Its soaring melodies and propulsive dance-like rhythm elicited a virtuosic performance from the ensemble that was contrasted by the light touch navigating the dense lyricism of the Scherzo from Brahms' Sextet No.2 that followed.
As played by Collectif9, the fourth movement of Ligeti's Concert Românesc was a perpetual-motion achievement featuring impressive ensemble playing, the perfect appetizer for the highlight of the night: the third movement from Berio's Sinfonia. Built on top of the Scherzo from Mahler's Symphony No.2 and incorporating a text from Samuel Beckett's The Unnamable as well as eight singers and a large orchestra, it was the inspiration for Collectif9's new album and its ironic title, No Time for Chamber Music, which is part of the Beckett text. In fact, the Berio was supposed to be included on the CD but they couldn't get the rights. With its many references to Ravel, Stravinsky, Beethoven, Debussy, Boulez and more, it's a masterpiece of mid-20th-century music given an electrifying 21st-century reading.
Then it was literally and figuratively off to Mexico, with a sunny performance of Márquez's Danzón No.2, made famous by Gustavo Dudamel's popular recording with the Simón Bolívar Youth Orchestra of Venezuela.
Collectif9's next visit to Toronto cannot come too soon.
Paul Ennis is the managing editor of The WholeNote.