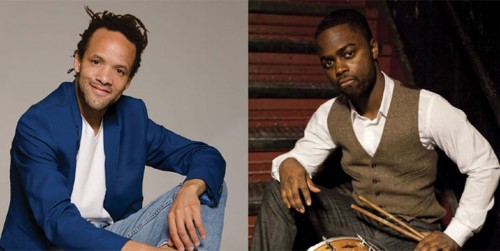 This article is part of a 3-part series on the 2018 TD Toronto Jazz Festival.
On Tuesday, June 26, tap dancer Savion Glover and drummer Marcus Gilmore performed at Koerner Hall as part of the TD Toronto Jazz Festival. Toronto-based tap dancer Allison Toffan – founder of the Toronto International Tap Dance Festival – introduced Glover as "the best tap dancer in the world." Since making his Broadway debut at age 11, Glover has earned multiple Tony and Drama Desk awards, made numerous television and film appearances, and has been active as a choreographer, including for the George Miller-directed motion picture Happy Feet. Though Gilmore is almost always introduced as "the grandson of Roy Haynes," he has developed a unique voice of his own as a leading drummer in modern and avant-garde jazz projects, including work on albums by Chris Potter, Steve Coleman, Mark Turner, Vijay Iyer and Chick Corea. Together – and largely without the use of narrative, harmony, or melody – Glover and Gilmore created an intimate, clattering masterpiece, notable for its humour, for its generous interplay, and for its deep commitment to artistic integrity.
Before continuing, let me clarify that I know very little about tap dancing, and that I make no claim to any tap-specific expertise. What I can say with confidence, however, is that part of the show's charm was its accessibility for audience members who located themselves at any point on the music-dance spectrum. Glover danced on a large wooden board, elevated approximately twelve inches off of the stage floor, with microphones underneath routed to a small mixing console adjacent to the board and accessible to Glover. Positioned stage left of Glover, Gilmore's drum kit was set up at a 45-degree angle to the front of the stage, to afford easy eye contact with Glover.
Glover and Gilmore performed two pieces, the second of which functioned as a kind of built-in encore. The first piece – which, at approximately an hour long, constituted the bulk of the performance – began with Glover dancing sparsely, using the outside of the board to create tight, high-pitched tones, as Gilmore joined, using his bass drum and toms to create complementary sounds, before moving to his full kit. The full significance of the performance was not apparent until twenty minutes in, at which point Gilmore triggered a few ambient chords with the aid of a laptop. Until that moment, the show had contained no sounds other than those generated by Glover's tap shoes and Gilmore's drums, but had already elicited multiple rounds of spontaneous applause and cheers from the audience. To describe the experience as "stripped-down" or "spare" would do a disservice to the music, which was rich and captivating from beat one, but it seems important to mention that there was no real narrative, very little harmony, and no melody in the traditional sense (with the exception of a few phrases of Mongo Santamaría's Afro Blue, sung by Glover). In the absence of these elements, the focus was squarely on rhythm and texture, and, with ample acoustic space in which to work, small shifts and subtle interplay between Glover and Gilmore became the most exciting parts of the evening. At one point, when the two were trading, the music felt like modern small-ensemble jazz; at another, when the two were playing longer sections together, the music felt like a Steve Reich composition. During the second piece – which followed a standing ovation, a loudly proclaimed "Thank you!" from a member of the audience, and a brief water break – Glover used a delay effect on his board to create ethereal, percussive sounds, pausing briefly to deadpan "Kids, don't try this at home." Leaving the show, it was reassuring to witness that this was not taken seriously, as many members of the audience danced their way out of The Royal Conservatory, responding physically to a show that was one of the highlights of the 2018 festival.
Savion Glover and Marcus Gilmore performed on June 26 as part of the TD Toronto Jazz Festival, at Koerner Hall, Toronto.
Colin Story is a jazz guitarist, writer, and teacher based in Toronto. He can be reached through his website, on Instagram and on Twitter.