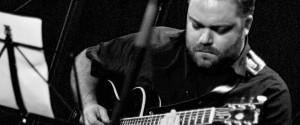 On Thursday, March 1, jazz guitarist Harley Card's Sunset Ensemble played at Lula Lounge, presenting two sets of freshly-arranged music. The performance was one of four special projects supported by the TD Toronto Jazz Festival's 2018 Discovery Series, and was the second public performance for the Sunset Ensemble, which played a smaller-scale show at The Tranzac in early January. By foregrounding interactivity and dynamics, the Sunset Ensemble delivered an engaging, thoughtful listening experience that both expanded upon Card's body of work and distilled his aesthetic sensibilities into something potent and new.
This particular project grew out of a relatively straightforward concept: take compositions from Card's previous albums and adapt them for octet. Card has been an active member of the Canadian jazz scene for well over a decade, both as a leader and as a sideperson, and much of the Sunset Ensemble's material is drawn from his albums Non-Fiction (2008), Hedgerow (2013), and The Greatest Invention (2017), in addition to new compositions from Card and other band members. Although helmed by Card, special mention must be made of the contributions of David French – saxophonist on Hedgerow and The Greatest Invention, and longtime colleague of Card's – who collaborated on many of the evening's arrangements.
"Sophomore," the first song of the night, began with careful purpose, building into an atmospheric solo from tenor saxophonist Perry White. The backbeat-driven "Enclosure," from The Greatest Invention, followed, with impressive playing from drummer Lorenzo Castelli, who was able, both in this song and throughout the entire show, to be exciting and propulsive without overwhelming the rest of the band. Ted Crosby's slow, eerie "Primordial Valley" was juxtaposed with "Right Arm," a swinging, medium-up song, which was the closest that the band came to conventional large-ensemble jazz playing. One of the high points of the first sets was "A Distant Bell," on which Card took a compelling solo, playing mature, articulate phrases with subtly powerful rhythmic confidence.
Card is particularly good in dialogue with other musicians, both while soloing and while comping, and, though a technically accomplished guitarist, his instincts always seem to guide him to choose musicality over flash. It was a pleasant surprise to learn that these artistic principles carried over, in a substantive way, to his role as arranger and bandleader. Given the project's description, it would not have been unreasonable for an audience member to expect an expanded version of Card's quintet, in which additional horns would add extra colour to music that is still, essentially, in a small-ensemble format, as in guitarist John Scofield's 2007 album This Meets That. What emerged over the course of the Sunset Ensemble's performance, however, was a commitment to a very different approach: rather than flattening the material at hand to facilitate opportunities for individual instrumental heroism, Card and company's arrangements focused on dynamic group playing, with an emphasis on tone, texture and melody that fixed the audience's focus squarely on the music.
The second set continued this trend, with excellent playing from all members of the group. Highlights included French's arrangement of the title track from The Greatest Invention, bassist Daniel Fortin's "Don't You Think," which was one of a few charts that featured upright bass in unison with Crosby's bass clarinet, and "Laurentia," a short, delicate ensemble piece that had its premiere at Lula Lounge. Sunset Ensemble's performance ended with "Albany," a song from Non-Fiction, and, as Card informed the audience, "maybe the second tune [his] group ever played." Ending with "Albany" was an apposite choice, as it neatly encapsulated Card's accomplishment: by looking to the past, he has created an exciting new ensemble with a life of its own that can move confidently into the future.
Harley Card's Sunset Ensemble – featuring Alexander Brown (trumpet & flugelhorn), Perry White (tenor sax), Ted Crosby (bass clarinet & clarinet), Karl Silveira (trombone), Harley Card (guitar), Matt Newton (Rhodes piano), Dan Fortin (bass) and Lorenzo Castelli (drums) – took place at Lula Lounge in Toronto on March 1, as part of the TD Toronto Jazz Festival's Discovery Series.
Colin Story is a jazz guitarist, writer, and teacher based in Toronto. He can be reached through his website, on Instagram and on Twitter.