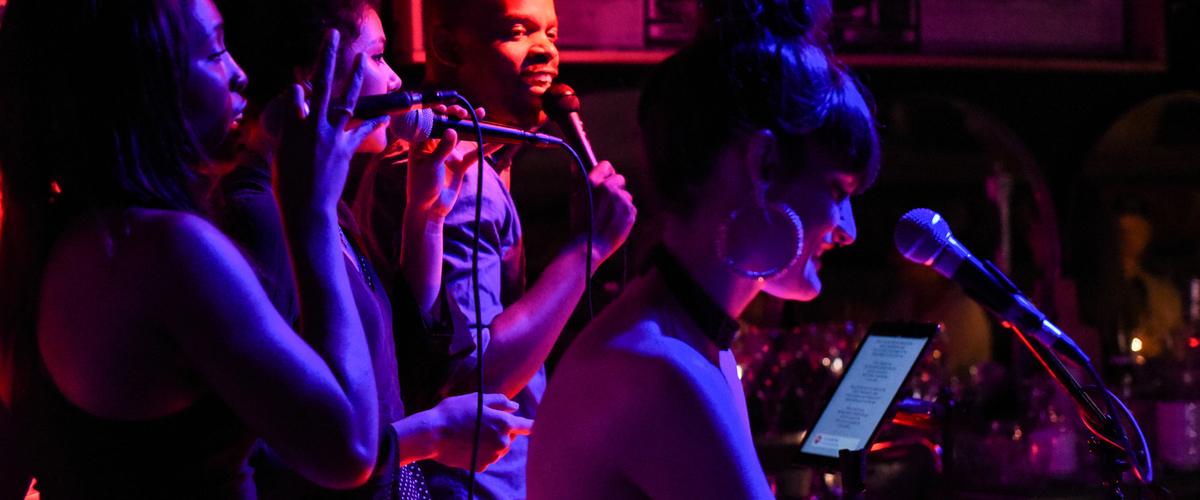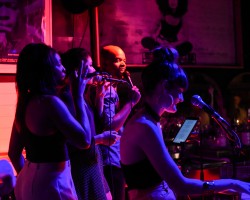 On Friday, January 26, singers Chelsey Bennett and Joanna Majoko performed with their respective bands as part of Burdock's Piano Fest, now in its third year. The premise of Piano Fest – procure a high-quality grand piano for the week, book piano-centric acts in complementary double bills – is fairly simple, but it has provided a welcome outlet for musicians during a month, following the eggnog-soaked fever dream of December, that is typically light on festival programming. It has also, judging by the packed house on the 26th, become a prime destination for live-music patrons, although the credit must, of course, be shared with Bennett and Majoko, both of whom perform regularly in Toronto and beyond.
Bennett – who is also a pianist, and played on the baby grand for the duration of her set – performed first, joined by keyboardist Darryl Joseph-Dennie, bassist Peter Eratostene and drummer Julian Clarke. Her show began with a looped, a cappella introduction to a bluesy, funky 4/4 piece, rounded out by solos from all four members of the band. The second song was "Don't Use Your Eyes," a minor-key, backbeat-focused original that evoked Jill Scott, both melodically and rhythmically, and was followed by "Missed Connections," a song about the wistful aftermath of chance encounters, featuring an athletic solo from Joseph-Dennie.
Bennett is a natural, engaging storyteller, and her easy affinity with the crowd served her well in the intimate setting of Burdock's Music Hall. This affinity was used to full effect in "My Place," a 12/8 original dedicated to the warmth and comfort of the urban apartment, which Bennett performed alone, accompanying herself on acoustic piano. It was fitting that a song about the relationship between an individual and her environment was a solo performance – and it resulted in one of the most compelling moments of the evening, as the extra space gave Bennett the opportunity to showcase her dynamic range as both a singer and pianist. Rounding out her set was the original "No End," a 6/8 gospel-tinged number about a shared sense of limitless possibility within a romantic relationship. The fact – which Bennett shared with the appreciative audience in another funny introduction – that the particular relationship that inspired the song ended soon after it was written, and that the song itself served as the last song of her set, only added to its charm.
Taking the stage with guitarist Andrew Marzotto, pianist Ewen Farncombe, bassist Mark Godfrey and drummer Jon Foster, Joanna Majoko began her set with an arrangement of the jazz standard "Bye Bye Blackbird." Bennett and Majoko share some musical similarities – but where Bennett sings R&B and neo-soul, Majoko sings modern vocal jazz with R&B and neo-soul influences, with an emphasis on harmony, individual soloing, and engaging rhythmic interplay between band members. All of these elements were used to full effect on "I Hear Sounds of Africa Calling," a 6/8 Majoko original that featured a strong piano solo from Farncombe, and "These Nights," an original ballad, sung by Majoko with a plain, delicate vocal quality that showcased the range and accuracy of her voice.
Majoko played the caxixi – a basket shaker used widely in Brazilian music – throughout much of her set, but never quite as impressively as in her wordless arrangement of Miles Davis' "Nardis," in which she superimposed a consistent 3-beat figure on the 4/4 song while singing both the melody and a scat solo. Herbie Hancock's "Tell Me a Bedtime Story" saw Farncombe taking another confident solo and Foster doing some of his strongest work of the evening, and the original "You Are Bold," which began with a beautiful keyboard and voice introduction, gave Marzotto the space to stretch out on an excellent guitar solo.
"Where You Are," a funky, swung-sixteenths original, served as the evening's penultimate song, and showcased Godfrey's electric bass skills, both as a thoughtful soloist and as a rock-solid timekeeper (he held down the low end on upright, for the majority of the evening). It should be noted that the sonic balance of Majoko's set was really top-notch, a testament not only to the maturity of Majoko and her band, but also to Burdock and its consistently outstanding front-of-house sound. Finally, Bennett returned to the stage to join Majoko for Roy Hargrove's "Forget Regret," which featured both singers sharing the melody and trading scat solos over the rhythm section's confident playing, eliciting enthusiastic applause and bringing a joyful night of music-making to a close.
Burdock presented Chelsea Bennett and Joanna Majoko in a double bill as part of its third annual Piano Fest, on Friday, January 26, 2018.
Colin Story is a jazz guitarist, writer, and teacher based in Toronto. He can be reached through his website, on Instagram and on Twitter.