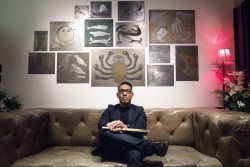 JabFung, a project helmed by bassist Julian Anderson-Bowes and Richmond Hill-born, LA-based drummer Anthony Fung, has emerged in recent years as one of Toronto's leading presenters of collaborative jazz residencies. Anchored by the core rhythm section of Anderson-Bowes and Fung, the group's past performances have featured excellent local and international guest musicians, including saxophonist Kelly Jefferson, pianist James Hill, guitarist Andrew Marzotto, French vibraphonist Simon Mouiller, and, for two nights at The Rex this past July, the eminent American saxophonist George Garzone.
The group's latest residency, which took place at the Rex on December 18 and 19, continued the local/international trend, as Anderson-Bowes and Fung were joined by the LA-based pianist Isaac Wilson, who was a classmate of Fung's at Berklee, and Cuban-born alto saxophonist Luis Deniz, a Humber College faculty member and mainstay of the Toronto jazz scene. In its current iteration, JabFung proves itself to be a rarity: a special project with the chemistry of a working band, capable of putting on an exuberant, thoughtful performance, and of displaying both virtuosity and sensitivity in equal measure.
On the second night of their two-night engagement, the group's playing was convincing and assured from the opening bars of the first set, which began with an arrangement of Duke Pearson's "Is That So?" that featured tight, focused solos from all band members, including a winning turn by Fung over a 7/8 vamp in the song's penultimate section. The set continued with Wilson's "Prized Possessions," a medium-tempo, straight-eighths piece that showcased the strong relationship between Wilson and Fung, whose intuitive comping was both supportive and propulsive. "Opus Something," a slow 3/4 composition of Anderson-Bowes', morphed organically into a pulsing, triplet-heavy feel during Deniz' confident, searching solo. Deniz' work was also exemplary on Fung's "A Call For Peace," in which the saxophone solo began as an exploratory, communicative duet with Wilson, satisfying both in its harmonic and rhythmic sophistication.
The second set, like the first, featured mostly original material, including Deniz' elegant "Marta," Wilson's bubbling, odd-metre "Bring it Back," and "Tarnished," another Wilson tune, on which Anderson-Bowes took an outstanding solo, displaying a well-developed sense of phrasing and a strong command of the bass's upper register. It is a credit to the band's maturity that such a relatively quiet moment was given the same attention as anything else on the program, and that the resulting solo – articulate, melodic, and displaying a clear sense of direction – was just as engaging as the more bombastic solos of the saxophone and piano.
What emerged, during the performance, is that one of JabFung's great strengths is its attention to detail, and many of the evening's most compelling moments were the result of airtight shifts in texture, time signature and dynamic level. There is always a risk, at the performances of the young and the technically gifted, that excitement can lead to high-volume monotony; happily, this was far from the case during the quartet's show, which recalled, at certain points, the telepathy of Ari Hoenig's small ensembles, and the joyful reciprocity of Danilo Pérez, John Patitucci and Brian Blade's trio playing.
Nowhere was this attention to detail more evident than during the evening's final number, an arrangement of Thelonious Monk's "Boo Boo's Birthday," which toggled back and forth from energetic up-tempo to medium swing, and which, in the wrong hands, could have easily become a repetitive, predictable blowing vehicle. Instead, the time-feel changes allowed the group to showcase its superb dynamic command, and for Deniz and Wilson to execute some of the most interesting (and fun) solos of the night. It should come as no surprise, perhaps, that a group co-led by a bassist and a drummer might prioritize group interactivity over individual heroism, but the result – an absorbing performance, equal parts serious and ebullient – seems well worth the effort.
JabFung performed at The Rex in Toronto on December 18 and 19, 2017.
Colin Story is a jazz guitarist, writer, and teacher based in Toronto. He can be reached through his website, on Instagram and on Twitter.