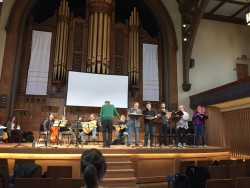 Even though only his La Calisto is now performed with regularity, Francesco Cavalli (1602-1676) was a prolific operatic composer. Elena, one of a handful of his other operas making cross-century comeback, was first revived in 2013 and we are lucky that the Toronto Consort nimbly followed suit and programmed it as their opera-in-concert this season. The printed program adapts the opera's title as Helen of Troy, but it might have been more accurate to call it Helen Before Troy, as the libretto invents the shenanigans around the kidnapping of the mythical Helen before she was married to the Mycenaean king Menelaus (of Iliad and Odyssey fame), from whom she was later to be abducted by Paris of Troy. The original story of Helen's marriage to Menelaus is a more sedate affair involving the drawing of straws—attention, I am about to compare the "official" Greek mythology line with its Italian baroque riff, I love my job—and therefore not particularly useful to the early opera. Librettists of Elena Nicolò Minato and Giovanni Faustini needed a much wilder story of how Menelaus and Helen ended up together, so they created one.
Men in dresses are not unheard of in Greco-Roman mythology (see Achilles on Skyros) but there are more to be found in Italian baroque opera. Menelaus of Elena spends most of the time cross-dressed as an extraordinarily muscular Amazon who impresses young Helen with her wrestling prowess and becomes her intimate. Both of them, helpless women that they are, get abducted by Theseus (who also has a yen for Helen) and his sidekick Pirithous (who casts his eye on "Elisa" the Amazon) and are brought to the court of King Creon. There, Creon's son Menestheus—you guessed it—also falls for Helen, and we learn that Theseus is actually already engaged to Hippolyta, who is one of those low-voiced, no-nonsense, sword-wielding women in the style of the female knight Bradamante of the Italian epic poems on the adventures of Orlando. Intrigues ensue. Helen finally decides that of all the suitors she prefers Menelaus—who finally comes out as a man—and Theseus returns to Hippolyta.
Musically too, Elena is an entertaining hodgepodge of comedic and solemn elements. The required instrumentation can be as small as half a dozen people at most points, one or two melody instruments against the basic continuo. (For a more luxurious sound with a bigger period ensemble, see the 2013 DVD of Elena from Aix-en-Provence with Cappella Mediterranea in the pit.) In the Toronto Consort's version, Lucas Harris (theorbo), Felix Deak (cello) and Paul Jenkins (harpsichord) made up the continuo, which was joined, as required, by violins (Patricia Ahern and Julia Wedman) or recorders (Alison Melville and Colin Savage). Bud Roach, a one-man show as the court fool Iro, both sang and played baroque guitar.
There are five pants roles inherited from the castrati roles in Elena, and for this fan of pants roles that is not a small thing. TC's music director and conductor David Fallis honoured all but one: Menelaus is sung by a tenor (Kevin Skelton), while Pirithous, Menestheus, Castor and Pollux were all indeed sung by women—Vicki St. Pierre, Katherine Hill, Emma Hannan and Veronika Anissimova respectively. Kevin Skelton, luckily, has a beautiful and agile tenor voice that made this Menelaus rather a good catch. His cross-dressing was achieved by way of a Wonderwoman apron. Cory Knight's Theseus was paired with the ever reliable and the velvetiest mezzo of the TC ensemble, Laura Pudwell. That this Hippolyta was slightly older than her betrothed added a welcome May to December (or should I say, Emmanuel Macron-ian?) dimension to the story.
Mezzo Vicki St. Pierre's pinpoint dexterity with melismas was back in town (the singer now lives and teaches in New Brunswick) for a spirited take on Pirithous. The young Emma Hannan and Veronika Anissimova were an intriguingly girly take on brothers Castor and Pollux, who happen to stop by Creon's Tegea on their way from capturing the Golden Fleece. Their voices were bright and youthful.
Delicate sopranos are a mainstay of Toronto's early music scene, which favours l'esprit de corps (those sopranos often play one or more period instruments too) to individual vocal vim. Oftentimes a pretty, light, vibrato-less voice is all one needs for particular pieces; but sometimes I wish the music director looked further from his usual pool of voices. Katherine Hill was somewhat underpowered as Menestheus who needed more vocal heft to come alive. Michele deBoer made a fine if at times pale Helen, the arm wrestling scene with Kevin Skelton notwithstanding.
But no matter: all said and done, this Elena was a big treat. David Fallis' translation of the libretto, projected in the form of supertitles, added entertaining contemporary touches at many a turn. And when the voices were called to come together, as in the choir of the Argonauts, were moments of breath-taking beauty. I kept thinking how wonderful it would be to see this staged (by a company other than Opera Atelier). Directors coming out of Toronto's independent opera scene—Anna Theodosakis, Aria Umezawa, Amanda Smith, the Applin sisters—your turn.
Lydia Perović is an arts journalist in Toronto. Send her your art-of-song news to artofsong@thewholenote.com.