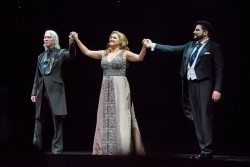 There are few of us about – the Netrebko timbre sceptics: music lovers who are more puzzled than attracted by the colour of the voice by the world's best known soprano, Anna Netrebko. There are going to be even fewer here after her Toronto and Canadian debut on April 25 at the Four Seasons Centre, in recital with tenor Yusif Eyvazov and baritone Dmitri Hvorostovsky and the Canadian Opera Company Orchestra under the baton of Jader Bignamini. I must admit I went in as one, but came out finally able to understand much of her scenic appeal. Anna Netrebko live is a veritable bête de scène, that rare performing artist who is at absolute ease on stage, well-prepared and spontaneous both, always generous, with something of a serene childlike instinct for play.
Hers is an unusually dark and cavernous soprano, with ample lower register and confident and equally ample bright top. In live performance, it's a voice-kaleidoscope with never a dull moment. Her repertoire has changed over the years from the bel canto of the youthful years to Verdi, the Russians, and the first Wagner forays recently – and there's a Strauss Salome in the near future. At the FSC recital presented by Show One Productions she sang the Act 4 Marfa's aria from Rimsky-Korsakov's The Tsar's Bride; Cio-Cio-San's 'Un bel di vedremo' – usually sung by brighter and smaller-engined soprano voices, so this was a treat; 'Stridono lassù' from Leoncavallo's I Pagliacci; and a luxurious, dramatically precise Moon aria from Dvořák's Rusalka. With Yusif Eyvazov, she sang a cheerful little duo from Lehar's Das Land des Lachelns, 'Tu che m'hai preso il cuor'. The duet and the final scene from Tchaikovsky's Eugene Onegin with Dmitri Hvorostovsky as Onegin closed the concert.
The audience that packed the FSC was rowdier and more enthusiastic than is the Toronto operatic average, which was a welcome change. The Hvorostovsky fans were particularly vocal and it's no wonder: as the baritone is not yet taking on a full performing and touring schedule, every concert is an occasion to relish. He sang Rigoletto's 'Cortigiani vil razza dannata', an aria each from Rachmaninoff's Aleko and Rubinstein's The Demon, the famous "Tri karty" aria from Tchaikovsky's Pique Dame, and in the encore on behalf of the entire trio, probably the best known Russian romance song of all times, 'Ochi chyornye', while Netrebko waltzed around the stage. (And does she got rhythm. Can we have more of the dancing Netrebko on stage, opera directors?)
All that said, it was Yusif Eyvazov who actually stole the show. Is it ungentlemanly to say that the diva's husband, when it strictly comes to singing, impressed the most? Because I am about to say it. Perhaps because he is still fairly young and up-and-coming with more to prove than either of the two established star colleagues, Eyvazov came spectacularly well-prepared in a program that had two of the best known tenor arias of all time – 'E lucevan le stelle' from Tosca, and 'Vesti la giubba' from I Pagliacci. He made both of these frequently recorded and performed arias uniquely his own. Eyvazov's tenor is of a rare beauty of tone and consistent throughout the range, with a free and secure top. Volume is always impressive and impressively controlled. What he has in common with his spouse is the unfussy presence in the singing role – there is no withholding and no distance. To the lesser-known tenor arias 'E la solita storia' from Cilea's L'Arlesiana and 'Prosti nebesnoe sozdanye' from Pique Dame he immediately gave a living, breathing character. There is much to look forward to from Eyvazov in the years to come.
Lydia Perović is an arts journalist in Toronto. Send her your art-of-song news to artofsong@thewholenote.com.