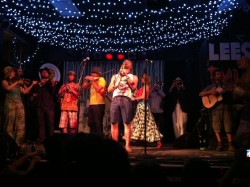 Lately, it seems as though everywhere I go, the Lemon Bucket Orkestra is there. The 15-piece band performed two shows for this year's Luminato Festival, one as part of the Slaight Music Series at the Festival Hub and the other at the post-show event for the TSO's annual late-night concert, and just this Thursday kicked off their first-ever Canadian tour with a concert at Lee's Palace. And with their tour including stops in Toronto, Sudbury, Guelph, Montreal and Ottawa, we're sure to be seeing them pop up at least a few more times before the summer is out.
Self-described as Toronto's "Balkan-klezmer-gypsy-party-punk-super-band," the Lemon Bucket Orkestra boasts a unique blend of jazz, folk and world music with a spirit of wild spontaneity. Formed in 2010 in Toronto, the group began to make international headlines in 2012 when a video of their impromptu performance aboard a delayed Air Canada flight to Romania became a viral hit, now close to clearing 300,000 views on Youtube.
Two years later, these people never seem to run out of steam. Thursday's kick-off show included two sets and an introductory dance workshop with members teaching folk dance styles from the Balkans—which, once the participants worked out their own self-conscious jitters, made for some good pre-show fun and showcased the group's participatory spirit. And after the entire band made its way onstage—sousaphone and all—they generated an uproarious energy that had the audience cheering and dancing within a matter of seconds.
It takes a very special kind of group to be received with such open arms at Roy Thomson Hall one week and at a venue like Lee's Palace the next. As to be expected, the audience itself was a mixed bag of people: I stood next to one concertgoer who had travelled from Windsor for the show, speaking to another who had first heard the group at his excursion to the symphony earlier in the month. And while the band's overall aesthetic—from its attitude of joyous noisemaking to accordionist and co-founder Tangi Ropars' customary heart-rimmed sunglasses—leans towards the rowdy, there is clearly top-notch musicianship at work. The band is incredibly tight, with a skilfully balanced approach to their instrumental makeup and a big, bold sound that seems like effortless play.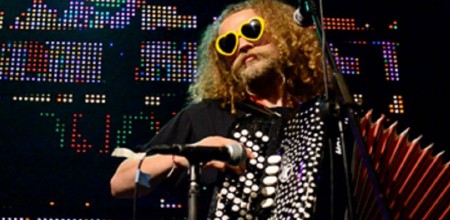 The tour, which intends to "turn the Canadian wilderness upside-down," takes the people of Lemon Bucket to venues in Nova Scotia, British Columbia, Alberta, Quebec and Ontario. On the local front, watch for them at Sudbury's Northern Lights Festival Boréal (July 5-6), Ottawa Chamberfest (August 1-2), the Ashkenaz Festival right here in Toronto (August 30-31) and the Guelph Jazz Festival (September 6). You can read more about Rob Teehan, Lemon Bucket Orkestra's sousaphone player, in his "On the Road" profile with The WholeNote; band details and updates for the summer ahead can be found on their tour page at lemonbucketorkestra.com.