Following up on his article on ballet and opera interpretations of Pinocchio in our summer issue, Peter Goddard talks with three Canadian artists who sang key roles at the 69th annual Aix-en-Provence Festival this July.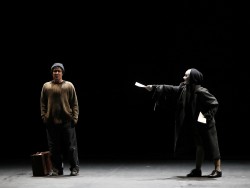 It's not just the music that's over following the finale of any Festival d'Aix-en-Provence, the 69th edition wrapping up a week ago. So's the paper trail, with its voluminous programs with marathon resumes about each artist and their multiple past triumphs. Aix means you can show how you made it; that you have a past.
Aix also means you'd better be willing to risk it, according to the musicians I talked to. Exiting festival director Bernard Foccroulle was himself entirely surprised by what Dmitri Tcherniakov revealed in this year's Carmen. "I was not sure it would work out like this," he told me. Rising Canadian bass-baritone, Philippe Sly, talked pre-festival about "the company's living vision," about it being "the rehearsals I enjoy the most, not the performance."
Aix's inclination toward the experimental fits perfectly with how new singers view careers, says Canadian mezzo Julie Boulianne, whose Aix debut this year had her singing the dual roles of the nightclub singer and "bad boy" in Philippe Boesmans' world premiere Pinocchio.
"This is a world now ruled by the stage director who has a lot of power," says the Montreal-based mezzo. "Aix really makes a point of having extraordinary and inventive new productions. So as a singer you have to be ready to change a lot of your conceptions. You have to be adaptable to make these shows work. We're not stuck in this big form of music of the conventional opera in conventional houses."
As it turned out, Boulianne didn't suit the character director Joël Pommerat had initially imagined and created for his original stage play of Pinocchio – so, true to Aix form, they had had to come up with something new. "Building an opera becomes a different thing, something you don't expect," says Boulianne. "We had to find something that [worked], something suited to my personality. It turns out the audience loved it. I love it that we're constantly re-thinking and re-visiting. It's what keeps opera alive."
We're talking at the Café de l'Archevêché in sizzling heat, where two days previous, in the same spot, I had met with Paris-based Canadian soprano Marie-Ève Munger, who was the dazzling coloratura fairy in Pinocchio.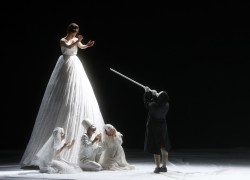 "One of our first conversations in rehearsal was, 'who is the fairy? What is a fairy?'" said Munger at the time. "We knew who Pinocchio is, who the father is. All the other characters are easier to grasp. But even at the first rehearsals we didn't know who the fairy was. But we knew that there are moments of great lyricism in Pinocchio. The music is fairy-like. It's magical. The rest of the score is like (Debussy's) Pelléas et Mélisande, with text over gorgeous music. But there's also coloratura almost in the tradition of (Léo Delibes') Lakmé. It helps that we're trained now to be ready to end up doing everything." (Like Boulianne and Sly, Munger graduated from McGill University's Schulich School of Music, opera's one-city farm team.)
She added: "As a singer you have to be confident, especially these days when everybody wants to be original. I've made my mark doing a lot of weird projects. I like to be involved in world premieres, something that brings classical music out of its shell a bit, lets it reinvent itself, even just a tiny bit. I find that fascinating and important."
As if she'd been listening in to our conversation, Boulianne remarked somewhat later: "I really think I'm part of what will make history, something that offers a different way of comprehending the tale of Pinocchio. To me it's a revolutionary way of thinking about it – and meaningful."
The 69th Aix-en-Provence Festival ran from July 3 to 22, featuring productions of Bizet's Carmen, Stravinsky's The Rake's Progress, Mozart's Don Giovanni, Cavalli's Erismena and Boesmans' Pinocchio, as well as an opera-in-concert presentation of Tchaikovsky's Eugene Onegin.

Peter Goddard, music, film and visual arts critic for the Toronto Star with a National Newspaper Award for criticism, is the author of The Great Gould, due out this summer from Dundurn Press.