"I'm 66 – I don't want to see puppets in anything."
– Man talking to wife in a New Yorker cartoon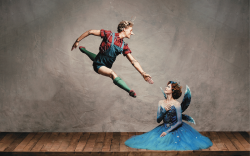 Funny, but he's out of luck. Puppets and marionettes are throwing their weight around in today's fantasy worlds alongside assorted automata, baleful robots and the human-like "synths" as they are called in Humans, the hit TV series. Michael Fassbender plays an android motoring through disaster in Ridley Scott's Alien: Covenant. Then there's Dr. Who, Westworld and Mr. Robot to only just begin the cyborg list.
But leading the humanoid crew by a nose this year – pun unavoidable – is Pinocchio, the marionette of the moment. As proof I give you the National Ballet of Canada with its world premiere of British choreographer/dancer Will Tuckett's Pinocchio this past spring in Toronto, and the upcoming 2017 Aix Festival's July premiere of its Pinocchio, with Belgian composer Philippe Boesmans' score fleshing out French playwright Joël Pommerat's adaptation of Carlo Collodi's kids' adventure first published in the 1880s.
Like any Bat/Spider/Superman sequel, Pinocchio's tale continually gets tempered to suit its time. Steven Spielberg's 2001 A.I: Artificial Intelligence - a badly disguised riff on Collodi – has technology pulling the strings. Walt Disney Productions' Pinocchio, invariably maligned for moral gooeyness, was in fact rather audacious for its time – 1940 – as it explored animation's response to animation. One can only imagine what might now be out there if Stanley Kubrick and Federico Fellini had realized their Pinocchios. (That said, someone should make a film of Robert Coover's postmodern novel, Pinocchio in Venice, where a writer interviews the aging puppet, a 100 year old American university professor, slowly reverting to his wooden state while reminiscing about The Blue Fairy.)
Arguably the most road-tested among recent live productions is British director Jonathan Dove's opera, The Adventures of Pinocchio, travelling to Europe and the United States since its 2007 premiere in Leeds. Ballet Ouest de Montréal's more recent Pinocchio had the little hero suffer from cyber bullying, not from the attacks by the mischievous and murderous fox and cat as in the Collodi original. And Ballet West Academy and choreographer Lindsay Folkman fashioned an inspirational Pinocchio: Awake My Soul.
Collodi – born Carlo Lorenzini – was a flinty Tuscan civil servant who detested kids, boys first and foremost. A "disgrace" and "confirmed rogue" is only the beginning of the calumny he heaps on Pinocchio. Nevertheless Collodi's Storia di un burattino (The Tale of a Marionette) first appeared in 1881 in a kids' publication, Il Giornale per i Bambini where it gained a huge readership. Intended as a cautionary tale aimed at the street punks of his day, the violence-filled early installments reflected the author's richly brutal imagination. "Take care, you wicked ill-omened croaker," the marionette warns the talking cricket in the original. "Woe to you if I fly into a passion," Pinocchio adds before squashing the bug flat with a flying hammer – and this only in Chapter Four by the way, in the facsimile edition I am using published by BiblioBazaar Reproduction Series.
Fearing that this level of violence might scare off "i bambini," Collodi's editors suggested he tone down the trash talk which, in yet another example, has Pinocchio being strung up by the cat and fox to a branch of an oak tree – in the 15th chapter, as if the author had waited long enough to do away with the puppet. "A tempestuous northerly wind" gave poor Pinocchio "atrocious spasms." Collodi eventually softened his language, brought his marionette back from the dead to be currently translated into some 240 languages.
Nevertheless, "closer to the original" is one of the most frequently used descriptions for just about any contemporary Pinocchio, along with "not like Disney" and "not just for kids."
To these protestations we might, in the moment in time we occupy, consider adding "nothing to do with Donald Trump." But the Trump trope is both too easy and too dangerous. "It's impossible to make anything that escapes the world we're living in," ballet choreographer Will Tuckett argues. "But it's also dangerous to choose any of those ideas now. When we get to next spring who knows where we'll be." (Tuckett is an ardent anti-Brexiteer.)
"I never do theatre with a message," playwright Pommerat tells me by email (in French; my translation) in regard to the upcoming Aix opera. "The show does offer among other things a reflection on lying. To get out of the whale Pinocchio lies to his father who thanks him in the end."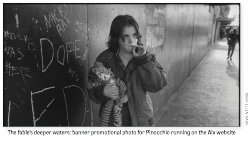 The Aix version tacks toward the fable's deeper waters, though. "Born of the imagination of man, Pinocchio is both alive and artificial," Pommerat says. "The staging plays on this ambivalence between animate and inanimate, human and puppet. There are lots of fake humans – mannequins – on stage. The spectator does not always know what is living from that which is inanimate.The perception of the spectator is disturbed. This [takes us] in the direction of questioning the difference between the thing and the living.
"In my staging, there is of course a scene with the fairy where Pinocchio's nose lengthens with every lie. It's an important symbol, both funny and violent. But in the preceding scene, Pinocchio is almost beaten to death by three murderers because he refused to tell them the truth: to confess that he was poor. It is an opera for children but the questions it raises, about education or the relationship with others for example, concern us all. Aggression, blackmail, punishment – all the adults in this tale question our relationship to authority and education."
(It's a vision more than a bit reminiscent of Metallica's Master of Puppets, where string-pulling is followed by "twisting your mind and smashing your dreams.")
Pommerat's touchstone, he says, is Luigi Comencini's remarkable, Le avventure di Pinocchio, the lavishly praised 1972 production for Italian television which harkens back to post-WWII Italian neo-realistic cinema – back streets filled with rubble, kids scrambling for food, that kind of thing. "I did revisit the Comencini," says Pommerat, "but I had other sources of inspiration, the films of Fellini, (Max) Ophüls and old photos mixed with what I remember of Collodi. I created this Pinocchio in 2008 for the Théâtre (de la Monnaie, in Brussels). The libretto for that production was rewritten for opera especially for Philippe Boesmans. (Boesmans and Pommerat collaborated earlier for the 2014 production of Au Monde. Asked to come up with something new by Bernard Focroulle, Aix's out-going chief in two years, Boesmans immediately thought of Pommerat's Pinocchio.)
Adds Boesmans in his separate email: "I didn't find it interesting for my music to imagine Pinocchio as a puppet. I found it more interesting that Pinocchio is a real pre-adolescent boy going through different phases. I opted for varied musical changes adapted to the adventures that happen to him.
"I'm often attracted to victims by having an attitude of compassion toward them. Julie" [based on the August Strindberg play] and Yvonne, Princesse de bourgogne are two good examples. Of course Pinocchio is a puppet, but Joël Pommerat has reconsidered him as a street boy of today. Pinocchio is not a dark character. He obviously undergoes rather violent initiatory tests that teach him to become a real little man."
(Readers may recall that Julie, which premiered at La Monnaie in 2005, was produced in 2015 by Canadian Stage and Soundstreams, making Boesmans' North American debut with an all-Canadian cast directed by Matthew Jocelyn. Aix's Pinocchio has its share of Canadians, starting with soprano Marie-Eve Munger as the Fairy, along with mezzo Julie Boulianne, baritone Laurent Deleuil and soprano Magali Simard-Galdès. Munger's Fairy is, reportedly more hot mama than Tinkerbell, offering the boy, in Pommerat's description, "the chance of salvation."
Will Tuckett's spring Pinocchio for the National Ballet was also a follow-up of sorts, his second retelling of the Collodi following an earlier production for the Royal Opera House which, upon reconsideration, needed too much restructuring and rethinking for the Canadian company. "It's more a family show than a kid's show, more about excitement than scary," Tuckett tells me. "There is a lot of subtext one doesn't get into. So you have to be a lot more honest on how you tell the story. It remains a very strong morality tale, a case of 'if you do the wrong thing your nose will grow.' There's a comeuppance if you transgress."
If there's any punishment for the title character in Tuckett's Pinocchio it comes with the relentless – ruthless? – pace the choreography forces the dancer (Skylar Campbell in Toronto) to maintain. Does he ever get off stage? Being an inert chunk of wood begins to look good after a while! Pulse and pace however contribute to the work's strength, via Paul Englishby's amenable score. "This production is huge and the music has to be light-footed enough to switch styles," says the composer who worked with Tuckett on The Thief of Baghdad for the Royal Opera House. "Rhythmically speaking, we play all sorts of games with patterns we've set up. The harmony can be quite thorny at times, but Pinocchio has a a musical motive that runs the entire gamut of everything we do."
The National Ballet's Pinocchio would easily get the Disney seal of approval if Uncle Walt were still with us. Violence and sexuality are kept within parental guidance limits. Dramaturge Alasdair Middleton – who also wrote the book for the 2007 Jonathan Dove Pinocchio opera – avoids scenes of boys hanging or cricket crunching.
The Aix Festival has emerged in recent years as the Tiffany's of the European music season; it's always sunny and cher. Having Ottawa's Philippe Sly as its Don Giovanni this year shouldn't dent this impression in the slightest. (In thinking of the cavernous quality of Sly's voice, a true bass-baritone, one is reminded of British critic Kenneth Tynan once describing Richard Burton's voice as having "the stillness of a cathedral.") But the festival – 70 years old next year – has become particularly sure-footed when it comes with its commissioning and performance of contemporary opera.
It seems Aix's instinct to re-imagine what opera might be – sometimes falling flat on its makeup in the process – often has to do with revisiting the power of illusion itself. Its 2012 hit, George Benjamin's Written on Skin, set in 13th-century France revolved around illustrated texts. Last year's Kalila wa Dimna, based on a 2,000-year-old bestseller in Arabic, dealt with the slippery relationship truth has with politics. Likewise, Pinocchio the marionette functions in a diminutive way, the way opera does on the grand scale, as an artificial means of understanding our humanity.
Speaking of artificial means. There is one Trump-Pinocchio connection after all. Geppetto is called "pudding" by the local kids, because of the yellow hair in his wig.
Performances of Pinocchio are at the Grand Théâtre de Provence July 3, 7, 11 and 14 at 8pm and July 9 and 16 at 5pm.
Peter Goddard, music, film and visual arts critic for the Toronto Star with a National Newspaper Award for criticism, is the author of The Great Gould, due out this summer from Dundurn Press.