Following up on his article on ballet and operatic interpretations of Pinocchio in our summer issue, Peter Goddard takes a whimsical look back at the 69th annual Aix-en-Provence Festival this July, and the imaginative opera productions it had on offer.
—
As the calendar ticks over into August, another fabulous season of France's Festival d'Aix-en-Provence passes into operatic history: 5 new productions…one opera in concert…36 performances.
All that remains for me is the dilemma of how to come up with a 'report from the scene' summary of the festival – this from a festival that is now synonymous with artistic and poetic licence in its offerings and stagings. Ah well, maybe a quick nap will help…I'm sure I'll think of something…
Bizet walks into a bar – Woden's Paradise Lounge ("To Die For Half-Price Wednesdays."). Already a bit juiced, he barely manages to get up on the stool. "Old war wound," he grunts. "Iraq One or Two?" asks the bartender. "Franco-Prussian One," Georges says. "National Guard."
Grimacing in pain, the composer nevertheless looks very pleased with himself while surveying the place. Looking around he sees – well,wouldn't you know? – Stravinsky, just five stools down, pointing to his long-stemmed glass and in the act of ordering another of his famous Stravinsky Martinis. He too looks smug, as he snaps "make it neat and quick" to the slow shuffling bartender.
The bartender – fellow-Russian Leonid Kinskey, in his role as Sasha, the barman in Casablanca – rolls his eyes as he measures out Stravinsky's vodka by the quarter ounce, as the composer demands. "Carefully!" Sheeh. For a Russian this Stravinsky is very fastidious. Sasha misses movie drinking buddy Rick.
Bizet raises his milky glass: "To you, Igor Fyodorovich." Stravinsky nods, a wan smile on his closed lips, like a shark in the moment before chomping down. Igor Fyodorovich nods at the praise, but offers nothing in return.
The 69th Aix Festival, just ended, provided a hit for both. Each saw a spanking new modernist interpretation for their overly familiar scores.
"To festivals," says Georges, moving close so they can clink glasses.
"And their royalties," says Stravinsky, clinking away, watching the news scroll on CNN – anachronism is ordinary at Aix – and ordering another round.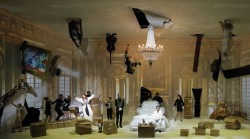 Bizet's Carmen was re-imaged by Russian director Dmitri Tcherniakov as a modernist psychodrama where everyone is in therapy, under state scrutiny, or is enduring both. British director Simon McBurney's take on Stravinsky's The Rake's Progress – where Norway's Eivind Gullberg Jensen replaced wrist-injured conductor Daniel Harding – critiques soulless Hollywood, instead of William Hogarth's squalid London.
"I must say," said Bizet, trying to buddy up to Stravinsky, "that American tenor they found for your Tom Rakewell…"
"Paul Appleby," nods Stravinsky, the Hollywood veteran who knows good casting when he hears it.
"Sung wonderfully," says Bizet. "And the set was as white a white as Utrillo at his chalkiest."
"All very right and fine," says Stravinsky, pointing Kinskey's way for another martini. Igor is suddenly engaged. "But you got the great publicity. I mean, having that warning about violence before the show was brilliant."
He turns around in his seat, pontificating the Carmen disclaimer to the otherwise almost empty bar.
"Tonight's performance contains scenes that may seem like actual danger," Stravinsky mock-orates.
"'Actual danger.' That's edge. That's contemporary, Georges. That's what I want." He takes another tight-lipped sip of his martini. "That's derrieres in seats."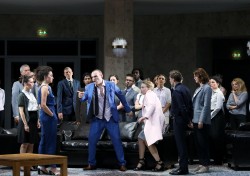 The CNN ticker tape continues to roll…95% seat capacity…373,145 tickets sold…14 concerts….The sound of "hurrahs," and "bravissimo" and otherwise unidentifiable thumps can suddenly be heard from the private party in the room upstairs.
"It's the 17th century we have to worry about though," says Bizet, trying to be heard over the racket. "The 17th century is the Monty Python Spanish Inquisition of opera. It's everywhere, sneaking up behind you."
"So I hear. Something by Cavalli – Hipermestra, I think, a good piece – was at Glyndebourne this year," says Stravinsky."WIlliam Christie directing while noodling on the harpsichord."
"William Christie is always noodling on the harpsichord," says Bizet. "It's the stamp of quality. The 17th century is now getting better press than…"
"You and the 19th century?" says Stravinsky.
"And you and the 20th too," says Bizet, suddenly sounding sober. "Even the 21st isn't doing too badly. Philippe Boesmans' Pinocchio is more drama per musica than what I'd call opera. But it felt new and fresh."
"Because of Joël Pommerat's script and direction, not the sound effects," says Stravinsky through pursed lips.
"Face it Igor Fyodorovich, your Rake and my 'Habanera' aren't the news this year. It's what's happening today or happened in the Early Baroque," says Bizet. "It's Cavalli's Erismena. I envy Cavalli's tunes, and the earthiness of the orchestra – I wanted that for my L'Arlésienne Suites – the rough sound of fiddles scratching – no polish here – the trumpets…"
Bizet rattles on, not noticing that Stravinsky is paying zero attention, instead staring with fascination at the only other customer in the bar, a short figure in a coat far too heavy for Heaven, the poor creature's shoulders heaving as if deeply weeping.
"And Cavalli's cast," says Bizet, now in full flight. "Francesca Aspromonte, the Italian soprano in the title role – the performance of the season! – and Susanna Hurrell as Aldimira and good lord, the spectacular breakdancing Polish countertenor, Jakub Józef Orliński, it was…"
But Stravinsky is gone. Leaping from his stool, Bizet follows the Russian who is approaching the weeping stranger. Stravinsky prods his shoulder. The figure turns abruptly, weeping changing into convulsive laughter. The Russian leaps back. It's Mozart.
Bizet leaps back, too.
A beat of silence. An eternity of understanding. They all know.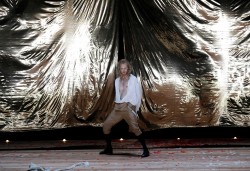 Meant perhaps to be the festival's big hit, French director Jean-François Sivadier's Don Giovanni was the festival's one downer. Giovanni's feral lust – its relentlessness one of the sure things in all of opera – had a Justin Bieber so-sorry whinging to it.
Still, rising Canadian bass-baritone Philippe Sly sang wonderfully despite feeling somewhat ill early on, and even improvised a weird dance routine, in response to understanding that operatic hell had opened its doors for him. This Don became a girl's night out led by Italian soprano, Eleonora Buratto, as Donna Anna, one of the festival's other major finds.
Tugging on Mozart's shoulder, Stravinsky says: "W.A, it happens to us all." Mozart turns with a near-hysterical laugh. "Igor, you old rip-off bastard, you don't get it, do you?" he says and turns back to his smartphone screen, thumbs flying frantically. (To think, his parents once worried that with his fingers he might become a pool player.) "This couldn't be better for me and that's all that matters. Me."
Stravinsky is miffed. But Bizet is curious, peeking at what Mozart is texting: 'Disaster. Does no one remember the Dons of Cesare Siepi or Nicolai Ghiaurov? Now there was testosterone…fiddle with my work at your peril.'
Is that the voice of Bernard Foccroulle, Aix supremo leaving the festival at the end of this year, breaking in from overhead on the vast flat-screen TV monitors from above the bar? "The dominant idea here," says Foccroulle, "is that opera is a living art form…Sivadier's set – more Breck Girl than Brechtian…"
"This'll teach them," says Mozart, now muttering wildly to himself. "I don't need my music 'interpreted' by anybody." "Texting? Hmmm," Bizet thinks. Wait till he tells Offenbach at their next golf game. And from down the bar comes the sound of Stravinsky ordering another martini.
—
The 69th Aix-en-Provence Festival ran from July 3 to 22, featuring productions of Bizet's Carmen, Stravinsky's The Rake's Progress, Mozart's Don Giovanni, Cavalli's Erismena and Boesmans' Pinocchio, as well as an opera-in-concert presentation of Tchaikovsky's Eugene Onegin.
Peter Goddard, music, film and visual arts critic for the Toronto Star with a National Newspaper Award for criticism, is the author of The Great Gould, due out this summer from Dundurn Press.