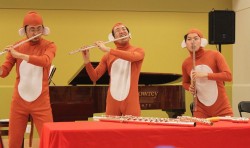 On Canada Day weekend, flutists from all over the world flocked to Oakville, Ontario, for the Canadian Flute Association's first ever Canadian Flute Convention. Hosted at the beautiful lakeside Appleby College, the three-day convention welcomed over 300 flute-playing participants for three days of recitals, masterclasses, lectures, workshops and of course, flute shopping.
I made the trek down to Oakville with high hopes, and was not disappointed. Planning an inaugural event of this scale is certainly no small feat, and yet this weekend was an effective first step in the right direction for not only flutists but for all music and musicians in Canada. Among the hundreds of attendees, I saw new friendships formed and old colleagues and classmates reunited – including some reunions of my own. What's more, Samantha Chang and the CFA's stellar programming made the most difficult part of the convention just having to choose between three or four interest-piquing events sometimes occurring simultaneously. And needless to say, I listened to a lot of great flute music.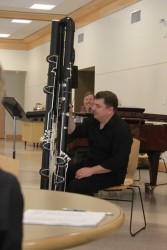 Performers and presenters alike were far too numerous to mention but here is a taste: ranks of Canadian performers such as Ron Korb, Susan Hoeppner and Robert Aitken were joined onstage by the likes of Chilean virtuoso Viviana Guzmán, British superstars Trevor Wye and William Bennett, internationally renowned French piccoloist Jean-Louis Beaumadier, low flutes specialist Peter Sheridan and the always-entertaining Magnum Trio, straight from Japan. Also spotted: "On-the-Roaders" Jamie Thompson and Christopher Lee, and The WholeNote's very own Allan Pulker!
Anyone who had nurtured assumptions that a gathering consisting solely of flutists would grow tiresome over the jam-packed long weekend was quickly proven wrong by an astonishing display of variety that kept attendees eager and inspired. Audience favourites included Peter Sheridan rocking the contrabass and subcontrabass flute in recital, Trevor Wye's infamous Carnival Show recital featuring flutes fashioned out of everything from bicycle pumps to fresh carrots and a display of quirky humour and extended-technique virtuosity from the Magnum Trio that had all listeners on their feet. Have a listen to some of the Magnum Trio's antics here.
A huge congrats goes out to Samantha Chang, the Canadian Flute Association and the myriad of dedicated volunteers for putting together an extremely well-organized and successful weekend of flute festivities. O brave new world, that has such people in't! The plunge into the world of convention planning was well worth it – and hopefully in two years' time we can look forward to a sequel, an event to maintain Canada's now-established place on the international flute scene. Until then – flute on!