I shut myself up with all your eyes
Why do you want to know
Why do I say why
On January 21 at the University of Toronto's New Music Festival presented by the Faculty of Music, something of historical importance occurred. A concert was presented of the complete series of Italian composer Luciano Berio's Sequenze – a series of fourteen works written for solo performers, each for a different orchestral instrument. This concert was the first performance in Canada of the entire Sequenze repertoire – you may remember it was the cover story in WholeNote's Dec–Jan issue.
But first, I must digress and place the experience of this historical event into a broader context. I've been noticing that there seems to be something going on in the artistic world these days that's in sync with what may be called the rise of the new democracy. We see this being demonstrated not through any government actions, but rather through the expression of a diversity of voices arising out of a communal desire for change. It's what we witnessed in the Arab Spring, in Occupy Wall Street and now with Idle No More.
Over the next 35 days or so, Toronto audiences will have an opportunity to experience the impact of this emerging zeitgeist in two very different settings. And perhaps surprisingly, these opportunities are being offered under the auspices of two venerable and traditional institutions – the opera and the symphony. The first is the directing style of Peter Sellars who will be guiding the Canadian Opera Company's production of Wagner's Tristan und Isolde. In his January 28 talk at the Metro Toronto Reference library, he spoke about how his goal in directing is to set up the stage for discovery so that something can happen in performance that you don't know about beforehand. "It's not about what the director wants, but rather about creating the opportunity for participation on multiple levels," he said.
The second opportunity to catch the wind of this cultural change will be with the Toronto Symphony's New Creations Festival and the premiere of Tod Machover's new work: A Toronto Symphony: Concerto for Composer and City. To compose this piece, Machover undertook a 'massive collaboration' with anyone who was interested in participating. It required no previous skill, just inquisitive ears. He sees this co-creation principle at the heart of how music will be created in the future. You can read more about his future visions in my "In With The New" column in the February issue of WholeNote.
Now that's a very long introduction to what this blog post is all about – the Luciano Berio Sequenze concert. I felt compelled to mention these two examples of current artistic vision (Sellars and Machover) as a contrast to the creative motivation of what we heard in these works of Beri, and also to get a glimpse into how cultural movements unfold and intertwine with creative expression.
And here begins your desire
Which is the delirium of my desire
Music is the desire of desires.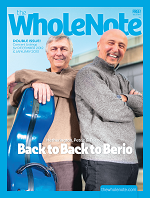 Although the fourteen Sequenze were written over a period of 45 years and during a time that saw a wide range of styles and aesthetic viewpoints emerge, they are, in essence, a celebration of the specialist, the individual, the virtuoso. They rely on the highly refined skill of the soloist and are examples of an ethos that is about pushing the sonic edge of the instrument and of the performer's expertise. They reflect the scientific perspective of singular observation.
I have felt your rough and rigid noises
And for that reason, it was a thrilling ride. The concert was one of those rare moments in time when you were able to hear fifteen exceptional and individual musicians excel at what they've spent their entire lives perfecting – a mastery of their instrument. And yes, there were fifteen performers, as Sequenza VII was performed first on the oboe and then later on soprano saxophone.
For my ears, it was as if "timbre" or instrumental colour was being held up to the light or put under the microscope, as one after another, we the listeners zeroed in on a specific hue. It was like a parade of sound whereby first one instrument and then another was explored, encountered and investigated. Its depths exposed, its possibilities opened up. Each work becoming an opportunity for Berio to engage in a cultural dialogue with an instrument's specific historical traditions, legacy, practices and attitudes.
My song will be your very slow silence
To prepare myself for the concert, I watched an online performance on YouTube of Sequenza III for female voice. This had been one of my favourite works during my student composer days and I needed a memory refresher. Astonishingly, in the Toronto concert, I barely recognized it as the same piece. Not that either one was good, bad, better or worse, but just so different from each other. A great demonstration of how much room there is for personal and individual interpretation. There was a nuance and subtlety, almost an understatement, to Canadian soprano Xin Wang's performance in the concert January 21 that also carried through to other works heard in the evening – the Sequenze for guitar, accordion, cello and clarinet.
At the other extreme there was flair and flamboyance in the Sequenze for trumpet, soprano saxophone, trumpet, piano and bassoon. One of my favourite moments was listening to the incredibly rapid and continuously repeating patterns of Sequenza VIII for violin that seemed to effortlessly fly through the air off performer Mark Fewer's fingers.
And in between each exposition was the spoken word, written by Italian poet Edoardo Sanguineti and eloquently delivered by trumpeter Guy Few. A final refrain:
I move very slow
I look at you from all sides
I turn
transforming you
trembling
tormenting you
terrifying you.
The movement from the one to the many.