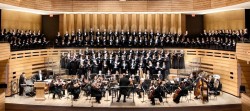 Singing is an almost involuntary action for most people. Having been a singer all my life, I firmly believe that. Parents sing to children to comfort and amuse them and children sing to themselves while playing. People singing together is also almost instinctive behaviour, whether it is singing at a religious gathering or on a bus heading to camp, singing the national anthem at a memorial or sports event, celebrating a birthday or the stroke of midnight on new year's eve. Noel Edison, conductor and artistic director of the Toronto Mendelssohn Choir (TMC), believes that all people are "innately artistic" and that singing provides a most natural personal, emotional and artistic release.
It is a belief in the importance of the centuries old choral music tradition that inspired Noel to create the TMC Choral Conductors' Symposium. This provides an annual intensive week of hands-on training to five talented young conductors while giving them a chance to work with Canada's pre-eminent large choir as well as Edison's Grammy-nominated professional chorus, the Elora Festival singers (which he founded in 1980). This year's symposium begins Monday January 21. An intensive week of rehearsals will culminate in a free concert at 3PM on Saturday, January 26 at Yorkminster Baptist Church, 1585 Yonge Street. The concert will also be streamed live on the internet.
The TMC is Canada's oldest continually operating arts organization. Founded in 1894, it will soon celebrate its 120th anniversary (I am a proud chorister in my 30th season). Among the highlights in its illustrious history is the 1986 Juno award for the recording of Handel's "Messiah" with the Toronto Symphony, conducted by Sir Andrew Davis. The choir has been performing Messiahs with the TSO since 1932.
The high standards of the choir are maintained by annual re-auditions of all choristers. In addition, the choir is anchored by the 20-voice professional Elora Festival Singers.
A popular monthly choir outreach event is "Singsation Saturdays". The public is invited to join TMC choristers to sing great classic choral works led by an experienced guest conductor. Singsations takes place from 10:30AM to 1PM in the choir's rehearsal hall at Yorkminster Baptist Church, 1585 Yonge St. This is an opportunity each month to get that personal, emotional artistic release Noel talked about.
For information about the choir's performances, the Conductor Symposium, Singsation Saturdays, and much more, visit www.tmchoir.org .
I'll be reporting on the symposium's progress and the participant conductors in my Thursday blog in this space.