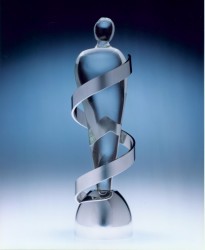 The biggest round of applause  at the Juno nominations announcement yesterday was not even directly related to the music: it was that the awards, taking place in the nation's capital on April Fool's Day, will be hosted by…William Shatner!  Warm applause also ensued after it was announced that rock group Blue Rodeo will be inducted into the Canadian Music Hall of Fame. In terms of the actual nominees, there was no clear frontrunner, with 6 acts tied at first with 4 nominations apiece: City and Colour, Dan Mangan, Drake, Feist, Hedley and Nickelback.
Needless to say (for those who know our magazine) none of the aforementioned frontrunners were reviewed in The WholeNote, but a few hearty bravos  are in order, nevertheless, to our hardworking crew of CD reviewers who have, out of the 35 classical and jazz nominees this year, already reviewed 27 of them in our DISCoveries section, (with three more to be reviewed next month!) A list of all the nominees in the five categories we routinely cover is provided at the end of this blog post, with embedded links to the ones we have already reviewed.
Before that, a couple of particularly WholeNote-Worthy Nods:
● 2 nominations for Montréal conductor Yannick Nézet-Séguin and Orchestre Métropolitain, in the same category, no less!
● 2 posthumous nominations in the Classical Composition of the Year category: Ann Southam's Glass Houses #5 and Jacques Hétu's String Quartet No.2.
● Franz Liszt's Années de pèlerinage suite is played (in part or in whole) in 2 of the recordings nominated in the Classical Recording: Solo or Chamber Ensemble (thank you, Google!)
And now, here are the nominees in the classical and jazz categories, with embedded links (in blue) related reviews already published in The WholeNote. (To view all Juno categories, visit www.junoawards.ca)
CLASSICAL ALBUM OF THE YEAR: SOLO OR CHAMBER ENSEMBLE
Canadian Brass Opening Day*Universal
Louis Lortie Chandos*SRI
Marc-André Hamelin Hyperion*SRI
New Orford String Quartet Bridge*SRI
Susan Hoeppner Marquis*EMI
American Flute Masterpieces (to be reviewed March 2012)
CLASSICAL ALBUM OF THE YEAR: LARGE ENSEMBLE OR SOLOIST(S) WITH LARGE ENSEMBLE ACCOMPANIMENT
Alexandre Da Costa/Orchestre Symphonique de Montréal Acacia Classics*Universal
James Ehnes Chandos*SRI
Jean-Guihen Queyras Harmonia Mundi*SRI
Yannick Nézet-Séguin, Orchestre Métropolitain ATMA*Naxos
Bruckner 4 (to be reviewed March 2012)
Yannick Nézet-Séguin, Orchestre Métropolitain ATMA*Naxos
Florent Schmidt- La tragédie de salomé
CLASSICAL ALBUM OF THE YEAR: VOCAL OR CHORAL PERFORMANCE
Jane Archibald; Orchestre Symphonique Bienne; Thomas Rösner ATMA*Naxos
Karina Gauvin - Marie-Nicole Lemieux Naive*Naxos
Le Nouvel Opéra ATMA*Naxos
Caldara : La Conversione di Clodoveo
Marie-Josée Lord; Orchestre Métropolitain; Giuseppe Pietraroia ATMA*Naxos
Marie-Josée Lord (to be reviewed March, 2012)
Tafelmusik Baroque Orchestra & Daniel Taylor Analekta*Sélect
J.S. Bach: Cantatas 70 & 154; Concerto 1060; Orchestral Suite No. 2
CLASSICAL COMPOSITION OF THE YEAR
Ann Southam Centrediscs*Naxos/CMC
Derek Charke Centrediscs*Naxos/CMC
Sepia Fragments (from Sea to Sea, St. Lawrence String Quartet)
Heather Schmidt Centrediscs*Naxos/CMC
Jacques Hétu Independent
String Quartet No. 2
Jeffrey Ryan Naxos
VOCAL JAZZ ALBUM OF THE YEAR
Diana Panton Independent*eOne
Fern Lindzon Independent
Sonia Johnson Effendi*Sélect
Le carré de nos amours
Sophie Milman eOne
The Nylons Linus*Universal
CONTEMPORARY JAZZ ALBUM OF THE YEAR
Chris Tarry Nineteen Eight
Rest of the Story
Colin Stetson Constellation*Outside
New History Warfare Vol. 2: Judges
François Bourassa Quartet Effendi*Sélect
Hilario Duran & Jane Bunnett Alma*Universal
Phil Dwyer Orchestra feat. Mark Fewer Alma*Universal
TRADITIONAL JAZZ ALBUM OF THE YEAR
Dave Young Quintet Modica*Independent
David Braid Independent
Kirk MacDonald Orchestra Addo
Mike Murley Septet Cornerstone*Outside
Oliver Jones Justin Time*EMI
Live In Baden