The term "perfect storm" has been used this season to describe the whirlwind of top-tier international composers gracing our stages, as well as the sheer density of concert activity in Toronto and nearby. If we continue the analogy, April might conceivably be the "eye of the storm," at least in the new-music world. This is not to say that the quality of work and calibre of creativity is on the wane – quite the contrary. There are many exceptionally excellent concerts to be heard. Rather, we may get a little more breathing space between events this month, before we're hit by the tempest of May concerts that traditionally close the season.
Continuing with the theme of celebrating leading composers, New Music Concerts hosts the Aventa Ensemble on April 10 at the Betty Oliphant Theatre in a Tremblay-heavy programme. The concert is part of the ensemble's 2010 East Coast tour. Hailing from Victoria, Aventa is one of Canada's younger yet larger new music ensembles, formed in 2003 from a regular roster of 15 players under artistic director Bill Linwood. Since that time, the musicians have completed almost 40 concerts, several tours (including to Europe and the USA), numerous commissions and at least 50 premieres.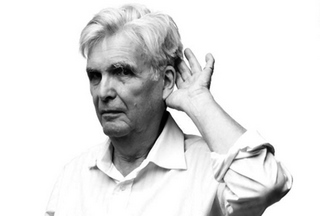 For this tour, their second to land in Toronto, Aventa will connect to the season-long celebrations of Canadian composer Gilles Tremblay, initiated by the Société de musique contemporaine du Québec. Never one to keep things small, SMCQ artistic director Walter Boudreau has encouraged a nation-wide project to pay homage to one of our own musical heroes through a collaborative series of at least 30 different events. For their part, Aventa will perform two of Tremblay's most distinctive works – Solstices for horn, flute, clarinet, double bass and percussion (which carries the subtitle "or how the days and the seasons turn") and À quelle heure commence le temps? for baritone, piano and 15 musicians. Included in the programme are two recent Aventa commissions from BC composers, including the most recent addition to Dániel Péter Biró's Mishpatim (Laws) series and Altus by the intriguing early-career composer Wolf Edwards. To learn more about Aventa, visit www.aventa.ca. To learn more about the Gilles Tremblay Homage series visit www.smcq.qc.ca. For tickets and venue information contact nmc@interlog.com or call 416-961-9594.
It's a rare opportunity when an ensemble lets a composer curate a whole concert of works to frame a new commission. That's why it's remarkable that, when Arraymusic invited composer Linda Catlin Smith to compose a new work for them, she was also invited to set the entire programme for this April 18 concert at the Music Gallery. More specifically, she was asked to dig into Array's score library, representing decades of commissioning and performing some of the world's most adventurous composers, to create a programme from works already in the ensemble's repertoire. Linda is one of the few people that Array could comfortably trust with such a project, given her history and familiarity with the ensemble: she is a past Array artistic director and co-creator of their Young Composers' Workshop. As a result, the concert will feature works by two of Linda's mentors: Canadian composer Rudolf Komorous (the short but haunting Sweet Queen for piano and percussion), and Japan's Jo Kondo (his seminal work, Standing, for any three instruments of different families), alongside some new discoveries: Scott Godin's internationally inspired Soccer (which can be heard on the Canadian Music Centre's CentreStreams online audio service), Gerald Barry's piano solo Sur les points and Italian composer Aldo Clementi's Madrigale for piano four hands, glockenspiel and vibraphone. To learn more about Linda Catlin Smith and her music, visit the CMC website at www.musiccentre.ca or www.catlinsmith.com. To purchase tickets, visit www.musicgallery.org or call 416-204-1080.
Bringing us back to the "perfect storm," Pulitzer Prize-winning composer Steve Reich returns to Toronto on April 29 for a concert featuring the Canadian premiere of his most recent work, Mallet Quartet for two marimba and two vibraphones. Mallet Quartet, which received its US premiere by So Percussion on January 9, is a co-commission of Soundstreams, the Nexus percussion ensemble and the Amadinda percussion group. The work will be a feature of Soundstreams' "Cool Drummings" percussion festival, which kicks off mid-month.
This must-see concert at the Royal Conservatory's Koerner Hall will also include Reich's other newest work – the substantial 2 x 5 for five musicians and tape, or 10 live musicians – alongside Reich classics like Clapping Music and Music for Pieces of Wood as performed by talent like our local Nexus, whom the New York Times have hailed as "the high priests of the percussion world."
As one of the instigators of the American minimalist style and a founder of New York City's downtown music scene, Steve Reich is sometimes referred to as America's greatest living composer and one of the greatest musical thinkers of our time. His musical creativity, which is credited with altering the path of music history, has embraced not only aspects of Western classical music, but the structures, harmonies, and rhythms of non-Western music, particularly African, and American vernacular music, particularly jazz. As a consequence, his work has been widely embraced by numerous artistic communities from high-art music to contemporary dance and DJ culture.
Leading up to this concert are a number of other performances and events that frame the Reich premiere and make up the bulk of "Cool Drummings." On April 19, Soundstreams will extend its "Salon 21" series at the Gardiner Museum to celebrate Steven Reich with inspired dancers, DJs and musicians who recognize him as the "the father of DJ culture," and "one of today's most choreographed composers." Then on April 27 and 28, the celebration will move over to the more laid-back Hugh's Room for two marimba-heavy concerts titled "Virtuoso Vibrations." On the programmes are commissioned world premieres from top-tier Canadian composers, including Andrew Staniland, Michael Oesterle, and Peter Hatch, performed by some of our best musical artists like percussionists Ryan Scott and Russell Hartenberger. The programme also features world-renowned koto virtuoso Kazue Sawai, who is coming from Japan for the occasion. Full "Cool Drummings" details, including venue and ticket information, can be found online at www.soundstreams.ca or by phone at 416-504-1282.
Jason van Eyk is the Ontario Regional Director of the Canadian Music Centre. He can be contacted at: newmusic@thewholenote.com.