by Jason van Eyk
By the time May rolls around, we can be sure that warmer and sunnier days are here to stay. So, it's no surprise that many of Toronto's new music performers and presenters are pursuing nature themes for this month's concerts.

Running throughout the month is New Adventure in Sound Art's Deep Wireless Festival of Radio and Transmission Art, which takes as its theme "Ecology: Water, Air, Sound." In this era of climate change and global warming, we're all alerted to environmental indicators of temperature, air and water quality, as well as light (UV index) and soil (waste disposal and brownfields). However, one environmental element to which we pay exceedingly little attention is sound. Most people would be surprised to know that we are affected by noise exposure more than any other environmental stressor. Yet, because the associated health effects of noise are not considered as immediately life-threatening as those for other environmental elements, it is regularly pushed to the bottom of the priority list.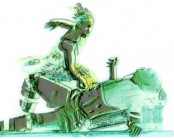 Feedback Fred (aka Benoît Maubrey) "feeds back" his own voice
through the interaction of his wearable PA system. Marie-Josée
Chartier, through interaction of movement with light sensors,
produces an "audio ballet".