The effect of too many winter days indoors and the budding promise of spring seem to have inspired new music presenters to think of movement in March, and especially of the human desire to dance. Or perhaps it's my own craving for unbundling weather – where we can move more freely – that's making me see choreographic connections. Regardless, no fewer than six concerts this month touch on the subject openly or in more subtle ways.
New Music Concerts' celebration of British composer Jonathan Harvey may be the most tangential to the theme, but I can't go without mentioning it. Harvey's remarkable training and unique opportunities for musical exploration have allowed him to gather influences from Berg, Messiaen and Britten to Babbitt and Boulez, which he then infuses with the power of Stockhausen and his own investigation of the mystical. Early successes have since opened doors for Harvey to compose for just about every classical genre, and for some of the world's best soloists and ensembles. But his skill and imagination seem best applied to electroacoustics, which is the main feature of this March 6 concert at the Betty Oliphant Theatre.
Programme notes for works like The Riot (the only non-premiere here) read like descriptions of choreography. Musical themes bounce about sharply, join in polyphonic ensembles or re-combine in new configurations. Scena for solo violin and large ensemble develops just like a classical ballet. Be sure to arrive early for a pre-concert event, where U of T's gamUT ensemble will deliver the world premiere of Harvey's Vajra. Harvey is in constant demand for commissions, meaning his dance card is plenty full, so any chance to catch a new work of his is a special one. To learn more or buy tickets, visit  www.newmusicconcerts.com.
On March 17, pianist Christina Petrowska Quilico will unveil the results of her Glass Houses Revisited recording project in a live concert at the Glenn Gould Studio. The CD, released on Centrediscs, consists of extensive revisions to nine selections from the original 1981 Glass Houses by composer Ann Southam, and was Petrowksa Quilico's last Southam collaboration before the composer's sudden passing last November.
In her incomplete programme notes, Southam explained the genesis of the work: "I have called these pieces Glass Houses in order to identify them as minimalist music. The best known composer of this style of music at the time… The tunes in Glass Houses were inspired by… Canadian east coast fiddle music. Generally speaking, these tunes are spun out… until all tunes are present, at which point they wind back to the beginning."
Petrowska Quilico describes Glass Houses Revisited as "fiendishly difficult," comparing the cycle to Ligeti's etudes, Liszt's Transcendental Etudes and to the complexity of Bach's counterpoint – fleet, virtuosic dances around the keyboard. It's interesting to note that Southam was a celebrated composer of music for dance, having written over 40 scores for the likes of Patricia Beatty and the New Dance Group of Canada (now the Toronto Dance Theatre) and for other companies and choreographers such as Danny Grossman, Dancemakers, Rachel Browne and Christopher House, including House's acclaimed choreography set to Glass Houses. To learn more about Ann Southam and her work, visit www.musiccentre.ca. ickets,
Continuum returns to Toronto from the 2011 Montréal/Nouvelles Musiques Festival for a March 20 concert at the Music Gallery. Titled "Step, Turn, Kick," the programming here is grounded in the idea of "dancing in the mind." At its core is a quartet of new pieces by Canadian composers Cassandra Miller, Nicolas Gilbert, Linda C. Smith and Lori Freedman, that, taken together, can be imagined as a French baroque dance suite for the 21st century. Also featured is the Canadian premiere of Marc Sabat's John Jenkins, a work inspired by the prolific 17th-century English composer and dance master. Rounding out the concert are solos and duos by UK's Michel Finnissy and Holland's Martijn Padding that express an impulse to move. To learn more about Continuum, visit www.continuummusic.org. Tickets will be available at the door.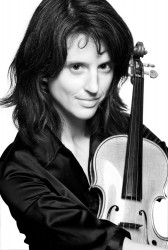 I'm very eager to hear Julie-Anne Derome in recital on March 24 at the Jane Mallett Theatre. This new music specialist presents an ambitious programme rich with Canadian content. She will open with the brief but intense Ivresses, songes, sourdes nuit by Québec composer Jean Lesage. Its percussive sonics and other dramatic effects make it ripe for use as a solo dance soundtrack. Chan Ka Nin's very popular Soulmate, taken from his figure-skating-inspired Poetry on Ice, will offer a nice counterbalance. And closing the evening is Tracking for solo violin and live video by Laurie Radford. Radford defines "tracking" in the sense of the title as "the coordination of speed and gesture for two points locked in a reciprocal force and action." Put simply, the act of both leading and following, as in a pas de deux. Radford further explains that tracking implies linked relationships between time, material and action, controlling energy and gravitational force. All very heady stuff, but it sounds very dance-like to me! More details are available through www.music-toronto.com.
The Scarborough Philharmonic carries through the dance theme to April 2 with a new work by their Composer-in-Residence, Alex Eddington. Entitled Dancing about Architecture, Eddington describes the work for nine wind instruments and percussion as "a new way to organize a dance suite", inspired by Jean Cocteau's phrase "Give me music I can live in like a house!" This concert at the St. John the Baptist Norway Anglican Church also features world premieres by Toronto's Phil McConnell and American composer Bruce Broughton. For more details and to reserve tickets, visit www.spo.ca.
We end on a high-energy note on April 3 with the Kitchener-Waterloo Symphony and their premiere of Brian Current's Whirling Dervish for sufi whirling and orchestra. If you have never experienced Sufi whirling – a dynamic, dancing form of mystic meditation – then you're in for a treat. It can be a mesmerizing experience, and I'm sure Current has come up with some excellent new music to make this an event that will spin us right into spring! For more details, visit www.kwsymphony.ca.
From dances of the mind to mystic motion, new music never ceases to move us. So be sure to get in with the new via the WholeNote concert listings here and online at www.thewholenote.com. ν
Jason Van Eyk is the Ontario Regional Director of the Canadian Music Centre. He can be contacted at newmusic@thewholenote.com.