For the adventurously minded, the act of music making can be all about paving the way for the future of music to unfold. If you were to think 50 years ahead or even 25, what would your prediction be for how music will be created, experienced and listened to?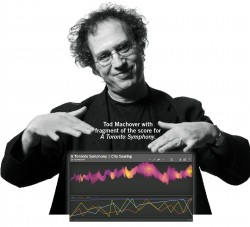 This year's New Creations Festival presented by the Toronto Symphony Orchestra from March 2 to 9 will be an opportunity to catch a glimpse of what may be in store for the music lovers of 2050. When the TSO invited American composer and technology wizard Tod Machover to both curate the 2013 festival and compose a new work for it, Machover began dreaming big.
He started with the question — what does the city of Toronto sound like? He added to that question the vision of opening up the creative process to anyone who wanted to participate. This new symphonic work was to be a collaboration on a massive scale with the citizens of Toronto, resulting in something that could not have been done by any one individual. And with this mandate before him, Machover stepped onto the road of future music making where he envisions collaboration at the core of each piece, and professional musicians moving beyond teaching and mentoring people to the act of "making things with them."
With such an expansive vision to live up to, the tools required for creating A Toronto Symphony: Concerto for Composer and City included both new ways of composing and the invention of new technologies. And since Machover is renowned for his technological prowess as a major player at the MIT (Massachusetts Institute of Technology) Media Lab, designing new musical technologies is at the heart of how he thinks and creates.
The collaborative activities began by inviting people to upload audio recordings of what they considered to be distinctive Toronto sounds. People responded to the call with a wide variety ofsounds, harmonies and melodies that represented their experience of the city. Originally Machover thought that these exchanges would take place online, but by early July of last year, he knew that something more was needed. His answer was to get on a plane and fly north to engage directly with people by recording sounds, trading music and trying out various ideas. He met with musicians from the TSO, indie bands at Toronto Island's All Caps Festival, cyclists attending the Toronto Bicycle Music Festival anda group called FYI Kids atop the CN Tower.
Now what to do with this array of sounds and music? For someone like Machover, the answer was obvious — develop software tools for collaborative composing. Three music apps were designed by his colleagues at MIT: Constellation, Media Scores and City Soaring. These gave people easy ways to create their own mixes and textures from the bank of sound recordings, to paint the quality of a composed melody and to contribute their own variations on music that Machover had already written. No previous skill required, just an open mind, a sense of play and inquisitive ears.
We'll all get to hear the fruits of this groundbreaking process on March 9 at Roy Thomson Hall in the third concert of the New Creations Festival. For those of you who want to dive deeper into the various components of this undertaking, the whole story — including access to the music apps — is chronicled on Facebook: facebook.com/ComposerAndCity.
The Toronto Symphony's New Creations Festival begins on March 2, just as this month's WholeNote cycle ends. When looking at the entirety of this year's landmark festival curated by Machover, it is striking to see the weaving together of visionary innovation amidst an homage to the past. Symphony audiences will be introduced to composers not that well known in this city — people such as Mason Bates, composer-in-residence with the Chicago Symphony Orchestra, and Steven Mackey. Both these American composers turn to music from other sources for their inspiration. In Bates's work Alternative Energy, having its Canadian premiere on March 2, the listener will experience a ride through history with a montage of sounds and harmonies from 1896 through to 2222, while in Mackey's piece Four Iconoclastic Episodes for electric guitarand orchestra, receiving its Canadian premiere on March 9, the journey traverses a series of various styles including jazz/rock fusion, African pop and Chicago blues. Another work by Machover titled Sparkler joins this historical parade with its Canadian premiere on March 7, interweaving themes from Beethoven to the Beatles, while Canadian Owen Pallett's Violin Concerto, inspired by the solo violin music of Bach, receives its North American premiere March 7.
And of course, the use of technology within the orchestral context will be the other major player of the festival. In Montreal-based composer Nicole Lizée's work Arcadia, to be heard on March 2, the instruments accompany vintage images from arcade games of the 1970s and 80s, while Andrew Staniland has chosen to "electrify" the orchestra in his new piece commissioned by the TSO and given its world premiere March 9. In Machover's Jeux Deux, having its Canadian premiere on March 2, we'll experience the combinations of hyperpiano (disklavier), orchestra, interactive software and live graphics.
First, February: But before we arrive at this festival in early March, there will be many other opportunities to treat your ears to both technical wonders and reflections on the past.
Continuum Contemporary Music ensemble will be experiencing their own version of electrification when they team up with NewAdventures in Sound Art (NAISA) to present "Jump Start" on February 10 at the Citadel on Parliament St. There will be newly commissioned works by Rose Bolton, Scott Smallwood and Scott Wilson, all written specifically for NAISA's unique live spatialization system designed to move sounds between loudspeakers. The space will be wired up by NAISA's artistic director Darren Copeland who will surround the audience with 18 speakers and place a subwoofer underneath the floor. We'll also be hearing another work from the "technological ethers" by Andrew Staniland.
Don't let the name Cybernetic Orchestra scare you away. It's McMaster University's laptop orchestra, an innovative electronic music ensemble now entering its third year of activity. In the spirit of Machover's vision of collaboration, this orchestra is open to all members of the McMaster community (students, alumni and employees) — the only requirement is a laptop and an interest in performing and listening to new, electronic forms of music. They'll be releasing their latest album in a concert at Gallery 345 on February 9, joined by Shawn Mativetsky on tabla.
Inspirations from the past continue to play out in other new music events this month. The theme for the February 3 New Music Concerts event is "Past, Present and Future: Canadian Music Then and Now." Compositions by the esteemed composers John Weinzweig, Murray Schafer and Brian Cherney will be complemented by world premieres commissioned by NMC from two younger and up and coming Canadians — Adam Scime and Brian Harman. Works by Weinzweig will also be featured in concerts by the Kingston Symphony on February 3and by U of T's Faculty of Music Wind Symphony's concert on February 1.
Two final events to mention where the old and new co-exist are NUMUS' concert on February 7 in Waterloo featuring Schola Magdalena, an ensemble dedicated to the performance of music for women's voices. They will perform new works by CanadiansMeghan Bunce, Emily Walkerand ensemble directorStephanie Martin, combined with the music from the 12th century abbess and mystic Hildegard von Bingen, a courageous pioneer in her own time. On February 2 at the Heliconian Hall, Toronto's Toy Piano Composers will perform several new premieres based on re-imaginings of a range of Canadian art from the past and present, including local Toronto paintings, animations and video game art.
To finish off:I want to leave you with one other future dream for music as suggested by Tod Machover that really opens things up. Based on what we're learning about what happens when we listen to music and how we each respond differently, it will become possible, he imagines, to create a customized version for each piece of music. This means that through some means — perhaps some sort of technical interface? — the original music source will be transformed so that we each receive the most powerful version based on who we are, our preferences and perhaps even the environment we're in at any given time. "It's personalized music instead of generalized music," he says. 
Wendalyn Bartley is a Toronto-based composer and electro-vocal sound artist. She can be contacted at sounddreaming@gmail.com.