by Jason van Eyk
By the time May rolls around, we can be sure that warmer and sunnier days are here to stay. So, it's no surprise that many of Toronto's new music performers and presenters are pursuing nature themes for this month's concerts.

Running throughout the month is New Adventure in Sound Art's Deep Wireless Festival of Radio and Transmission Art, which takes as its theme "Ecology: Water, Air, Sound." In this era of climate change and global warming, we're all alerted to environmental indicators of temperature, air and water quality, as well as light (UV index) and soil (waste disposal and brownfields). However, one environmental element to which we pay exceedingly little attention is sound. Most people would be surprised to know that we are affected by noise exposure more than any other environmental stressor. Yet, because the associated health effects of noise are not considered as immediately life-threatening as those for other environmental elements, it is regularly pushed to the bottom of the priority list.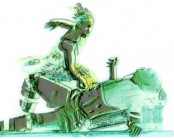 Feedback Fred (aka Benoît Maubrey) "feeds back" his own voice
through the interaction of his wearable PA system. Marie-Josée
Chartier, through interaction of movement with light sensors,
produces an "audio ballet".
By highlighting sound as part of our ecology, through performances, installations, broadcasts, workshops, a Youth Radio residency and the Radio Without Boundaries conference, Deep Wireless may help change our appreciation of this subject. Performances start on May 3 with the Dawn Chorus at the Lakefront Promenade Park in Mississauga, where the audience will be led by Mark Cranford of the South Peel Naturalist Club and SOUNDwalkers Darren Copeland and Nadene Thériault-Copeland to the western headland to hear nature's symphony: sounds initiated by birds at sunrise. Performances driven by the ecological theme continue on May 7, 8, 10, 22-24 and 26-30, including works by leaders in the field of sound like Brandon Labelle, Matt Rogalsky, Kristen Roos and many others. For full details, including this year's commissioned artists and guest speakers, visit www.naisa.ca/deepwireless.

Environmental sounds take on a new shape at the Music Gallery on May 7 in a double-bill concert showcasing leading experimental musician Francisco López and local creator Joda Clément. López is a highly prolific artist who to date has created 180 sound works, performed hundreds of concerts, and completed numerous projects, workshops and sound installations in 60 countries on five continents. He is particularly known for creating intense and immersive sonic experiences that draw on a myriad of original sources collected from all over the world, from rainforests and deserts to factories and buildings. These natural and industrial sound worlds are melded and manipulated into unique environments through years of studio work and compositional development.

Toronto-based Joda Clément is a relative newcomer, having composed and performed experimental music in Canada for just over 10 years (he began his earliest experiments at age 14). Since then, he has been developing unique methods and techniques for working creatively with sound. His work incorporates analog and acoustic instruments, the human voice, found objects and non-descript sounds recorded from the natural and urban landscapes, blurring the distinction between created sound and those found in the everyday environment. Clément integrates these elements into compositions, improvisations, installations and performances that have been presented throughout Canada and in the USA. Audiences should be warned that blindfolds may be required for some of the listening experiences. For more info visit www.musicgallery.org

The sounds of nature are taken in a somewhat more representational direction on May 12 at the Glenn Gould Studio when pianist Christina Petrowska Quilico performs a set of new and newly-revised works by composer and long-time collaborator Ann Southam. The concert celebrates the launch of Southam's latest double-CD, Pond Life, performed by Quilico for the Centrediscs label. Following on the public and critical success of her concert-length Rivers series - written for and performed by Quilico and also available as part of Centrediscs' Composer Portraits Series - Pond Life includes four new swift, virtuosic pieces inspired by rivers. In comparison, the two substantial Spatial View of Pond I and II, which are inspired by a painting of the same name by Japanese-Canadian artist Aiko Suzuki, are much more quiet, open and reflective.

The Pond Life series, from which the album takes its name, was composed for dancer and choreographer Terrill Maguire, reflecting Southam's longstanding involvement with modern dance in Canada. The rest of the collection is comprised of the ten-part Soundstill series, which was originally composed in 1979, but revised in 2007 and 2008 and dedicated to Quilico. As with the Rivers series, many of the collections are not performed in direct sequence. Rather, they are intermixed to bring out the best qualities of each individual piece. The performance sequence for the Pond Life recording was selected by Southam and Quilico together, and no doubt a new sequence will be created for the live concert, which is dedicated to the memory of Aiko Suzuki and in recognition of the work of the David Suzuki Foundation. Tickets may be purchased through the GGS box office at http://glenngouldstudio.cbc.ca/concerts/buytickets.html or by phone at (416) 872-4255.

It's been a very busy time for Southam, with the preparations to launch Pond Life, workshops with dance students at York University, and the recent Composer's Chair podcast by the Canadian Music Centre (see http://www.musiccentre.ca/pod.cfm.) If this wasn't enough, another one of her favourite collaborators, pianist Eve Egoyan, will close out the month with another CD release concert, this time with the world premiere of Simple Lines of Enquiry, an hour-long work for solo piano. The concert will take place at the Enwave Theatre at Harbourfront Centre on May 30. For more info be sure to check in later at www.harbourfrontcentre.com.
This line-up is but the tip of the iceberg for a very busy month of new music. Be sure to delve into the listings to find information about Arraymusic's annual Young Composers' Workshop concert (May 23), Tapestry's premiere of Omar Daniel and Alex Poch-Goldin's full-length opera The Shadow (May 21-30) and Evergreen Club's 25th anniversary concert at the Music Gallery (May 11). See you all in the concert hall!