April 2023 will be a busy month for Esprit Orchestra, Canada's only full-sized, professional orchestra devoted to performing and promoting new orchestral music. First up will be two programs in this year's edition of the New Wave Festival, on April 12 and 16, followed by their Season Finale concert on April 23, all designed to celebrate Esprit's 40 years of music making.
The New Wave Festival began in 2002 as a way to support emerging Canadian composers. From the beginning the goal was to create a more relaxed social environment to facilitate a more casual interaction between the composers, performers and the public. For this year's festival, Toronto's newest concert space – the TD Music Hall, which is connected to newly restored Massey Hall – will be the venue. The Music Hall has been designed with cutting-edge audio, video and lighting technology to create a lounge-like environment that mixes both music and the nightlife scene.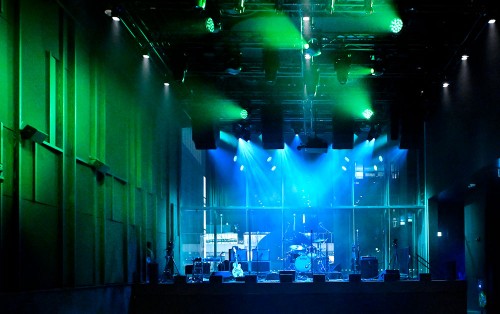 One key feature of the New Wave Festival, consistent since the beginning, is Esprit's three-year Creative Strategy Program which gives participating composers the opportunity to premiere a commissioned work in each of three years, with each successive work gradually increasing the size of the orchestration. These commissions are presented in concert, alongside works by other influential composers. This year, four composers from the program will have their latest premieres programmed: Sophie Dupuis and Roydon Tse on April 12, and Julia Mermelstein and Stephanie Orlando on April 16. Interestingly, on Esprit's Season Finale concert April 23, a newly commissioned work by Eugene Astapov will be premiered, which brings the narrative full circle: Astapov is himself an alumnus of the Creative Strategy program. I spoke to both Astapov and Mermelstein about their cumulative experiences working with Esprit.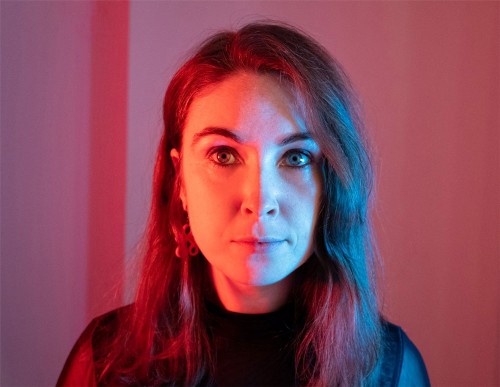 Julia Mermelstein, now in her second year of the program, was very enthusiastic about her experience, and emphasized how important it was to have so much rehearsal time, comparing it to an experience elsewhere that only allowed for ten minutes of rehearsal; with Esprit she enjoyed three rehearsals, each one from 45 minutes to one hour in duration. In her first commission for Esprit, titled in water suspended, which premiered in May 2022, she explored different textures and ways of layering the instruments. "I was able to find a groove for myself, what I really like to express, and am now able to take it further with this new piece," she said, adding that she likes to work with the musicians on the fine details and describing it as "very intimate work, and not something that can be rushed."
Her latest piece to be premiered at New Wave, between walls, includes a harp as part of the instrumentation (a new venture for Mermelstein), as well as fixed electronics which will no doubt be well suited to the performance venue. She has used recorded samples of instrumental sounds and field recordings in the piece, as well as her own experiments, such as recording herself playing a stick on a wooden counter. Once again, she's drawn to closeup and intimate sounds, with the electronics as an extension of the orchestral. "I'm playing with extending the natural resonances of each instrument – artificially extending what a piano, harp or wind instrument, for example, can do. It's about blending and creating a seamless interaction between the acoustic and electronic sounds."
The ideas behind the piece were inspired by a lecture given by Buddhist teacher Alan Watts in the 1960s called The Web of Life. What fascinated Mermelstein was the way Watts described the duality between the micro and macro. In this composition she is working with the metaphor of fabric, and how its complex textures made from individual threads weave together to create a whole.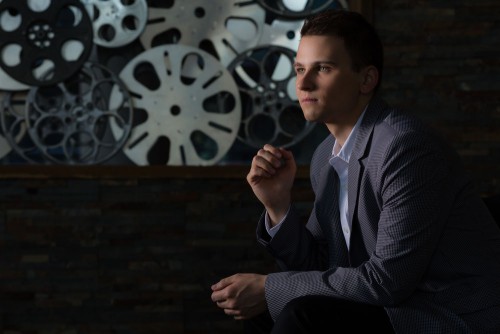 Eugene Astapov has been connected with Esprit since his days in the music program at Earl Haig Secondary School, and has been heavily involved in past New Wave Festivals since then. During his first year as an undergrad at university, he received his first commission from Esprit, and in 2017 his piece Hear My Voice was premiered as part of that year's New Wave Festival. Recognizing Astapov's talent for conducting, Esprit's Alex Pauk invited him to conduct his own piece, and also works by other composers who were part of the festival. Electronics featured in that piece as well. Hear My Voice has an early recording of Alexander Graham Bell, made shortly after the invention of the telephone, embedded into the orchestral texture. Astapov's second commission for the festival, Emblem, was premiered in 2019.
Then, when COVID interrupted things, Astapov was offered a contract to serve as Esprit's associate composer/conductor; part of this contract includes his latest Esprit commission, Burial Rites, to be premiered during the concert on April 23. The piece was written in memory of Astapov's student Marcus Gibbons who died of cancer when he was 17. Astapov spoke movingly of this very talented composer whom he taught from the age of ten, and of his desire to pay tribute to him and his family. "Marcus had a great sense of humour and a very positive attitude, even while going through his cancer treatments." Many memories and impressions of their time together are reflected in the composition as well as a musical portrayal of Marcus' courage, strength and philosophical personality. Since there was so much to express, the piece is written in three movements. "The first movement is the heaviest and is meant to have an emotional impact on the audience. The second movement is more urgent in character and the third movement is the celebration of the positivity that Marcus had. It does not end tragically, because I wanted to shine light on his character."
As part of his evolving associate composer/conductor role with Esprit, Astapov increasingly has input into Esprit's concert programming. Although Esprit regularly performs orchestral music, during the New Wave Festival, many of the programmed works are for chamber ensembles and soloists, giving the program variety and the opportunity to feature various solo performers. In this years festival, there will be an arrangement of Vivier's Pulau Dewata by John Rea, an arrangement for string septet of Julius Eastman's Gay Guerrilla by Jessie Montgomery, a performance of Steve Reich's Sextet for percussion and keyboards, a solo work for snare drum by Andrew Staniland performed by Ryan Scott, and a solo work for violin by Chris Paul Harman.
Astapov's conducting career is every bit as prolific as his composing. Upon moving back to Toronto after completing his studies at Juilliard, he began teaching composition in various high schools and had the opportunity to conduct these student works, all as part of Esprit's educational outreach program. Currently, his conducting is focused on the work of contemporary composers, which has had the additional benefit of influencing his own approach to composing. "Conducting is not just about beating time, but about being involved in the music making," Astropov said. "When the physicality of conducting sits comfortably in the body then it's easier to connect with the players and the music."
Both of these New Wave Festival concerts and the April 23 Season Finale concert are opportunities to hear a wide range of new compositions, alongside classics of the contemporary repertoire written four or five decades ago. As such, they are also windows into the profound difference Esprit has made in shaping the Canadian contemporary music landscape over the past four decades. Astapov's Burial Rites will be accompanied in the April 23 final concert by the world premiere of Chris Paul Harman's sottosopra, along with a performance of Spring and Winter from The Four Seasons Recomposed by Max Richter; and of Symphony No.1 by John Corigliano, with whom Astapov studied at Juilliard.
"New Music" Quick Picks
Apr 14, 7:30pm: Kaha:wi Dance Theatre's Homelands is an immersive multimedia event featuring an interplay between three main forms: video, live dance, live music. Choreographed by Santee Smith with music by Pura Fé. Shane Powless, Katsitsionni Fox, Jaiden Mitchell, Ian Maracle, Ami Kokui Tamakloe and Santee Smith perform at Harbourfront Centre Theatre in Toronto. Q &A immediately following the Apr 15 performance. Part of Harbourfront Centre's contemporary dance series, "Torque".
Apr 22, 8pm: Music Gallery. Emergents: Matthew Cardinal + Yolande Laroche. Curated by Sara Constant, Matthew Cardinal, modular synthesizer & electronics; Yolande Laroche, clarinet/keyboard/ vocalist; Stephanie Kuse, video artist at the Music Gallery, Toronto.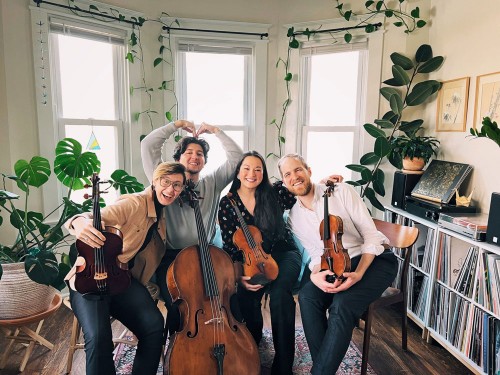 May 7, 11am & 2pm: Xenia Concerts/TO Live. Designed to be autism- and neurodiversity-friendly. Thalea String Quartet performs Seven Miniatures for String Quartet and Electronics by Rory Berk, Anthony Hodgetts, Laura LaPeare, Maddux Ma, Nathan Neutel, Jamie Petit, and Thomas Sinclair (transcribed by Bekah Simms) at Meridian Hall in Toronto. All listeners are welcome.
May 13, 2pm: Five at the First presents "ARC Trio: Music for Viola, Cello & Piano": Omar Daniel's Intermezzi for solo piano; Ann Southam: Re-Tuning (1985) for solo viola and tape; Aolphus Hailstork: Theme & Variations on "Draw the Sacred Circle Closer" for cello; Drigo: Meditazione for viola, cello & piano; Brahms: Trio Op.114. Angela Park, piano; Caitlin Boyle, viola; Rachel Mercer, cello. First Unitarian Church of Hamilton
May 27, 6pm: Nordic Perspectives. Canadian premiere of music by Ardo Ran Varres and other works. Hamilton Philharmonic Orchestra; Kara-Lis Coverdale, piano; Kirke Karja, piano; Triskele, voice & traditional instruments. Collective Arts Brewing, in Hamilton. One of several events presented by Estonian Music Week.
Wendalyn Bartley is a Toronto-based composer and electro-vocal sound artist. sounddreaming@gmail.com.