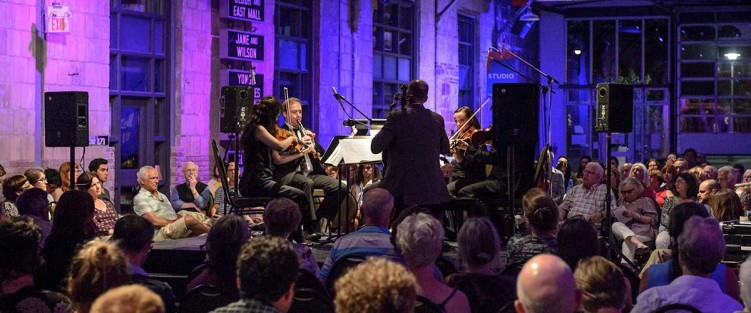 Music in the Barns
Creating musical events in unusual spaces is one of the signature features of Music in the Barns, an organization founded in 2008 by violist Carol Gimbel. At the time, Gimbel had an artist studio in the Artscape Wychwood Barns building which was renovated from several large early 20th-century TTC streetcar garages to create a multi-use facility that contains individual artist studios, a farmers market, a greenhouse, an event space and arts organization offices. On June 2, Music in the Barns is staging a celebratory post-Covid return with different events happening in the various Barns' spaces to create a multi-sensory experience for the audience.
Anchoring the evening will be a concert to finally celebrate their 2019 album – Music in the Barns: Bolton, Godin & Oesterle (newfocusrecordings.com). As Gimbel explained to me during a recent phone conversation, they had previously championed the music on the album during their concerts at the Barns, and after recording it and spending many hours editing it, they never had a chance to do the album-launch concert properly before the lockdowns began. This concert will therefore be the chance for an extended evening of celebration with all those who worked on the album.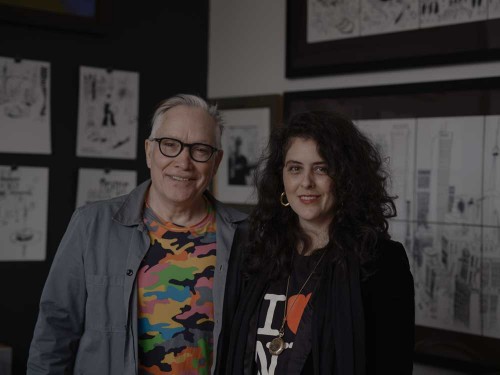 One of the works on the album to be performed is Rose Bolton's The Coming of Sobs, nominated in 2020 for a Juno Award in the Classical Composition of the Year category. This work represents a shift in Bolton's compositional language, moving away from a more mathematical approach to embracing and expressing intense emotional elements. Another album composition to be performed is Michael Oesterle's string quartet – Daydream Mechanics – that evokes childhood adventures of playing in the backyard while encountering all the possible threats contained in that unique environment.
The evening will begin on a meditative note with Scott Godin's work Longing, to be followed by Steve Reich's Proverb for five singers, keyboards and vibraphones, composed in 1995, and to be conducted by Véronique Lacroix, founder of the recently disbanded Ensemble contemporain de Montréal. This work is heavily influenced by the music of French medieval composer, Perotin, celebrated for developing the four-part polyphonic vocal style. In the hands of Reich with his approach to creating pulsating and interlocking patterns both melodically and rhythmically, the work will no doubt transport the listener into alternate realms. The concert will end on a more raucous tone, with Trash TV Trance by Italian composer Fausto Romitelli for electric guitar, a work Gimbel describes as being "wacky, dark and fun, like being on an acid trip." As well, a newly commissioned work by Canadian Geof Holbrook – Brain Fills – with its "wildfire rock and roll quality" will conclude the evening in a spirit of high energy. Accompanying this full-on sonic experience will be live painting by visual artist John Coburn. Gimbel and Coburn met as neighbours at the Barns and some of Coburn's drawings and paintings will also be on view at the Barns' McKendrick Gallery from May 31 to June 3.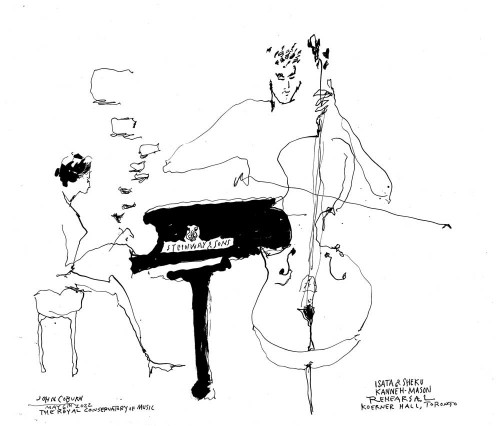 Music in the Barns has recently been involved in the development of a digital violin that will function as a video game controller. "Instead of having the controller in your hand with a series of buttons, you will use the violin bow," Gimbel explained. Part of the process of creating this instrument involved a series of conversations with teachers and students across Canada, some of whom will be present to view the prototype on display in the gallery. The evening will end with the firing up of The Stop's pizza oven and an intermingling of all in the Barns' gardens. This animation of the multi-use Wychwood Barns facility is a fulfillment of the original vision of the creators of this space, something that Gimbel finds deeply satisfying to participate in. It was during the recent reflective time that Covid offered that she came to realize that each event that Music in the Barns has been involved in is "a prototype, an experiment and a hypothesis." This event is the next step in that journey.
R. Murray Schafer
The phrase "Creator of Epic Ideas" only begins to paint a picture of the gigantic legacy of composer R. Murray Schafer. That's fitting, because he himself was committed to diving into the larger themes that human existence poses: a search for wholeness, the union of opposites, and a confrontation with the shadow of both the individual and the collective psyche – all themes opened up in the first half of the 20th century by Carl Jung. To handle such an enormous creative task requires entering into the realm of myth, and that is exactly the path that Schafer took, creating a series of mythic stories and characters that played out over 40 years in what he called his Patria cycle, a Latin word for "homeland." Many of his works were performed in unusual spaces, like Toronto's Union Station or the Ontario Science Centre, as well as in various outdoor locations and wilderness settings. And always running in the background in the multiple expressions of his creativity was the question: what is our relationship to the environment, to place, to the soundscape, to listening?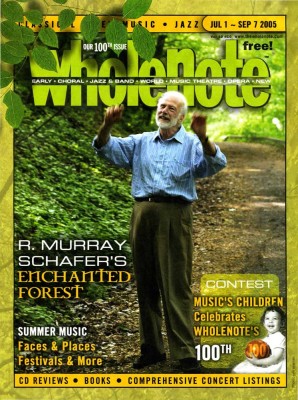 To honour and celebrate Schafer and his legacy, Soundstreams is offering a special concert event on June 5 at Toronto's Grace Church on-the-Hill featuring a selection of his compositions. It's fitting that this event will also coincide with the 40th anniversary of Soundstreams, which held its first concert on June 7, 1982. Over the years, Soundstreams and Schafer have had a close collaboration, with Soundstreams commissioning and premiering many of his works, some of which will be featured in the upcoming concert. The chosen repertoire offers a glimpse into the depth and scope of Schafer's compositional work, and will feature many of his works for the human voice as well his Quartet No.12 written for the Molinari String Quartet, another close collaborator.
The concert will begin with an Aubade for soprano and trumpet from And Wolf Shall Inherit the Moon, the epilogue to the Patria cycle. Schafer wrote multiple aubades (pieces of music appropriate to the dawn) designed to be performed during The Wolf Project, an annual participatory performance event that took place over a week of living communally in a wilderness environment.
One of Schafer's Soundstreams commissions, in 2003, was a large choral work – The Fall into Light – for six choirs with texts from Gnostic sources, and first performed in the atrium of the CBC building in Toronto. In the midst of this enormous work, three hymns were presented as moments of reflection and pause. These Three Hymns will be part of the June concert, offering the listener a moment of insight into aspects of Schafer's spiritual interests.
The dusk-to-dawn ritual-performance piece, titled RA, was premiered in 1983 at the Ontario Science Centre. With a text created from ancient Egyptian sources, the piece initiated the audience members into a journey to the underworld, following the path of the sun god Ra through the darkness of night to resurrection at dawn. One of the works from this production, Two Sisters: Isis & Nephthys, for two sopranos, harp and two percussionists, will be performed June 5, as will Epitaph for Moonlight, one of his most-often-performed choral works, which is written as a graphic score and allows performers who may not be skilled at reading notated scores the opportunity to participate. Here it will be performed by the Soundstreams' Choir 21, conducted by David Fallis, who will also present Schafer's Fire for choir and sticks.
The concert will conclude with a 2005 recorded performance of another Soundstreams commission, The Death of Shalana composed for four choirs. The text, written by Schafer, tells the story of Shalana, a human who goes to live in the forest with the animals. After his death, his voice lives on and can be heard in the soundscape of nature. So, too, does Schafer's voice live on, both in his compositions of course, but also as an inspirational force whispering to our mythic imagination.
QUICK PICKS
MAY 24 to JUNE 5: Tapestry Opera and OCAD University collaborate in OCAD's Great Hall to perform R.U.R. A Torrent of Light. What is the future of our entanglement with A.I.? This new opera, with music composed by Nicole Lizée and libretto by Nicolas Billon, offers one vision of what happens when a creative duo's visions lead to unexpected breakthroughs and ensuing conflict. The project combines dance, multimedia design, wearable technology and an orchestra of 100 instruments.
MAY 26, 8PM: Estonian Music Week. Jeanne Lamon Hall, Trinity-St. Paul's Centre. A performance of Estonian composer Veljo Tormis' Forgotten People by Collegium Musicale, an ensemble who combine performances of early music and contemporary music. The piece is based on indigenous Balto-Finnic song, a repertoire that has almost been lost. In the face of the current Russian invasion of Ukraine, protecting this heritage has become increasingly difficult and problematic. There will be a repeat performance in Hamilton on June 1 at the Cotton Factory.
MAY 27, 8:30PM: Black Fish Project, Aga Khan Museum. Featuring the Ton Beau String Quartet and a team of multi-genre Toronto musicians in a performance of a project written by Persian-Canadian composer Keyan Emami. The score calls for the diverse performers to engage in improvisatory responses to each other, an activity that was challenging to rehearse during Covid. This performance will be the culmination of all their labours and collaboration.
JUNE 9, 8PM: Esprit Orchestra, Koerner Hall. "Esprit Live 2022!" The concert repertoire features pieces by Russian Sophia Gubaidulina, UK composer Thomas Adès and Canada's Alison Yun-Fei Jiang, whose Esprit-commissioned work – Sanctuary – composed in 2020, will be given its world premiere. From 2020 to 2022, Jiang has been composer-in-residence with the National Arts Centre Orchestra of Canada; she combines multiple sources such as Chinese traditional music, Buddhism, film music and Canadian landscapes in her compositional language.
JUNE 11, 8 PM: Westben presents an online concert titled The Pencil Salesman. Created by Brian Finley, this opera tells the story of Boris Ball, an inventor who becomes increasingly disenchanted with technological advancements. The work is directed by Michael Mori, the director of R.U.R. A Torrent of Light, another opera devoted to the theme of technology gone awry. westbendigitalvenue.ca
Wendalyn Bartley is a Toronto-based composer and electro-vocal sound artist. sounddreaming@gmail.com.