Self-isolation, social distancing, stay at home, connected isolation, the new normal, flattening the curve – all phrases that are becoming the latest updates to our current vocabulary. But as I along with everyone else take all this in, I am also listening to those who speak about how what's also emerging are new levels of global co-operation, and that this is a time for societal reset, even a time that offers a choice for humanity to change or die.
In a sense we've all known somewhere inside us that this was coming, in some form; living in a culture that was killing off the very planet our lives depend upon was not sustainable. It's almost as if the Earth is presenting a challenge to us to let go of our old and familiar ways. Now is the time to slow down and listen, and to sense what might be emerging and arising out of the old. When a caterpillar forms a chrysalis around itself, everything that once was disintegrates and turns to goo. The only things left are the imaginal cells that come together to form the new template – the emerging butterfly. This image gives us a model for the evolutionary process we are currently in the midst of.
Although it is early days for this new reality, I found myself looking to the ongoing Emergents Series at the Music Gallery for some hints as to what these emerging changes might forecast for the future of music-making. Flutist Sara Constant (who also does editorial work for the WholeNote website, but has no role in assigning or editing print magazine content such as this) has been the curator of this series since 2018, taking over from Chelsea Shanoff. Even though the April 25 Emergents Series concert, featuring the two string ensembles Vaso and unQuartet has been cancelled, this felt like a good time to find out more about her curatorial vision for the series.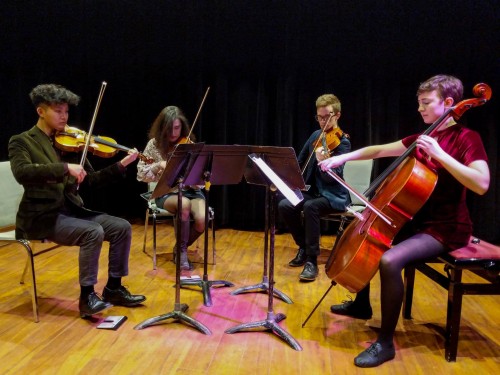 Her main goal, she told me in an email exchange, is to support early-career artists working in experimental music. "It's more than just giving emerging artists an extra gig, though," she said. "I want to make sure that these shows contribute meaningfully to community-building, equity-building, and long-term opportunity-building for artists in our field. This also includes supporting people to feel empowered to look outside of their genre for new approaches to sound." This was a major goal for this April 25 show: "to bring together these two incredible experimental string ensembles, one specializing in contemporary chamber music and the other in free improvisation, that both think really deeply about sound and music."
One of the things that Constant and other emerging artists are starting to dismantle is "the myth in performing arts institutions that opportunities will come to the most talented and most deserving. We are trying to dream up new ways of supporting experimental arts practice. I'm happy to see a community that feels increasingly plural and increasingly caring in its focus." And since crises tend to amplify inequalities rather than reduce them, now, more than ever, it's essential to work creatively towards equity-building.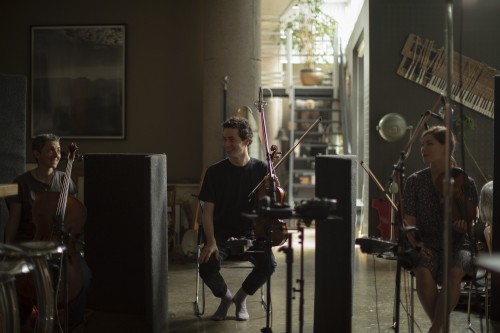 unQuartet: After my exchange with Sara Constant, I also had an engaging three-way conversation with two members from unQuartet, violinist Meghan Cheng and cellist Cheryl O. The unQuartet ensemble began in 2017 originally as an improvising string quartet, they explained, but when their violist had to move back to Los Angeles, Nelson Moneo took over the violist role, and they decided to remain as a trio rather than find a new member. (Moneo was self-isolating in a remote region of British Columbia and unable to join us for the chat.).
We began by talking about the impact that social distancing was having on them as performing musicians, beyond the gig cancellations. Cheng began by quoting the phrase, "there's no art without an audience." As a performer, she said, "you need someone there to witness and experience everything that a live concert has to offer – the connection and the energy. I wonder if doing online concerts has the same impact as a live event." Cheryl O. picked up on this, speaking about how important live performing is for her own growth and how she is changed by the interaction with her colleagues. "Not having an audience changes how we hear and how we return the energy to each other." During the rehearsal process, she said, the other group members push her to practise different things in order to be able "to meet them individually. You get qualities from each other that drive me to heights."
Not being able to be together has heightened their awareness of how much they miss each other, Meghan Cheng said, going on to muse that this time may even turn out to be a great thing for the arts. "Maybe we will have a new appreciation for coming together and experiencing music and art." Cheryl O. gave the example of how her own brother was beginning to see the value of the arts in a new way, especially now that it's all currently gone. "Tell us what we can do to help," he offered. "Once this is over I think there will be a treasuring of artistic life," she said.
As an ensemble, unQuartet takes improvisation very seriously, and as trained musicians their classical technique serves them well. And it's more than just technique, O. said. "We're really talking about listening. Inter-listening, which you don't have a lot of opportunities to do when you're playing someone else's music, where you're listening for perfection, entries, blending and colour, but not listening for personalities. "That's what I love about this," she continued. "There are three generations in the group at different stages of life. It's amazing to come together with our diversities. We're not one homogenous personality at all."
Cheng described the group's approach to improvisation as being very spontaneous. At times they have used graphic and open scores, even played using a painting as inspiration. But generally their improvisations are unplanned, without preset parameters or themes. "Because we are all classically trained and have this classical form ingrained into us, we often have form to our improvisations with different movements and themes that grow throughout the improv. Our pieces often sound as if they have been composed."
For their scheduled concert at the Music Gallery on April 25, they were planning to perform an improvisational set along with visuals, and a collaborative set, possibly using an open score, with the Vaso String Quartet (Aysel Taghi-Zada (violin), Hua-Chu Huang (violin), Peter Ayuso (viola), and India Yeshe Gailey (cello), a Toronto based ensemble striving for innovative programming that juxtaposes the standard string quartet literature with the equally valuable works of underrepresented composers, and "seeking out working relationships with artists and composers of different mediums to further expand the definition of contemporary music."
As O. said, as we ended our conversation, performing and improvising gives her and unQuartet "the opportunity to learn patience, grace and compassion," qualities we are all having to call on right now. "Having creative compassion for each other is what makes us a group," she says. For now this planned encounter between the two ensembles will have to wait for some socially distant future moment. (And I look forward to being able to tell you when that moment comes.)
Compared to the connection and energy of live performance, waiting for this alienating moment we are living through to run its course is about as exciting as watching grass grow. Perhaps best to think of it instead as new tendrils arising, pointing beyond the immediate crisis towards new values, for the world of musical performance and creative engagement with sound.
Wendalyn Bartley is a Toronto-based composer and electro-vocal sound artist. sounddreaming@gmail.com.