Peggy Baker Dance Projects
Collaborations between choreographers and composers have played a significant part in the creation of some of the most loved pieces of contemporary music. The classic example is, of course, the partnership between composer Igor Stravinsky and Serge Diaghilev, director of the Ballets Russes that resulted in the scores for The Firebird, Petrushka and The Rite of Spring. Among the first of the contemporary dance companies to form in Toronto were Toronto Dance Theatre in 1968 and Dancemakers in 1974, and both companies quickly began to work with contemporary composers, many of them local. One of the early company members of Dancemakers was Peggy Baker, and in 1990 she went on to establish Peggy Baker Dance Projects. Over the years, she has received much praise for her collaborative partnerships with composers such as Michael J. Baker, John Kameel Farah, Ahmed Hassan and Ann Southam as well as with performers Andrew Burashko, Shauna Rolston, Henry Kucharzyk and the Array Ensemble, among many others. Over the last five years, contemporary vocalist innovator and music creator Fides Krucker has collaborated on all of Baker's new works, bringing to their collaboration her expertise in the creation of non-verbal human sound textures and her commitment to an emotionally integrated vocal practice.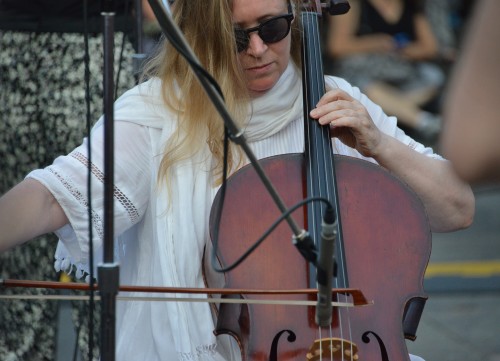 Baker's latest work, her body as words, will be performed March 19 to 29 at the Theatre Centre. For this piece, Baker has drawn together a unique intergenerational ensemble of dancers and composer/musicians who have taken up the challenge of addressing questions of female and gender identity. I invited one of the composer/musician members of the ensemble, Anne Bourne, who herself has collaborated on past projects with Baker, to have a conversation with me about her contribution to the piece as a composer and how her distinctive performance style of combining vocal toning while playing the cello will contribute to the overall musical score.
In choreographic notes that Bourne shared with me, Baker describes the ideas that provide the context for the music in this adventurous piece. "From my earliest creations," Baker writes, "a pervasive, underlying subtext of my work has been the embodiment of varied, authentic and relevant images of women." Coming of age during the second wave of feminism, her ideas of female identity were formed largely through reading Simone de Beauvoir, Betty Friedan, and other key authors of that generation, so she was shocked to discover in early 2019 that the translation of Beauvoir's The Second Sex was incomplete, and that the translation by H.M. Parshley was heavily influenced by his own personal views. When she discovered the unabridged 2009 translation by Constance Borde and Sheila Malovany-Chevallier, "I was knocked over by the power of de Beauvoir's philosophical text and the epic proportions of her proposals." She found herself reassessing her own life from the point of view of an older woman now caught up in feminism's third wave; what she learned from this updated version was a key element leading to the creation of her body as words.
Another key influence in the work is Baker's fascination with mythic stories. "As a child, I was haunted by Grimm's fairytales in which girls were required to endure terrible trials in order to save their brothers and fathers from imprisonment or death. By such stories have young girls been initiated into the web of patriarchal societies." In her body as words, these images of femininity are brought into sharp contrast with spoken text excerpts from The Second Sex in which de Beauvoir deconstructs these damaging stereotypes.
Contemplating the questions Baker's notes posed regarding female identity in this current time and place, Bourne asked "What is it we all share?" and with that question comes her answer: "The sound of the earth we all walk on, and the weather that troubles us." During our conversation, she elaborated further on what this might sound like. "I want to make sounds that hold the space or open the space almost as if they were light. The cello tones may be at times lyrical, and at times transparent." She envisions improvising using a cycle of tones that are closely voiced, as well as experimenting with difference tones, which are sounds that arise acoustically on their own due to the combination of other tones sounding simultaneously. She describes these difference tones as sounds that "emerge almost like a response to what you are sending into the space." She will improvise a sonic environment, with cello and voice, listening to the underlying pulses, and articulating the dancers' gestures. She is also considering using specific tonalities to differentiate between various combinations of dancers or scenes and is also imagining the possibility of incorporating the sounds of a windstorm. When she imagines female identity, she thinks of it like "an arc of a storm that moves in and out of a quiet space but has a powerful range."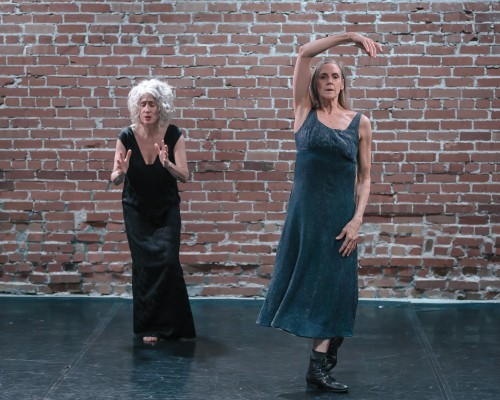 Bourne emphasized, during our conversation, that much of what will become the piece is yet to unfold through the rehearsal process and the collaboration with the two other composer/vocalists Ganavya Doraiswamy and Fides Krucker, each of whom will bring their own unique vocal approach and way of improvising to the performance. Her interest in creating a shared space through sound also defines her views on the nature of collaboration. The potential is there, she says, "to honestly express our experience of being in relationship to each other. Rather than defending our positions, trust that you can just be all that you are and create a piece of art together. When we open and listen to each other, a kind of change may arise that we haven't found yet."
Bourne's work over the past few decades as a close collaborator with Pauline Oliveros and the Deep Listening process is a key component to her understanding of how to create a shared space through sound, and will bring an important perspective to the entire collaboration. Another of the influences she will be bringing into the creative mix is the ideas of author Lynn Margulis as expressed in her book, Symbiotic Planet. Margulis makes the point that all beings currently alive on the planet are equally evolved, and that "since all living things are bathed by the same waters and atmosphere, all the inhabitants of Earth belong to a symbiotic union." For Bourne, this describes a way of listening, and will influence both the sonic decisions she will be making and the way she approaches improvisation and the collective process.
As mentioned earlier, Fides Krucker has been a collaborator with Peggy Baker's company for the last five years and in that time has created four vocal scores for the dancers. Krucker was just beginning this exploration back in 2015 when I interviewed her for the April edition of The WholeNote about Baker's piece, locus plot. At that time, Baker posed an unanticipated question about what sounds the dancers would be making while performing. This led Krucker to imagine what she herself would do vocally if she were capable of doing a particular movement and then translated those sounds for the skill set of the dancers. For this piece, Krucker states that she "will use my own voice to express the stories housed in the dancer's bodies. Anne and I are designing improvisations to illuminate, counterbalance and accompany the complexity of being 'othered'. I will also use my body in motion to incarnate the female experience of age … and own it."
Bourne initially met Ganavya Doraiswamy at the Banff Centre for Art and Creativity where they experienced a spontaneous improvisation session while performing one of Oliveros' early compositions and discovered they shared a connection with Trichy Sankaran. The next year, Ganavya participated as a composer in the Collective Composition Lab for Music and Dance, a summer program where Bourne serves on the faculty. Ganavya lives in Brooklyn, NY and is currently a PhD candidate at Harvard where she is working with Meredith Monk, and teaching alongside Esperanza Spalding. Ganavya creates entrancing embodied improvisations influenced by South Indian classical music, her collaboration in Vijay Iyer's Ritual Ensemble with Rajna Swaminathan, and many others in the downtown improvisers scene. In addition to this adventurous combination of vocalists and musicians, the musical voice of Debashis Sinha will be another element in the mix, as he weaves experience as a percussionist and electronic composer, and extensive theatrical experience into the creation of the sound design.
"The artists collaborating with me on her body as words have navigated treacherous territory to bring this work into being," Baker states in her notes. "I owe them my deepest gratitude." In this intergenerational and inclusive inquiry into female identity, stories of the participants' own individual experiences will be integrated into a generous expression of gesture, word and sound. The space that the co-created music brings into being will be, in Bourne's words, "a space that allows the participants to improvise how they want to enter, if they want to enter; and feel authentically how they will express in that space."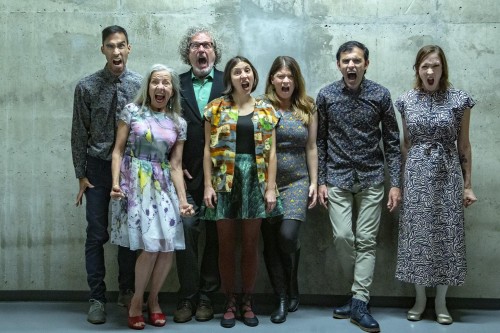 Phth at the Music Gallery
On March 14, a relatively new vocal collective from Montreal that goes by the name of Phth will be coming to Toronto's Music Gallery. This group of seven singers comes from different backgrounds and each has had some form of training in choral or Western lyrical singing. In addition to being vocalists, many are also instrumentalists or have practices in the visual and radio arts. Phth formed officially in 2018 even though many of the members had known each other for several years before that. As well, many of Phth's members had worked with Joane Hétu in her JOKER "choeur bruitiste" in the past, and this experience has had an influence on their own collective. Pronouncing the name Phth is a source of endless amusement, collective member Sarah Albu said to me during our recent interview and often you have to make a face in order to say it. "What comes out is more of a sound than a word and everyone can have their own way of pronouncing it. Just like there are many ways to sing, there are many ways to pronounce Phth. When you say the name, it ends up sounding more like a tongue ram (an explosive percussive gesture) on a flute or brass instrument".
The aim of the group is to explore different textures and sound worlds: having a choral blend is one possible choice; just as singing in a block of sound where everyone contributes their own voice is another choice. The overall approach is to discover what sounds are part of the group palette and what they can learn from each other. As Albu explained to me, since there is no conductor or artistic director in the group, each member takes on the responsibility of leading different projects. The advantage of this is that everyone has the opportunity of experiencing artistic terrain that they wouldn't otherwise pursue on their own.
A major component of their concert in March will be a performance of Claude Vivier's Love Songs, which he wrote in 1977, and which caught Albu's imagination after hearing a few different versions of the piece. She decided to bring it to Phth. "It really struck me," she said. "There was something non-classical about it and it was quite different from his other pieces." When she did research into the piece, she discovered that it had been originally written for an experimental dance company, Le Groupe de la Place Royale, that was founded in 1966 by Jeanne Renaud in Montreal. Vivier wanted non-trained voices or differently trained voices to perform the piece. Even though the score is very notated, Albu says, it's again different than his usual scores, and in fact it is Vivier's introductory program note to the work that has given Phth the performance guidance that they've most relied on.
Love Songs for 4 women, 3 men.
To be staged or not/ To be felt not understood/ Let tones from the others inspire your own/ Let the music flow out of you as if you were a kid/ Notation is only a reminder for certain states/ Never follow the signs but only their spirit/ In this score you do what is appropriate for you to do and let the rest to the others/ Always be in love.
– Claude Vivier.
The score indicates many specific gestures and motifs, and there are some areas of the piece that for Albu are structured in a similar way to Karlheinz Stockhausen's vocal sextet work, Stimmung, composed in 1968. Different groups of people are doing things in sync with each other, but the choice of when things enter in time is left up to the performers, she explained. Albu has added the element of staging to the performance and this is having an impact on how they approach the interpretation of the score. "Relationships that we hadn't figured out sonically are starting to become apparent by even doing minimal movements, such as placing two people in a part of the space together. All of a sudden this relationship is revealed and the way the voice is being used changes, because you're not reading a score off a page but you're looking at a person." The overall approach is to let the relationships and the bodies in the space define the sound and intention. Because Vivier used a lot of invented language and quotations from poetic texts, it makes it difficult at times to know what the narrative is. Should the singer be delivering a love poem to the audience or to the person standing in front of you? Another aspect of their interpretation of the piece comes in the way the roles of the main couple are portrayed. "It's not always performed by the same two singers, and it's not a given that this couple is one male-one female as written. Male/female voice assignment isn't always respected, and all of us switch and have several characters/archetypes throughout the piece."
One aspect of the history of this work that sparked both my own and Albu's curiosity was the fact that the Array Ensemble performed this work three times shortly after it was composed. According to Bob Gilmore who wrote a biography of Vivier titled A Composer's Life, the composer also authorized a concert version of the piece. The first performance Array gave was in the fall of 1978 at the Heliconian Hall and during a recent conversation with one of the performers from that concert, composer and flautist Tina Pearson shared some of her memories. "It was wonderful and wacky and inspiring. The piece is a collage of vocal utterances, including invented languages, German, Latin, whispers, whistles, shouts, hums and nursery rhymes, all telling a love story of a main duo with a chorus of unruly commentators." She performed in all three concerts and in the second and third shows performed the role of the lead female soloist. Array performed the piece again in 1980 at the AGO and a third time after Vivier's death in October 1983 at the Winchester Street Theatre.
Other elements of Phth's March 14 program will include group improvisations and other pieces coming from members of the group. As well, they will be collaborating on a piece with xLq, a local emerging pop-art duo who will also perform their own set as part of the evening's activities. Later on in March, Phth will be performing a full program, including Love Songs, at a New Music Edmonton concert, and four members of the collective, including Gabriel Dharmoo who performed his Anthropologies imaginaires at the Music Gallery in January, will be travelling to Winnipeg's Cluster Festival to perform a concert of two scored pieces and two structured improvisations.
[Correction: This story has been modified from that which appeared in print: a consistent number of vocalists appeared in the various Array performances of Vivier's Love Songs, and in all cases no instruments other than voice were employed in the piece.]
UPDATE Friday March 13: The Saturday March 14 concert featuring Phth + xLq has been cancelled as a precaution associated with the developing situation with COVID-19. Check our listings page here for ongoing updates to event cancellations.
IN WITH THE NEW QUICK PICKS
MAR 5 TO 8: Women from Space 2020 Festival. A full and diverse lineup of musicians to celebrate International Women's Day weekend, including Anne Bourne, Susan Alcorn playing pedal steel, pianist Kris Davis, free jazz bassist William Barker, percussionist Germaine Liu, noise sculptor Mira Marti-Gray, and Lieke Van Der Voort leading a trio featuring Olivia Shortt and Naomi McCarroll-Butler. March 5 to 7 at Burdock and March 8 at the 918 Bathurst Centre.
MAR 22 8PM: Esprit Orchestra. A program titled "Taiko Returns" featuring Mijidwewinan (Messages) by Barbara Croall for Anishinaabekwe soloist and orchestra; Piano Concerto by Christopher Goddard; A Still Life for soprano and orchestra by Eugene Astapov; and Mono-Prism for taiko drumming group and orchestra by Maki Ishii.
MAR 25 TO 27, 7:30PM; MAR 28, 7PM; MAR 29, 2:30PM: Array Space. "Earth Hour Music: An Introspective Piano Experience in the Dark" performed by Frank Horvat on piano.
MAR 26, 8PM: New Music Concerts. Trinity-St. Paul's Centre. A concert titled "Piano Erhu Project" with works written for the PEP ensemble; Corey Hamm on piano and Nicole Ge Li playing the erhu. Features works by Canadian composers Dorothy Chang, Alice Ho, Terri Hron, Jocelyn Morlock, Serra Hwang, Angelique Po and Roydon Tse, as well as Ping Gao (China) and Michael Finnissy (UK).
Wendalyn Bartley is a Toronto-based composer and electro-vocal sound artist. sounddreaming@gmail.com.