One thing that has been consistent with the University of Toronto's annual New Music Festival over the years is the presence of a visiting composer from another country or Canadian city. During last year's festival in January 2019, it was Toshio Hosokawa, a leading composer from Japan, and the year before that in 2018, Canadian Nicole Lizée was given the honours. This visitorship is named the Roger D. Moore Distinguished Visitor in Composition, and was established by Roger Moore, a longtime supporter and philanthropist of new music. Sadly, Moore passed away in March of this year, and there will be a concert, as part of the festival, to honour him on January 21. More about what is on the program for that night below. This year's visiting composer is André Mehmari, a leading Brazilian composer, pianist and arranger in both classical and popular music. Because of his diverse artistic accomplishments many of the events of the festival span both the jazz and contemporary music worlds, with the opening concert on January 12 combining electronic jazz, visuals and live electronics.
The festival continues to January 21 and interestingly, the various concerts, masterclasses and talks will be interwoven with the Royal Conservatory's 21C Music Festival (see my story on Laurie Anderson elsewhere in this issue) which runs almost concurrently, a short walk from the U of T Faculty of Music. Having a plethora of new music events to choose from in the dead of winter is shaping up to be one way to beat the cold and gloom of January.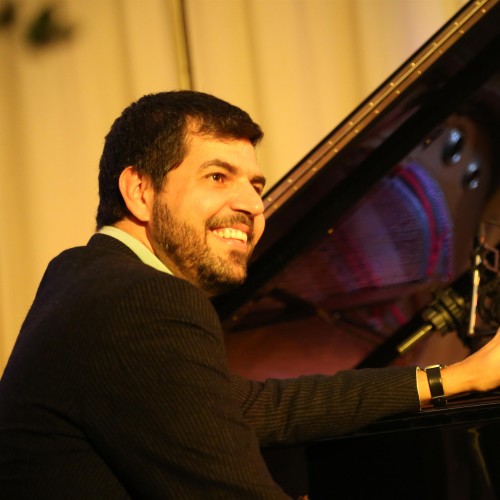 André Mehmari: As has been the case with some U of T festival Distinguished Visitors in Composition, you probably know less about André Mehmari now than you will come the end of January, by which time you will have introduced yourself to his wide-ranging repertoire. The January 15 concert, "From Bach to Latin America," will feature a mixture of Baroque and jazz works with Mehmari on piano and Emmanuele Baldini on violin. These two performers will team up again the next evening, January 16, along with members of Orquesta de Camara de Valdivia, an ensemble from Chile directed by Baldini, for a concert of chamber works. Mehmari's jazz and improvised music will be heard on January 18 in an evening with the U of T's DOG Ensemble along with U of T jazz faculty members. Check his two composition masterclasses, January 14 and 15 at 10am in Walter Hall; and a songwriting class, January 17 at 7:30pm in Walter Hall, when students and the public alike will have an opportunity to engage with Mehmari in a more informal setting.
Karen Kieser Prize Concert: Another regular event at the New Music Festival is the Karen Kieser Prize Concert, with this year's happening on January 14. This award is given annually to a promising graduate student in composition and this year's winner is Francis Ubertelli, whose piece, Quartetto 2, will be performed by Montreal's Quatuor Cobalt. The program this year will also feature the work of two Vancouver artists: Rachel Kiyo Iwaasa, on piano, performing two works by composer Hildegard Westerkamp – Klavierklang and Like A Memory – as well as a third electroacoustic work, Attending to Sacred Matters, to be diffused by Westerkamp.
Klavierklang, composed in 2017 for piano, spoken voice and two-channel audio and commissioned by Iwaasa is a sonic-musical journey into the complexities of piano playing. The piece arose out of conversations between Iwaasa and Westerkamp on the challenging and inspiring experiences they have had with piano teachers. This focus spans topics such as how their mothers' ears influenced their musical development and how the piano became both a sanctuary for exploration and sound making as well as a site of trauma and discouragement. The sound materials and inspiration for Like A Memory, a composition from 2002 for piano and two-channel audio, began back in 1985 when Westerkamp recorded the sounds of an old, broken and rat-infested piano she discovered in an abandoned house along the shores of Slocan Lake in B.C. She says in the program note she sent me after our conversation about this piece that she had discovered "a prepared piano in the deepest Cage sense and delighted in improvising on this instrument." Some years later she travelled back to the same area to work on another project focusing on ghost towns and again recorded sounds from abandoned industrial sites she discovered there. The piece was originally composed for pianist Jamie Syer and includes elements of Westerkamp's improvisational recordings onsite, along with recordings of steam trains and old machinery from the sound archives of the World Soundscape Project.
Attending to Sacred Matters, also from 2002, is a work for two-channel audio based on sounds from the many religious and spiritual practices the composer encountered while visiting India. During Westerkamp's visit to Toronto in January, she will also be participating in the Weather Soundings series of events supported by the U of T's Jackman Humanities Institute. On January 13, a conversation with Westerkamp, Iwaasa, and British musicologist Daniel Grimley will take place at the Canadian Music Centre with playback of some of Westerkamp's electroacoustic works along with a group discussion of sonic practices, listening and creative activism in the context of climate change.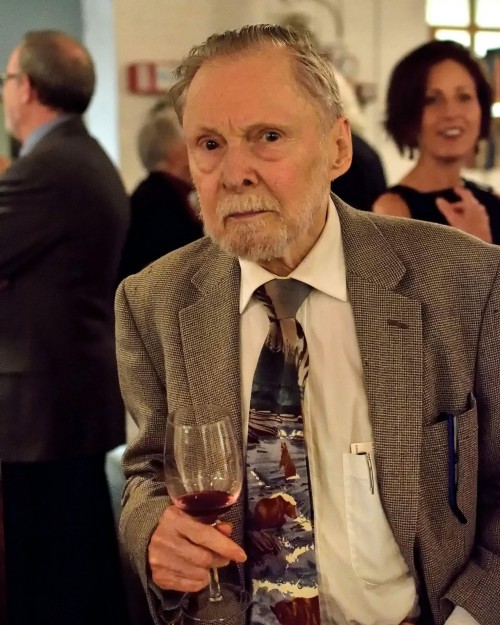 Remembering Roger D. Moore: One final highlight of the U of T New Music Festival will be the January 21 concert, Speak, Be Silent, performed by U of T's Contemporary Music Ensemble and dedicated to the memory of Roger D. Moore. As I mentioned earlier in the column, Moore was passionately committed to supporting musical life in Toronto, with a particular fondness for contemporary music, supporting both large and small musical organizations and individual artists. The title of this concert that honours his contribution comes from the name of one of the works on the program – Speak, Be Silent – a work composed by Australian-born Liza Lim in 2015 for solo violin and an ensemble of 15 musicians. Lim was inspired by a translation of a Rumi poem by Coleman Barks and sought to create a piece that plays with ideas of union and separation. She was recently appointed a professorship at Sydney's Conservatorium of Music and part of her post is to be involved in a national women composer's development program. I mention this here as a way of highlighting that all the works on this January 21 concert are composed by women, an important statement towards normalizing the practice of giving all marginalized genders access to opportunities and visibility.
The other works on the program include Kaija Saariaho's From the Grammar of Dreams, composed in 1988 for solo voice(s) and up to six players; Bekah Simms' Foreverdark, a 2019 cello concertino work for amplified cello with live electronics and chamber orchestra; and Unsuk Chin's large ensemble work, Gougalon: Scenes from a Street Theatre, composed in 2009/2011 which is about an imaginary folk music. An additional note about these featured composers is that both Saariaho and Chin have been visiting composers during past 21C Festivals.
The Mouths That Roar: Expect your ears to pop at this lively January 10 concert, co-produced by New Music Concerts and the Music Gallery, with vocalists Gabriel Dharmoo and Janice Jackson. Montreal-based Dharmoo will be performing his Anthropologies Imaginaires, a work for solo voice and video which has been described as a mockumentary, all combining to invite the listener to imagine other possibilities and worlds from those already known. Using extended vocal techniques and elements of improvisation, this piece is both satirical, playful and profoundly serious, and is made up of 11 songs, each with accompanying gestures. Halifax-based Jackson will perform her solo program, "Voice Dance," which features several works of contemporary music. Known as an adventurous performer of vocal music that pushes all boundaries while conveying a deep emotional connection with her out-of-the-box soundmaking, Jackson will perform compositions by Canadian composers Marie Pelletier, Derek Charke, Alice Ping Yee Ho and James Rolfe. Jackson's willing exploration of the voice opens the door to the full array of what the human voice is capable of, and through her collaboration with composers, she is able to use her creative intuition to connect to the underlying stories within each piece.
Tafelmusik Commissions: During the 2019/2020 season, the Baroque orchestra Tafelmusik has undertaken a commissioning program to introduce contemporary works to their audiences. This past fall, world premieres by Cree composer Andrew Balfour, Italian composer Guido Morini, and Torontonian James Rolfe were performed. Upcoming from January 16 to 19 during their "Gone with the Winds" concerts, they will perform a world premiere by Canadian Cecilia Livingston; and from February 6 to 9 in their "Dreaming Jupiter" program, Italian composer and gambist Vittorio Ghielmi joins the orchestra performing various Baroque works and the premiere of a composition of his own.
IN WITH THE NEW QUICK PICKS
DEC 6 AND 7, 8PM: Music Gallery with Bad New Days present "Melancholiac: The Music of Scott Walker." Part concert, part spectacle, part existential talk show.
DEC 8, 8:30PM: Red Shift Records presents the CD launch at the Tranzac Club of Harbour featuring six works for piano by Anna Höstman and performed by Cheryl Duvall
DEC 10 TO 12 8PM: Soundstreams presents their annual tribute to the holiday season with the electro-improv Electric Messiah, an upbeat reimagining of Handel's classic Messiah.
DEC 12, 7:30PM: Canadian Music Centre presents both world and Ontario premieres of works performed by Arraymusic's artistic director David Schotzko. Works by Bolton, Sherlock, Smallwood and others.
DEC 12, 7:30PM: Bunker Lane Press and the Piano Lunaire Project present their monthly full-moon event, "Cold Moon," with works by Crumb, Kendall, Liebermann, Copland and Sherkin; with pianists Stephanie Chua, Adam Sherkin, Gregory Millar and Lisa Raposa.
DEC 13, 8PM: Spectrum Music at the Small World Music Centre presents their next concert, "Seven Wonders," with compositions that focus on the theme of celebrating the beauty and preservation of our planet. New works created by Spectrum composers and guests James Ervin, William Lamoureux and Sina Fallah, along with jazz/world musician collective So Long Seven.
Wendalyn Bartley is a Toronto-based composer and electro-vocal sound artist. sounddreaming@gmail.com.