In last month's column, I wrote about the Music Gallery's X Avant festival and the vision of the Halluci Nation. From both my personal experience of attending some of the concerts and from talking to other concertgoers, it was an inspiring and exciting four days of listening to a wide and diverse array of music which also helped to further expand the Halluci Nation community. The last set on the Sunday evening (October 14) saw A Tribe Called Red performing together with other featured musicians to bring the whole festival to an exhilarating close. For this month's column, I'd like to pursue this thread of building community further, and talk about other ways this is happening amongst presenters, composers and performers of new music in the city.
Arraymusic
Starting this fall, Arraymusic has appointed a new artistic director, percussionist David Schotzko. He succeeds Martin Arnold who stepped down to pursue a wonderful opportunity to teach at Trent University. Fortunately, Arnold will be staying on as artistic associate as well as continuing to curate his Rat-drifting series which will happen on December 7 and January 11 of this current season. I had a chance to speak with Schotzko about his vision moving forward for Arraymusic, and also to Allison Cameron whose music will be the focus of a mini-festival occurring on November 23 and 24.
Schotzko moved to Toronto in 2011 and has had an active career as a performer for several new music ensembles including Esprit Orchestra, New Music Concerts and also as a member of the Array Ensemble. Prior to 2011 he performed in New York City where he was a founding member of the acclaimed International Contemporary Ensemble (ICE). In addition to performing, he also has been involved in composer advocacy work throughout his career.
We spoke about where Array has been in the past and the direction that Schotzko would like to take in the future. Historically, the ensemble has generally had composers or composer-performers as artistic directors, and was focused around specific individual performers developing repertoire for a quirky instrumentation of two percussion, piano, violin, double bass, trumpet and clarinet. Once these original players moved on in their careers, it's been challenging Schotzko said, to replace them.
With both Arnold and Rick Sacks (AD from 2011 to 2016), the process of moving away from the original instrumentation began. Coming from a performing background, Schotzko would like to create an ensemble with a regular group of individuals who are able to perform more and more without a conductor. Essentially, he wishes to move the group towards becoming a true chamber ensemble – an ensemble similar to a string quartet who perform together for years without a conductor and have a unique way of both rehearsing and performing together. This is challenging to achieve with an ever-changing group comprised of freelance musicians.
Schotzko sees adding more artistic associates such as Arnold in the future and broadening the range of voices coming out of Array. One step in this direction has been the signing of the Canadian League of Composers Gender Parity Pledge. The issue of balanced programming has surfaced in several of my columns over the last year or more, making this recent initiative by the CLC all the more welcome. The pledge is intended for presenters across the country to adopt and can be read in full on their website. It begins with these words: "We pledge to achieve or maintain gender parity in our programming and commissioning by our 2022/23 season. We welcome the opportunity to add our voice to a growing international movement that acknowledges artistic choices must be representative of the gender diversity within the community of creators." This is a direction that Array has already taken on and their programming is already at 50/50, Schotzko said.
Array will also continue its community-based focus through a commitment to co-productions with several resident artists and organizations, such as the Thin Edge New Music Collective, the Evergreen Club Gamelan and Frequency Freaks, amongst others, as well as presenting mini-festivals highlighting the music of specific composers, such as the one featuring Allison Cameron's music, an event planned during Arnold's tenure as artistic director.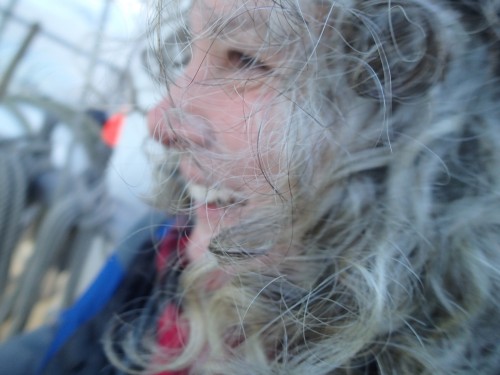 Allison Cameron
The mini-fest will present a variety of pieces that Cameron has created over the years, including composed works as well as improvised music. Her current group c_RL will perform both nights, first with the Arrayensemble on November 23 and on their own on November. c_RL is an innovative improvising trio featuring Cameron, electronics/found objects/keyboards; Germaine Liu, percussion; and Nicole Rampersaud, trumpet. The composed works on November 23 will include a newly commissioned piece from Array (which for now is remaining untitled), Kid Baltan, and In Memoriam Robert Ashley. Kid Baltan was written for Dutch composer Dick Raaijmakers in 2013; its title is the alias that Raaijmakers gave himself during the late 1950s when he was creating some of the first electropop music ever written. It is a graphic score for mixed ensemble and was first performed at The Music Gallery's X Avant festival with Trio 7090 and others from Toronto and Amsterdam. Cameron wrote this piece for Louis Andriessen's 75th birthday and has reworked the piece for the current instrumentation of the Array Ensemble plus c_RL.
We spoke at length about the aesthetic vision behind both the newly commissioned work and the more recent pieces that use graphic scores, and she told me about one inspiring experience she had a few years ago in Amsterdam that has significantly influenced her thinking. It occurred when she met with the performers for a rehearsal of one of her works. The performers had all received their parts ahead of time, but had not had a chance to practise on their own. Cameron was quite surprised by how the music unfolded. "It was like they were coming to the score without preconceptions. It was very refreshing and innocent-like."
Cameron realized she had structured the score in a more open way, allowing each player to make their own unique contributions. This experience inspired her to create pieces with more flexibility. "I used to write things where everything had to be perfect, where this note had to happen at this time." With so little time and money for extensive rehearsals, this became a very frustrating experience and she wanted to find a way of moving away from the constraints of the rehearsal environment in order to create pieces that allowed players more freedom to contribute to the overall work.
The newly commissioned piece we will hear on November 23 has several short movements that can be changed around and played in no particular order. Some aspects are fixed and others are mobile, and the graphic score allows the players to make their own decisions. Over the years, Cameron has created various performing ensembles that have given her a platform to develop her own performing skills and to create work for a consistent instrumentation. Participating within the improvisational community in Toronto and developing relationships with performers has been a key aspect of her creative process that has also influenced her compositional practice. The second night of the festival will be dedicated to her improvised music with one set featuring c_RL and one solo set.
A Mini-Tour of Upcoming Concerts
Continuing with the theme of community building, here is a short walk through some of the events happening in November within new music.
First of all, it's noteworthy to see the influence of Array's contribution beyond their own activities as two of their resident ensembles will be presenting concerts this month. The Thin Edge New Music Collective are performing at the Canadian Music Centre on November 8 and the Evergreen Club Contemporary Gamelan will be appearing at the Aga Khan Museum on November 25 with a premiere of a new work by Canadian composer Peter Hatch. Also, c_RL member Germaine Liu will be teaming up with Sarah Hennies for a concert of percussion pieces on December 6 at the CMC.
Veteran composer and influential educator John Beckwith has a new work titled Meanwhile, for marimba and piano, which will be played by percussionist Zac Pulak (who commissioned it) and pianist Edana Higham at the CMC on November 22 at 5:30pm [not in our listings]. The piece, which received its first performance this past July in Ottawa, can be viewed on YouTube.
Esprit Orchestra's concert on November 28 will feature works by Alexina Louie and Murray Schafer, as well as a piece by Icelandic composer Anna Thorvaldsdottir, who was chosen in 2015 as the New York Philharmonic's Kravis Emerging Composer. She is currently composer-in-residence with the Iceland Symphony Orchestra and Esprit will be performing Dreaming, her work from 2008. Schafer's 1973 composition, North/White, sets the stage for an North-inspired evening, with Louie's Take the Dog Sled capturing the essence of life in the Arctic.
Early in the month on November 2, Continuum Contemporary Music begins its new season with "Super Hot Sax," featuring saxophonist Wallace Halladay in a number of works. This new season Continuum's programming features 60 percent female composers, works that engage with new technologies and their newly expanded ensemble. The November 2 concert is dedicated to the memory of Daniel Cooper, a longtime supporter of contemporary chamber music in Toronto. Cooper's commissioned work The Wind Wrests My Words by composer Jimmie LeBlanc will receive its world premiere.
On November 11, the Ensemble Contemporain de Montréal will be performing in Toronto as part of their Generation2018 Canadian tour presenting works by four emerging composers. Toronto's New Music Concerts will be hosting this project as they have since 2000. The featured composers selected from across the country will be interviewed as part of the performance and audiences will be able to vote for their favourite work.
NMC will then continue their season on December 2 with a program of works selected by Michael Koerner who has served on their board since 1978. The concert includes works by several key composers from the 20th century: Igor Stravinsky, Darius Milhaud, Charles Ives, Elliott Carter and Murray Schafer, whose String Quartet No. 6 "Parting Wild Horse's Mane" was a commissioned work from Koerner.
And finally, a community building workshop on November 25 hosted by the Music Gallery will feature composer-improviser Anne Bourne guiding participants through various text scores by Pauline Oliveros. This will be the first of four opportunities this season to experience Oliveros' Deep Listening process through listening and sounding and is aimed towards cultivating a shared creative expression.
Wendalyn Bartley is a Toronto-based composer and electro-vocal sound artist. sounddreaming@gmail.com.