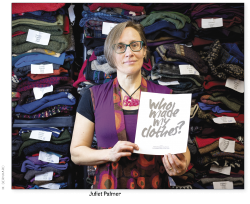 Experiencing music and sound in different places and environments is increasingly becoming a regular part of the summer experience. Starting things off this year in early June will be a new collaboration between Continuum, Jumblies Theatre and Evergreen Brick Works in their event Four Lands, which combines both a concert and an interactive installation on June 3. The concert will feature three new works by composers Jason Doell, Erik Griswold and Juliet Palmer. Palmer is also involved in a few other intriguing projects and collaborations this summer, so I contacted her to find out more about what was new and upcoming. Her piece for the Four Lands project is titled Quarry, an homage to the large quarry hole on site at the Evergreen Brick Works where the performances will occur. At one time in Toronto's history, stones from this quarry were excavated for both city homes as well as iconic buildings such as Queen's Park and Massey Hall. Palmer's piece is created from a series of texts written by participants from Jumblies community projects across the country, as well as Toronto-based participants, with the theme of excavating memory to envision possible worlds as well as describe the current worlds they live in.
Sweat: Envisioning change in one's life and living circumstances is a theme that carries through into another of Palmer's works that will be widely performed this summer – her opera, Sweat, with libretto by Anna Chatterton. Originally workshopped in 2013 by Soundstreams and performed in New York in the fall of 2016, the piece has undergone several rewrites, including changes of perspective in the storyline and the addition of more characters. This summer, it will be the intrepid Bicycle Opera Project that takes the piece to the next level, performing the work in eight communities throughout the province, starting in Hamilton on July 15 and 16 and concluding in Toronto from August 3 to 6. The company distinguishes itself by cycling from one performance to the next and is committed to bringing Canadian-written opera into smaller communities in intimate spaces.
Sweat takes on a critical global issue, weaving stories from around the world of women's experiences working in the garment industry. Palmer was inspired by the questions "who makes my clothes, and what are the dreams and ambitions of those whose hands created the clothes I'm wearing?" It's a diverse cast, representing the different communities impacted by the garment industry, and is written for nine performers – a chorus of five plus four soloists, with libretto in English, Cantonese, Ukrainian and Hungarian. During the performance in New York, Palmer realized that the "main character" of the piece is really the workers who are portrayed by the chorus – an approach outside the usual expectations for opera, where the focus is typically on soloists. Palmer elaborates: "The chorus is where you experience the sense of collective action and cooperation and the strength that comes from building on each other's sound. Musically, there are a lot of patterns, some machine-like, reflecting the idea that you're part of a big process which can be depressing, and then on the other hand, when you're working for change, your small action builds on the small actions of others, which make a compelling voice that is impossible to ignore."
Unsilent: The third summer project for Palmer is her involvement in the Unsilent Project, a new work being created through a collaboration with the National Youth Orchestra, Signal Theatre and its artistic director Michael Greyeyes (Plains Cree) and the family of the late Piikani Blackfoot spoken-word artist Zaccheus Jackson. Palmer is writing a piece using one of Jackson's poems to be performed by two spoken-word Indigenous artists from Saskatchewan, while the other composer, Ian Cusson (Métis), is also creating a piece from one of Jackson's poems. The project is inspired by the vision that there can be no reconciliation until we all work together, one of the important principles that came from the Truth and Reconciliation Commission process. Orchestral performances will be interpolated among the spoken word compositions, and together with projected images, the end result will be a performance piece celebrating the life and creative power of Zaccheus Jackson and the themes so important to him – healing, empowerment and hope. Palmer is eagerly anticipating the outcome of combining orchestral traditions with Indigenous spoken-word performances. The piece is part of the NYO's summer tour, with the Toronto performance happening on July 25 at Koerner Hall.
Barbara Croall's Wiikondiwin: Another opportunity to hear the worlds of Indigenous performance traditions and European musical forms coming together will be in a new opera written by composer Barbara Croall of Odawa First Nation. The work is entitled Wiikondiwin, which means feast or feasting. The idea originated with Valerie Kuinka, one of the directors of the Highlands Opera Studio. In our conversation, she told me that after listening to a lecture by Peter Schleifenbaum, owner of the Haliburton Forest reserve, on the impacts of climate change on the forest, Kuinka imagined an opera that would portray the forest environment of 150 years ago, of current times, and of 150 years into the future. She approached Croall with the idea, as well as production collaborators L'Atelier Lyrique de l'Opéra de Montréal. The first workshop performance will take place this summer on August 19 in the Haliburton Highlands area, with a full premiere to take place in Montreal on December 5.
Croall proceeded first by writing a story from these initial ideas from Kuinka, out of which came the libretto and music. It is set for a core of six performers – three opera singers (drawn from participants in the Highlands Opera Studio Program) and three Indigenous performers who will perform vocally and play drum. One of these performers will be Croall herself, who will also play the pipigwan, an Anishinaabe cedar flute. The libretto for the opera uses Odawa, Métis French and English. The other main performing component will be community choirs: for the performance in August, choirs from the Haliburton Highlands area will participate, with choirs from the Montreal area joining in for the December performance. The story of the opera revolves around the response of forest animals to the earth's suffering due to the abuses caused by humans. They hold a feast, a wiikondiwin, and decide that their solution will be to infiltrate the human world to effect change. Short excerpts from the opera will be presented as a sneak preview on July 29 at the Elora Festival at the "With Glowing Hearts" concert and at a special private event on June 28 hosted by the Lieutenant Governor.
Stratford Summer Music: Croall will also be appearing at Stratford Summer Music, performing a work titled Morning during the "Music for an Avon Morning – A First Nations Experience" event happening from August 4 to 6. During a lecture she will give on August 4, she will also perform and discuss how the history of the pipigwan guides her creative work. Another intriguing performance at Stratford Summer Music will be the work 100 Very Good Reasons Why_for 100 Spatialised Electric Guitars on July 23, an experience created by composer/guitarist Tim Brady. For this event, 100 local electric guitarists, both amateur and professional, will be joining Brady in an installation-like concert, where the audience is invited to walk amongst the performers on the floor of the Allman Arena.
Other Summer Festival Highlights
Luminato: Continuing with the theme of new music created by Indigenous performers, there are two works at the Luminato Festival that deserve mention. On June 16, Jeremy Dutcher, a Toronto-based composer and vocal artist with Wolastoq First Nation roots will be performing his unique compositions created from melodies he transcribed from the oldest known field recordings of the Indigenous peoples along the St. John (Wolastoq) River basin. Then on June 22-24, Signal Theatre will present a dance-opera entitled Bearing, with Michael Greyeyes (Plains Cree) working as co-director alongside Yvette Nolan (Algonquin) and librettist Spy Dénommé-Welch (Anishnaabe). The music will include works by Claude Vivier, as well as a commissioned work from Dénommé-Welch and Catherine Magowan. The National Youth Orchestra will appear as performers, along with mezzo-soprano Marion Newman (Kwagiulth and Stó:lo).
Ottawa Chamberfest: At the Ottawa Chamberfest, Sweat will be performed twice, on July 23 (Almonte) and 24 (Ottawa). On July 25, the Architek Percussion ensemble will explore the sounds of minimalist electroacoustic music using a range of percussion instruments. On July 31, the festival's annual New Music Now series returns with three concerts, including works by composers Current, Schafer, Sokolović, Llugdar, Schmidt, Palej, Daniel and others. Performers include the Canadian Art Song Project, Penderecki String Quartet, Land's End Ensemble and VC2. The Cris Derksen Trio performance on August 1 will include master hoop dancer Nimkii Osawamick and percussionist Jesse Baird. The Canadian premiere of Stewart Goodyear's Piano Quartet will be performed on August 2 by Ensemble Made in Canada.
Harbourfront and Westben: Summer Music in the Garden at Harbourfront features two concerts of new music. On June 29, cellist Elinor Frey will perform Ricercar by Linda Catlin Smith and, on August 17, the Taktus marimba duo will play arrangements of music by Ann Southam and Philip Glass. On July 21 at the Westben Festival in Campbellford, the emerging pianist Rashaan Allwood's interest in birdsong will be highlighted. This will include his own interactive performance adaptations of two of Messiaen's piano works, with further inspiration drawn from artworks he commissioned from Avery Kua. These images will be projected along with other photos and videos during the performance. In addition, on July 21 and 22 the festival will also offer an opportunity to experience a soundwalk led by Parker Finley, an activity focused on listening to the environment.
Music From Scratch: Contact Contemporary Music, in partnership with the Canadian Music Centre, is once again offering Music From Scratch, their free creative workshop for youth from July 10 to 14. This year, guest facilitator Tina Pearson will join Jerry Pergolesi and the Contact ensemble to delve into creative listening, writing, vocal performance, movement and improvisation exercises, with a final concert on July 14. Pearson brings her work influenced by the Deep Listening tradition of Pauline Oliveros and her unique explorations in Biospheric Art Practice and Sonic Mimicry to the participants. She will also lead a Deep Listening workshop for members of the public at the CMC on July 8 and perform on July 16 with the Contact Ensemble in a collaboration entitled Without a Net. Also, come Labour Day weekend, you'll want to check out Contact's lineup for their annual INTERsection event.
Additional Summer Quick Picks
June 3: Spectrum Music presents Tales from Turtle Island. Spectrum composers create music to playwright Yolanda Bonnell's pieces. Performers include members of the Métis Fiddler Quartet, DJ/electronic artist Classic Roots, who will also perform a solo work with Pow Wow dance, and violinist Alyssa Delbaere-Sawchuk performing an excerpt of her own work Memere Colibri.
June 10: Blythwood Winds presents "Voices of Canadian Women," with works by Höstman, Beecroft, Catlin Smith, Raum, Richardson-Schulte, Simms and Sokolović.
June 17: Canadian Women Composers Project. She's In the House! Works by Coulthard, Weaver, Sokolović, Duncan, Skarecky and others.
July 10, 17 & 31: Church of the Holy Trinity. Music Mondays. Concerts include works by Canadian composers Burge (10th), Murphy-King (17th) and Doolittle (31st).
Jun 22: "Crossroads." Works by Ivana Popovic and Michael Gfroerer.
Jun 23 & 25: Jumblies Theatre's Touching Ground Festival, featuring Under the Concrete composed by Martin van de Ven.
July 5: Music and Beyond Festival. The Kronos Quartet performs original and arranged works including pieces by Canadians Nicole Lizée and Tanya Tagaq (arr. Jacob Garchik).
August 4-6: Electric Eclectics: an outdoor festival with an eclectic program of avant-garde and crossover musicians, as well as art installations, DJs and films.
August 9-12: Toronto International Electroacoustic Symposium (TIES), 2017. The featured artist is Quebec sound artist Chantal Dumas, whose work encompasses production of audio fiction and docufiction, sound installation, composition and sound design.
Wendalyn Bartley is a Toronto-based composer and electro-vocal sound artist. sounddreaming@gmail.com.