It should come as no surprise, since we are well into the current concert season, that the month of November is overflowing with a wide-ranging assortment of new music activity. My focus for this month is to give the reader an overview of all that is on tap for those curious about the latest sounds emerging from live and practising composers and performers of new music. I'll begin this overview with two of the newer presenters on the scene: Spectrum Music and the Thin Edge New Music Collective.
Spectrum Music's concerts are distinctive in the way in which they incorporate fascinating and unusual research and scholarship encompassing a wild variety of topics. Often they include panel discussions featuring noted scholars and authors related to the topic at hand. Their November 12 concert, Tales from the Deep Blue, will focus on research that has been undertaken to better understand better the mysteries of the ocean. Apparently, scientists have finer maps of Mars than of the ocean that covers 70 percent of this planet. The music that has been created by the Spectrum composers and performed by the eclectic Shaw Street Collective encompasses such topics as some of the ocean's most extraordinary species, unusual geographic features and lost historical artifacts. The concert will also feature a new work by koto-playing indie singer-songwriter Jessica Stuart.
Thin Edge New Music Collective's concert Balancing on the Edge is an out-of-the-box adventure pairing new music with leading edge circus performers. This daring combination is a metaphor for the ways in which globally we are perched on the edge of survival and evolution. Musically, the program will feature compositions by Cage, Xenakis, David Lang, Nicole Lizée and world premieres by Scott Rubin and Nick Storring. The event will feature special guest DJ P-Love and ten circus performers, with three opportunities to see and hear the spectacle on November 18 and 19. Added to the mix will be lightning design, live projections and video.
Firsts of the season: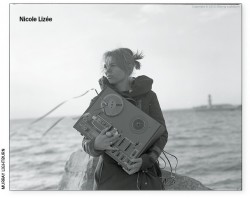 Nicole Lizée's music receives another performance this month as part of Continuum Music's first concert of the season on November 13. RavAGE, is a celebration of music by composers who drive current technology to the edge, often resorting to inventing new software or hardware to assist them in their creative expression. Lizée's piece, Colliding Galaxies: Colour and Tones, will be remounted from Continuum's 2015 Collide project as part of this concert. Other works include a piece by composer Pierre Jodlowksi and artist Pascal Baltazar of France who combine video and instrumental music while Poland's Jagoda Szmytka creates a retro-futuristic video game interface in performance with the Continuum ensemble. Other works by Christopher Mayo and James O'Callaghan fill out the program.
Arraymusic's concert on December 3 marks the first Array Ensemble concert curated by new artistic director, Martin Arnold, and brings together the music of various composers that Arraymusic will be collaborating with over the next few years. And yes, once again, Lizée's name appears on the program, which also includes solo, duet and ensemble works by Canadian composers Cassandra Miller, André Cormier and John Abram, along with UK composers Joanna Baillie and Laurence Crane.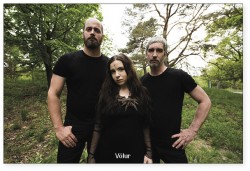 The first Emergents concert of the season at the Music Gallery, will happen on November 17. Curator Chelsea Shanoff has paired Wapiti, a Montreal-based piano and violin duo, with the trio Völur. Wapiti will perform works by Bolivian, Argentinian, American and German composers, including a work by Morton Feldman, and a world premiere by German composer Nicolaus Huber written specifically for them. Völur combines the sounds of bass, voice, violin and drums to create hypnotic tapestries of melodies, noise and silence. It promises to be an otherworldly evening of song, sound and chant.
And, finally among these "firsts," the Evergreen Club Contemporary Gamelan will perform their first concert of the season on December 3 and their first concert ever at the Aga Khan Museum. On the program are three works composed by contemporary Indonesian composers – Nano Suratno, Burhan Sukarma, and Ade Suparman as well as Ibu Trish by Lou Harrison and Rainforest by Canadian composer Paul Intson. Several of the works are arrangements by members of the Evergreen Club for the unique instrumentation of their gamelan.
New Music Concerts is bringing in the wind quintet Slowind from Slovenia for their concert on December 2. This ensemble was established 22 years ago and has become the most active new music ensemble in Slovenia. They are adamant performers of contemporary music, encouraging a younger generation of Slovenian composers through commissioning and performance. In their NMC program, they will performs works by composers from Denmark, Italy, Slovenia, Japan and Folia, a work by Toronto's own Robert Aitken, written in 1981. The concert will also include NMC's annual tribute to Elliott Carter.
Rarely heard: Two different events featuring outstanding vocal performers offer an opportunity to experience new music that is rarely heard. Music Toronto's concert on December 1 will feature acclaimed Acadian soprano Suzie LeBlanc in an evening of music focused on the poetry of Pultizer Prize winner Elizabeth Bishop, who lived from 1911 to 1979. Many of the pieces on the program also appear on the CD I Am in Need of Music released in 2013, and includes compositions by Canadians Alasdair MacLean, John Plant and Emily Doolittle. World premieres by British composer Ivan Moody and Canadian Peter Togni will round out the program.
And the free noon-hour Canadian Opera Company's Vocal Series will present the composition Ayre, a song cycle by the Argentinean-born composer Osvaldo Golijov and performed by Miriam Khalil on November 10. This music promises to mesmerize, as the composer has woven together influences from Arabic, Hebrew, Sardinian, and Sephardic traditions.
Esprit: The Esprit Orchestra concert on November 20 has a curious title – "m'M." This is also the title of the composition by Philippe Leroux (Canada/France) that will be performed in the program. It's a concerto grosso, with the "m" representing the little orchestra and "M" the big orchestra. Canadian Zosha Di Castri's piece Alba conjures the atmosphere of a winter dawn on the Prairies in northern Alberta. This sense of the mysteries of nature is also what we will hear in George Crumb's work A Haunted Landscape, written in 1984. The featured performer of the evening, cellist Joseph Johnson will also take on the French composer Marc-André Dalbavie's Concerto for Cello and Orchestra. Another opportunity to hear the music of Philippe Leroux will be at the COC's Chamber Music Series free noon-hour program on November 22 featuring the McGill University's Contemporary Music Ensemble. Leroux's work Extended Apocalypsis will be heard along with two other pieces – Division by Franck Bedrossian, who studied with Leroux at IRCAM and Project miroirs by Sean Ferguson, dean of McGill's Schulich School of Music. Leroux currently teaches composition at McGill.
Micro-Ritmia: On November 20, the Music Gallery presents the Mexican composer Ernesto Martinez and his group Micro-Ritmia at the Tranzac Club. Martinez's music is a blend of various influences, including the player-piano works of Conlon Nancarrow, whom he met in his younger years, Balinese Gamelan techniques and Mexican folk traditions. The ensemble performs on piano, marimba and altered guitars using complex hocketing techniques in this, their Canadian debut. Also on the program is Taktus, a Toronto-based group who reenvision minimalist and electroacoustic music for the marimba.
WU: If you are longing for a musical experience of sustained quiet and slow-moving gestures, then listening to the hour-long work WU by Victoria-based composer Rudolf Komorous is the perfect answer. Performed by the virtuosic pianist Eve Egoyan in the intimate setting of her own studio, this masterwork promises the type of experience one could have while waiting for a cherry tree blossom to fall…or not. The concept of Wu is from the Zen Buddhist tradition and means the "not expected." Even though the piece has a meditative quality, it has an intensity to it that keeps the ear focused and attentive to each slight change. The performances will take place on November 6, 13, 20 and 27 and audience members are requested to book their seat via email due to limited seating.
Improv: And finally, on the improvisation scene, three events stand out: the 416 Toronto Creative Improvisers Festival from November 2 to 5 at the Tranzac Club featuring numerous outstanding improvising musicians from the 416 area and beyond, including a performance by the Kyle Brenders Big Band on November 5. Spontaneous Group Composition will be happening at the Array Space on November 23 featuring Jonathan Adjemian, Nick Buligan, Karen Ng and Martin Arnold. And on December 2 at Gallery 345, don't miss the sonic adventures of the Queen Mab Trio – Lori Freedman, Marilyn Lerner and Ig Henneman, who blend various influences including jazz, musique actuelle, rock, and 20th-century classical music.
Wendalyn Bartley is a Toronto-based composer and electro-vocal sound artist. sounddreaming@gmail.com.