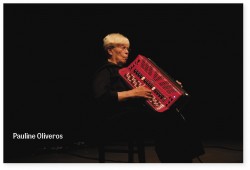 Back in the mid 1960s, two composers in their mid-30s took part in a summer workshop being offered by the University of Toronto. The course was in electronic music and at the time, the studio at U of T was one of the leading centres in the field. Those two composers were Pauline Oliveros and R. Murray Schafer. During Oliveros' most recent trip to Toronto in the summer of 2014, she noted that fact during a talk she gave at TIES – the Toronto International Electroacoustic Symposium. At the time when I heard her tell us this anecdote, I couldn't help be struck by the fact that these two people sharing the same creative environment in the bowels of an electronic studio in Toronto would go on to radically alter the way we understand the process of listening.
One can only wonder what aspects of that workshop influenced their ideas around perception of sound and listening. For me personally, I know that spending endless hours in a studio has made all the difference in my own listening behaviours and approach to composing. And now, during the month of October, separate events are taking place in the city which highlight the work and legacy of these two musical pioneers. Oliveros is one of the featured artists in the Music Gallery's X Avant XI Festival running from October 13 to October 16, and Schafer will be honoured at Esprit Orchestra's concert on October 23.
This theme for this year's X Avant Festival is reverberation – including both how the use of reverb in sound marks distinctive styles, and how specific ideas move through the world and leave their legacy. One of the distinct elements of Oliveros' legacy is what she calls Deep Listening. During the same talk she gave in 2014 at TIES, she also told the story of how that term came to be. Curiously, it started off as a pun. In 1988, Oliveros and her ensemble made a recording in a deep cistern well in Washington State that has a reverb time of 45 seconds. After the recording, she made a joke to her colleagues about the experience as one of "deep listening." Up to this point in her career, she had been developing a practice she called Sonic Meditations, a way of approaching composing and performing through listening, focused awareness and attention. After the cistern experience, the term Deep Listening was coined; she currently defines it as "listening in every possible way to everything possible to hear no matter what one is doing." This encompasses exploring "the difference between the involuntary nature of hearing and the voluntary, selective nature – exclusive and inclusive – of listening." That the term arose in part out of an experience of reverberation is an interesting connection to the X Avant theme.
Oliveros will be returning to Toronto to perform at the X Avant Festival on October 14. To get an idea of how her Deep Listening legacy has reverberated out to a younger generation of musicians, I spoke with one of the other performers in her concert, Doug Van Nort. Van Nort first encountered Oliveros' work when he began his MFA studies in electronic arts in 2001 at Rensselaer Polytechnic Institute in Troy, NY, where she was teaching. During his second year, despite his main focus on learning music programming and thinking about electronic compositions, he was invited to become a teaching assistant for her Deep Listening course, and within no time found himself facilitating some of the DL exercises and receiving feedback from Pauline on how he was doing. This experience was to have a profound impact on his future career.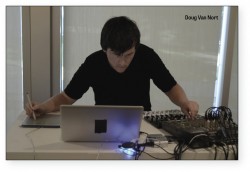 During his PhD studies at McGill University, Van Nort continued to have a connection with Oliveros and the rich worldwide community of deep listeners, eventually returning to RPI to engage in research around questions of telematic performance, systems thinking and composing for electronic spaces. Essentially, telematic performance involves performing with others who are in different locations while the idea of creating telepresence raises the question of whether we actually feel we are sharing the same space or not. During this research phase, he performed weekly over a five-year period with Oliveros and colleague Jonas Braasch.
Since an intersection between deep listening and technology is a signature aspect of Oliveros' work, I asked Van Nort about how the relationship between these two elements expressed itself in his own work. His response was curious: "My first pass is always to say I'm not interested in technology, even though I have a degree in music technology." He explained that this is his way of distancing himself from a fetishization of technology in order to bring attention and focus back to what is unique about technological mediation in performance. It comes down to the idea of creating systems for musical performance that has kept him close to Oliveros as both his mentor and collaborator all these years. How can sonic events, gestures and sounds spread and circulate within an integrated network or web and still be perceived as a musical performance with instrumental-like qualities? He mentioned that this approach was present even in Oliveros' early works such as I of IV which was created in the U of T studio in 1966.
The outcome of Van Nort's research and performance collaboration with Oliveros has been the creation of GREIS (pronounced "grace") – the Granular-Feedback Expanded Instrument System, which even in its title is a nod to Oliveros' own Expanded Instrument System (EIS) which she has developed over many years. During the X Avant XI Festival concert on October 14, Van Nort will be performing with GREIS in interaction with Oliveros on her digital accordian, Anne Bourne on cello, and Ione with spoken word. GREIS is a system that fundamentally puts things in motion and requires the performers to react to it. In the ensemble context, everyone is both generating their own gestures as well as reacting with what is coming back from GREIS – which can happen at any point in time. "What results is the creation of a tight organism that has to respond together and move in a given direction. It doesn't work without Deep Listening."
Van Nort's input into the system will be sourced from his large library of field recordings that he will stretch and filter. A second layer will be his capturing and reshaping of the sounds coming from Bourne's cello and Oliveros' digital accordian and then fitting these gestures back into the musical flow at some point. In addition, there will be a spatialization component that GREIS will contribute by generating various types of movements over eight speakers – a wide and fast motion for example, or a tight and slow motion. And finally, Ione's spoken words will sit on top of this entire sonic field in their pure acoustic form. Van Nort sums up the full experience with these words: "The core intent is to create something that is a breathing living organism that has to have at its essence an organic motion to it regardless of whether there is digital technology inserted in the path or not." For the listener, it will be an enveloping and immersive improvisational environment within which one is invited to be mindful of both global and focal attention – taking in both the entirety of the sound field while also following the individual lines as much as possible. Alternating between both fields is a fundamental aspect of the Deep Listening experience. Toronto is fortunate to now have Van Nort as a professor of digital performance at York University where he runs the DisPerSion Lab and the Electro-acoustic Orchestra.
The music of R. Murray Schafer will be the focus of Esprit Orchestra's concert on October 23, "Power On." This tribute to Schafer will include three works spanning 1976 to 1990 and feature performers Robert Aitken, Ryan Scott and Krisztina Szabó. Schafer's music compositions include an extensive repertoire of works for the concert hall, his 12-part cycle of musical/theatrical works he calls Patria, and a series of pieces composed for performance in outdoor environments. As I mentioned in the opening paragraphs, Schafer has also had an enormous influence on how we listen. Early in his career, he became aware of the increasing amount of noise in our everyday environment, leading him to undertake research into this growing phenomenon that no one was paying attention to. This research led him to coin the term "soundscape" along with other terms to describe the ecology of the acoustic environment. Much of this research ended up in the recordings and booklet of The World Soundscape Project and his extensive book, The Tuning of the World, published in 1977. Part of Schafer's legacy is bringing awareness to how we listen to the sounds of the environment and their impact on us both individually and collectively. This approach to listening has influenced his approach to composition, as well as the development of both educational resources and community-based experiences to bring awareness of the world of sound around us.
Soundstreams and New Music Concerts. The legend of the flute will be the focus of Soundstreams' season opener events. Density 2036, a project begun by virtuoso flutist Claire Chase to create a new body of works for solo flute, will be on display October 4 in one of Soundstreams' "Ear Candy" events. On October 12, their concert "Magic Flutes" will feature Chase along with four other virtuoso flute players performing a repertoire of works in a surround-sound environment, including a world premiere from Canada's Anna Höstman.
The New Music Concerts event on October 30 will feature the return of the Ensemble contemporain de Montréal and the latest edition of Generation 2016, their biennial project designed to mentor, rehearse and tour works by four young Canadian composers. This year's roster includes Taylor Brook (Alberta), Symon Henry (Quebec), Sabrina Schroeder (BC) and Adam Scime (Ontario).
QUICK PICKS
Oct 15: Toronto Messiaen Ensemble performing George Crumb's Makrokosmos, among other works.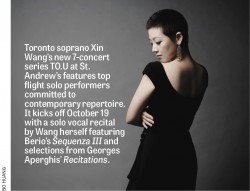 Oct 19: Xin Wang of TO.U Collective performs Berio's Sequenza III along with works by Webern, Georges Aperghis and others.
Oct 25 and 26: Talisker Players perform Schafer's Beauty and the Beast, Morlock's …et je danse and Louie's Songs of Enchantment.
Oct 30: Toronto Chamber Choir premieres David Barber's Remember Not.
Nov 6: The Royal Conservatory presents percussionist Steven Schick in works by Lei Liang, Mark Applebaum, John Cage and Iannis Xenakis. Free tickets available October 6.
Wendalyn Bartley is a Toronto-based composer and electro-vocal sound artist. sounddreaming@gmail.com.