Something unique and original is happening this September in the world of music and art – the in/future Festival at Ontario Place running from September 15 to 25. The festival is the vision of Art Spin, a project founded in 2009 to create experiences in alternative venues that create a dialogue between the Toronto art community and the public. With in/future, they are transforming one of the most beloved places in Ontario into a series of site-specific projects by visual, sound and media artists, as well as programming several world music concerts and film/video screenings.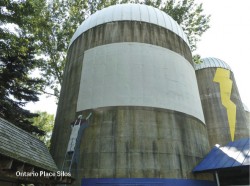 Ontario Place opened in 1971 fuelled by optimistic and utopian notions of the future strongly reflected in the design of the buildings as well as in the content of the exhibits. In the words of the original Ontario Place theme song, it was a "once-in-a-lifetime, never-before place." One thing that is sure to occur for many during the festival is the triggering of memories of what the future once looked like. And that is the point really. The art installations will offer opportunities to look back at a particularly 1970s vision of things. In the words of New Adventures in Sound Art's artistic director Darren Copeland, "We who are now in that future are looking at the past's view of us." Copeland was approached by Rui Pimenta, one of Art Spin's directors, to curate sound installations in one of the old exhibit silos. There are close to ten of these structures, that once housed exhibits on the natural elements, that will be turned into performance and installation sites for the festival.
Central to NAISA's aesthetic vision is the spatialization of sound, so the opportunity to put sound into a round, acoustically reverberant space was a perfect match. During our interview, Copeland stressed the importance of describing the works that NAISA is curating for their installation as "site-responsive" rather than "site-specific." For the NAISA installation (running from September 19-25), Copeland provided a production framework with his spatialization software and eight-speaker setup for three composer/performers (Anne Bourne, Lisa Conway and myself) to create pieces that are personal responses to not only the acoustics of the silo, but the entire entity and vision of what Ontario Place was.
When I asked Copeland to describe the process for him as curator and producer, he stated that "each piece had different ways of using the space, with different configurations and processes, none of which I knew before we started recording in the silo." And although the composers could bring materials with them for the recording, it was "a process of discovery for them as well, once present in the environment. A combination of the artist's ideas, the ideas I brought, and the architecture of the space conspired in the moment to provide the direction and substance of what was made. That wouldn't have happened if we had been in a neutral space – the third ingredient would be missing. It would have been a planned project that happens in spite of the location," he said.
Anne Bourne chose to record and layer multiple tracks of cello and voice improvisations in the silo space. During the process though, a curious thing happened – memories of her experiences performing on the circular revolving stage at Ontario Place's popular Forum venue surfaced. As Bourne described it to me, the significance of the round stage meant that everyone had an equal and inclusive experience of connection with the performers, and every voice was equidistant from the centre. This is in contrast to the more hierarchical nature of the proscenium stage. It was being in the round architecture of the silo that triggered her performance memories and led her into taking on the role of transmitter of those inclusive values while improvising. It's not hard to see here the connection between the architecture and the futuristic visions of the early 1970s.
Lisa Conway was also influenced by the structure of the silos, but took her piece in a very different direction. She chose to work with recordings of the materials generally associated with silos – sand, grain and salt sounds – and played with the concept of these sound textures within large resonant spaces as the focus for her piece. For my own work, I created a prerecorded electroacoustic soundtrack made up of Ontario Place soundscapes, a variety of pre-composed vocal drones, and processed excerpts from the original Ontario Place theme song. In the silo, I improvised a vocal track while listening to the prerecorded track, playing with the words of the theme song and the acoustics of the silo. The final format for the entire installation will present all three pieces mixed and spatialized amongst the eight-speaker array and played sequentially in the reverberant silo environment.
I also spoke to two other artists working with sound in their installations for in/future.
Simone Jones, a multidisciplinary artist who works with film, video and electronics, is working on two pieces for the festival. The first is collaboration with visual artist Laura Millard that will be installed in the former Ice Silo and is a dialogue between sound and lightbox images. The images are created from aerial drone shots of circular and intersecting snowmobile patterns on a frozen lake, and the two artists have chosen to keep the original icebergs from the silo exhibit as part of their installation to emphasize the wintery environment. For the sound, Jones improvised on Philip Glass' Etude No.1 and edited her piano recordings to highlight the repetitive pattern. The soundfiles will also be treated spatially with panning movements between two stereo speakers.
Jones' second work will be located at the observation decks at the southwest tip of Ontario Place. Video footage of a body in water, as well as images of water itself will be projected onto a large scrim placed between the two decks and high enough that it will appear to float. The soundscape will include recordings of water as well as an introduction created and performed by 14-year old cellist Will Smyth. For Jones, what is exciting about this project is the opportunity to create work with a deliberate connection to place. "I like to be nostalgic about Ontario Place and the idea of recapturing some of that optimism that was so evident in the visual motif of the silos and the dome of the Cinesphere. The creation of public space is one of the most important things that we can do as a society."
The theme of urban space also surfaced during my conversation with sound artist and producer Michael Trommer. Trommer's piece will be located just to the east of the observation deck along a stretch of beach, also facing the open water. Using field recordings made during the night at various lakes up north and at Georgian Bay, Trommer's intention is to transpose a very different time and place onto an urban beach through his amplified soundscape. This will create an ambiguous environment in which people will be hearing sounds that belong and yet don't quite belong. Ideally, the ambiguity will be further emphasized by hiding the speakers from view and also using a subwoofer speaker to accentuate the low frequencies. Because the recordings were made at night when sound can travel far more easily, he ended up capturing soundscapes that were five to ten kilometres away: loon calls, Wasaga Beach clubs, and people speaking at a cottage for example. Trommer is drawn to liminal locations such as waterfronts that transition from urban to natural and where you have a shift in materials, going from dense concrete to open space. Having grown up in Montreal, and in close proximity to La Ronde, the site of Expo 67 (a similarly utopian vision), "there is something that resonates for me about these places which are replicating natural shapes like the dome rather than the rectangular and stacked slab-like shapes of our urban environment."
Personally, the opportunities to return to Ontario Place this summer, as well as speaking to the other artists I've written about for this column, have reaffirmed for me the importance of creating pieces in response to place. Connecting with memories and revisiting a space that holds collective values worth reconsidering makes the in/future project a crucial event for all to experience. It will no doubt generate an ongoing conversation about this iconic urban oasis. Ontario Place is scheduled to reopen in 2017 with a new mandate.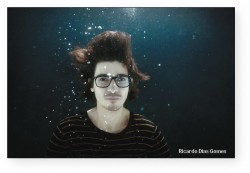 The Opening Concert Season. Although most of our new music presenters wait until October to get their seasons rolling, there are some events coming up in September that are important to look at. In keeping with the theme of sound in resonant environments, the Music Gallery will present a concert on September 17 of three artists united by their fascination with drones and reverberant spaces. Bassist and composer Ricardo Dias Gomes will perform his intimate yet aggressive drones, surrounded by a visual design of his own making. Montreal saxophonist Ida Toninato's performance will feature her love of big sounds in big spaces, while emerging multidisciplinary artist Kat Estacio will play with notions of nostalgia and decolonization in her performance.
On September 30, New Music Concerts presents "Beijing Memories," a concert of highlights from their China tour. This past July, eight musicians from NMC were invited to be the ensemble-in-residence at the Beijing International Composition Workshop. The evening will feature highlights from the three concerts performed as part of that residency in Beijing, with compositions by Brian Current, Omar Daniel, Wen Deqing, Lei Liang and competition winner Zhao Yi from China.
The Thin Edge New Music Collective is busy this month with three different events. First, on September 2, they will be performing in Contact Contemporary Music's annual INTERsection event on Labour Day weekend at the Music Gallery along with guest guitarist Elliott Sharp. INTERsection continues on September 3 all day at Yonge-Dundas Square with an impressive lineup of performers. Then on September 15 and 16, Thin Edge is hosting the Feldman Festival at Array Space, performing works by composers Morton Feldman, Linda Catlin Smith and Barbara Monk Feldman. And finally on September 29, their fundraising event will present works by Nick Storring, Scott Rubin, Xenakis, Cage and others.
QUICK PICKS
Sept 2: National Ballet of Canada/Art Gallery of Ontario present "The Dreamers Ever Leave You," with live music composed by Lubomyr Melnyk.
Sept 18: Niagara Symphony Orchestra's concert premieres Toward Light, a new commissioned work by Canadian composer Roydon Tse.
Sept 21: University of Waterloo Department of Music presents Earth Piece by Canadian composer Carol Weaver.
Wendalyn Bartley is a Toronto-based composer and electro-vocal sound artist. sounddreaming@gmail.com.