As things go, the sweet sounds of summer are winding down as we gear up for the beginning of a new concert season. Three highlights of the summer for me personally were joining with 1000 other performers as a choir member in R. Murray Schafer's Apocalypsis, singing with the Element Choir backing up the mind-blowing Tanya Tagaq at Nathan Philips Square and experiencing the purely delightful piece DIVE, featuring singer Fides Krucker and the music of Nik Beason. In all three, the voice was a predominant player. As I looked over the listings for this coming month, I couldn't help observing the number of concerts and events featuring music by women composers and leading performers. One can question whether a point should be made about this, but given the long struggle for gender equality in both composition and conducting, it is worth noting that something is shifting. One element that appears in common among several of these events is the presence of the female voice.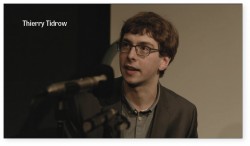 Monk Feldman and Caitlin Smith: On September 29 Arraymusic is collaborating with the Canadian Opera Company to present the works of two women composers – Barbara Monk Feldman and Linda Caitlin Smith – for the free noon hour series at the COC's Richard Bradshaw Amphitheatre. Monk Feldman's piece, Love Shards of Sappho, originally commissioned by Arraymusic in 2001, is being presented in celebration of the COC's premiere in late October of her opera Pyramus and Thisbe. The piece is built around texts written by the Greek lyric poet Sappho, who lived during the 600s BC on the Greek island of Lesbos. Renowned during her time, only a few fragments of Sappho's writings remain. The texts used by Monk Feldman are clear and full of musicality. The words begin: Harmony clear voiced/I shall go/Clear voice I go/Clear voice/Garlanded/Adorned/ Delightful choir. Feldman's music has been described as quiet and full of an intense intimacy. One can easily imagine the inspiring pairing these words and musical style will create, particularly in the hands of soprano Ilana Zarankin.
The other work on the program is Hieroglyphs, written in 1998 by Linda Caitlin Smith. Smith's music is characterized by great attention to the sensuous qualities of sound and is a perfect concert companion in this program. Hieroglyphs consists of definitions of nine words drawn from dictionaries dating from 1859, 1906 and 1939. The list of words and definitions was assembled by Elissa Poole and Linda C. Smith and will be sung by Danielle MacMillan. The Arraymusic ensemble accompanies both works.
Hannigan conducts: In the February issue of TheWholeNote, I interviewed soprano and conductor Barbara Hannigan regarding her upcoming vocal performances in the TSO's New Creations Festival. During the interview, Barbara spoke about breaking new ground as a conductor, another field predominantly occupied by men. Part of her own unique twist on taking up this new professional path was to do away with the traditional conductor attire and wear clothing that allowed her to be fully expressive with her bare arms as she conducts. On October 7 and 8, she returns to Toronto to conduct the Toronto Symphony in a program of works that span from Mozart and Haydn to Stravinsky and Ligeti. She will begin the program by singing Luigi Nono's Djamila Boupacha before turning to the orchestra to conduct Haydn's Symphony No. 49 "La Passione."
Lorca to Lludgar: Another Canadian soprano who has been making international waves with her "impeccably pure and iridescent" voice is also returning to Toronto to perform in Soundstreams first concert of the season on September 29. In "Beyond the Aria," Adrianne Pieczonka will take the stage along with Toronto-based mezzo-soprano Krisztina Szabó to perform a collection of works, including one of my personal favourites, George Crumb's virtuosic Ancient Voices of Children, composed in 1970. Drawing on the evocative poetry of Federico García Lorca, the piece uses a variety of sonic techniques, such as the soprano singing into the piano strings, and incorporates temple bells, musical saw and toy piano to convey Crumb's essential vision: a request to God to "give me back my ancient soul of a child." Other pieces on the program include selections from Crumb's American Songbook, Luciano Berio's arrangements of songs by Lennon and McCartney and a world premiere by Argentinian-Canadian composer Analia Llugdar. A Jules Léger Prize winner in 2008, Llugdar's works frequently incorporate singing and speaking voices while pursuing her aesthetic vision of a search for "the core of the sound." Her piece in this program, Romance de la luna, luna is inspired by the Lorca poem of the same name. Soundstreams' press release is in sync with the theme of this month's column: "a concert celebrating the soaring voices and talents of Pieczonka, Szabó and Lludgar, three exceptional musical women."
Companion events: At a companion event to the September 29 concert, Soundstreams will present one of their popular Salon evenings on September 18 further exploring the poetry of Lorca as interpreted by poet Beatriz Hausner. Krisztina Szabó will perform new compositions by Anna Atkinson, Juliet Palmer, James Rolfe and Christopher Thornborrow, each of which was written using the same Lorca excerpt. Other events that offer insight into the concerts mentioned above include a discussion of the sources that inspired Barbara Monk Feldman's opera on September 24 at U of T's Faculty of Music. Arraymusic will present a talk on Linda Smith's Heiroglyphs and the extended piano techniques in the work of Barbara Pentland on October 3 as part of the Toronto Public Library's Music 101 series. In addition, at the Canadian Music Centre, September 26 will see the launch of Pioneers of Electronic Music, a new book by Norma Beecroft, as well as a special performance by the Canadian Electronic Ensemble. David Dacks, artistic director of the Music Gallery, will interview Beecroft about her research covering both international and Canadian composers working in this medium.
ACWC: As is evident from these numerous events, the focus on the musical artistry of women is rising fast and strong. It wasn't always this way, and in 1981 a group of women met to find a way to address the absence of women composers in concert programming across the country. The Association of Canadian Women Composers was formed the next year and is currently working to actively promote the organization and present concerts. On September 18, their "Earth Music Concert" in Waterloo will feature music by 12 ACWC composers.
New Beginnings: With the Labour Day weekend marking the end of the summer, I want to bring your attention to an event that occurs each year at Yonge-Dundas Square – the New Music Marathon and Musicircus! produced by Contact Contemporary Music. Because Labour Day falls a bit later this year, you just might be reading this in time to go and check it out. On Saturday, September 5 there will be a series of performances and interactive installations, including John Oswald's epic composition Spectre recreated for 1000 string instruments. Then on September 6 in an intimate setting in an east-end loft space – The Jam Factory – Montreal's ensemble Shalabi Effect will be performing, among others.
Continuum Contemporary Music begins their season on September 19 with their program "At the Seams." On centre stage will be the awarding of the Jules Léger Prize to Thierry Tidrow for his composition Au fond du cloître humide commissioned by Continuum. The program will go on to feature world premieres by three other former Léger Prize winners: Chris Paul Harman, André Ristic and Alec Hall. Rounding out the program will be a work for Gergory Oh by New York-based composer Caroline Shaw. Esprit Orchestra starts off with their "Con Brio" concert on October 4 with a newly commissioned work by Omar Daniel, a thriller inspired by the Nordic myth of the husband killer that uses Estonian folk idioms. The other Canadian composer represented on the program is Zosha Di Castri whose piece is treated as an evolving narrative recreating the sounds of a fictitious culture. Two other works by Jörg Widmann from Germany and Thomas Adès from England complete the theme of musically creating other worlds.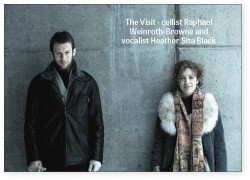 The Music Gallery season gets underway on September 25 with a program of contrasting cellos. The Visit, a group comprising cellist Raphael Weinroth-Browne and vocalist Heather Sita Black, will perform and launch their new CD Through Darkness Into Light. Europe-based Tristan Honsinger joins Montreal's In The Sea, an improvising trio formed by Nicolas Caloia. Honsinger has returned to his former home of Montreal where he got his start improvising more than 40 years ago to join up with the younger Montrealers of In the Sea.
Quick Picks:
September 19: Canadian Music Centre. ∆TENT New Music Ensemble. Tsurumoto and others.
September 21: "Hybridiana: Canadiana Music from the Modern Era." Works by Somers, Palmer, Buczynski, Archer, Kunz, Lustig and Coulthard. Featuring Hybridity (Shaelyn Archibald, Daniel Wheeler, Emily Hill and Michael Bridge).
September 24: "Hogtown Brass at the CMC." Music composed especially for brass quintet.
September 5: Music Gallery /Bicycle Opera Project. "Shadow Box." Works by Thornborrow, Burge, Höstman, Rolfe, Burry, and others.
September 13: The Oratory. Missa Septem Dolorem. New composition for two sopranos and organ by music director Philip Fournier.
September 20: Shrinking Planet Productions. "Canadian Visionaries I." Works by Schafer, Glick, Buczynski, Coulthard and Pentland.
September 25: Isabel Bader Centre for the Performing Arts. "New Music Kingston Series: Dynamic Percussion/Piano Duo," Kingston.
October 4: Kitchener-Waterloo Chamber Music Society. "Moveable Feast." Two Bach cello suites plus two newly commissioned works related to them.
Wendalyn Bartley is a Toronto-based composer and electro-vocal sound artist. sounddreaming@gmail.com.